Russ Brown Motorcycle Attorneys® BAM VIP Night at the Legendary Buffalo Chip – Honoring our BAM Members (Free Breakdown and Legal Assistance for Motorcyclists).
The 73rd Sturgis Motorcycle Rally is rapidly approaching and will take place this summer, August 5th -11th. As always, this motorcycle rally is one of the largest of its kind in all of North America and promises a week of motorcycling fun, incredible concerts, and an once-in-a-lifetime experience for all who attend. This year, the Russ Brown Motorcycle Attorneys® will be there to celebrate with the world and honor all of their BAM members!
The Russ Brown Motorcycle Attorneys® BAM Night will take place at the star venue of the annual Sturgis Motorcycle Rally, the Buffalo Chip Campground. This year, the Russ Brown Motorcycle Attorneys® want to show their appreciation for all of their BAM members by hosting a BAM VIP Party at the Chip's Top Shelf Suite, during the 73nd annual Sturgis Rally. The Top Shelf Suite boasts the best views of the concerts, and all BAM members can enter to win a chance to be there. Seventy five BAM members will win tickets to the event at the Sturgis Buffalo Chip and the Top Shelf Suite and performing that night on the main stage is Kid Rock.  What better gift to give back to our BAM members then the best seats to the Kid Rock concert at the Buffalo Chip during the Sturgis Motorcycle Rally!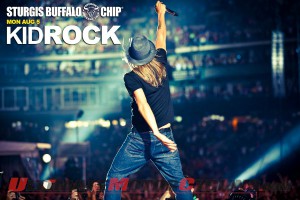 BAM and Sturigs: A Match Made in Heaven
When Russ Brown introduced BAM over 35 years ago, he just wanted to offer motorcyclists the freedom to ride wherever they wanted without fear of being stranded or alone. Since then, BAM has grown to almost 2 million motorcycling members and is the nation's largest network of Bikers Helping Bikers®. BAM members help other BAM members who have been stranded on the road, run out of gas, blown a tire, and more. When you join BAM for free, you get free emergency roadside motorcycle service 24/7, legal assistance if you are hurt or injured, 24 hour toll free motorcyclist hotline, emergency I.D. card, and more.
The Sturgis Motorcycle Rally is one of the nation's largest annual motorcycle rallys, and each year over half a million motorcyclists head for the Black Hills event. BAM members can attend the Sturgis Rally with the peace of mind, knowing they are backed by both a network of motorcyclists and a law firm that is dedicated to protecting motorcyclists and their rights.
If you are attending this year's Sturgis Motorcycle Rally, be sure to sign up for BAM and enter to win tickets to the VIP Party during Russ Brown Motorcycle Attorneys® BAM VIP Night. You can enter to win online at www.russbrown.com  or call us at 1-800-4-BIKERS. We realize that it's the BAM members that make BAM so incredible. Join us in honoring BAM and all of its members at the 73rd annual Sturgis Motorcycle Rally. We Ride—We Care—We Win!