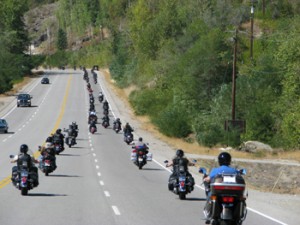 I know that many bikers busted ass making the run to Sturgis and when they finally arrived that were glad they made it unscathed, but making the ride back home could prove to be more deadly with a high concentration of both motorcyclists and other motorists all pushing to make it back home so that they may reset up after 10 days of playing and partying hard at the 2012 Sturgis Motorcycle Rally.
The best travel advice you could get is to take it easy and be extra vigilant while on the roads; the further you get from Sturgis will help in reducing traffic congestion, but even if you are not tired or road weary another motorist could be and that is a recipe for disaster should they become distracted or lose focus of the road and motorists near or around them.
Should you become tired do not take chances, pull over and rest and if you need to get a motel and get a full nights sleep before you hit the road again. The whole point of going to Sturgis is becoming a part of motorcycle history and having fond memories you can share with friends and family later, not becoming another highway accident statistic related to the rally!
Take a proactive riding position and try to avoid riding at night, when possible travel with a group and always be looking for the driver who isn't looking for you! If you have to ride at night make yourself as visible as possible; reflective gear will help make you standout to oncoming traffic and motorists who come up behind you. Even if you are wearing a skid lid rather than a full helmet put a large reflective sticker on the back to expand your total visibility from behind.
You should plan your trip to use well traveled roads and highways that offer roadside rest stops and gas stations. This will give you plenty of opportunities to pull over to rest as well as perform emergency repairs should you run into trouble.
No one ever plans to hit the road and become an accident victim, but failure to plan your trip as well as taking all safety precautions just helps to increase your chances of being hit by a motorist on the road. Make traveling plans, take your time when on the road and in no time you will make it safely home recounting stories of the 2012 Sturgis Motorcycle Rally to all of your friends!
Making long distance runs can fun and exciting, but when trouble happens it can turn your world upside down! You should have a BAM card to help you should ever run into trouble while on the road. It is 100% free and has a network of of over 1.5 million bikers just like you! Should you become the victim of a motorcycle call 1-800-4-BIKERS to speak with an experience motorcycle accident lawyer who not only rides but cares!
"If you have been involved in a motorcycle accident, don't let it steal your freedom! Call 1-800-4-BIKERS to learn how an experienced motorcycle accident lawyer can get your bike fixed, money for your medical bills, and compensation for your pain and suffering."