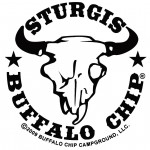 The Buffalo Chip Campground sure knows how to rock during the Sturgis Motorcycle Rally, and their amazing concerts usually draw in thousands of motorcyclists each and every year. In the past, legendary rock and country performers such as Bob Dylan, Tim McGraw, Motley Crue, Kid Rock, Toby Keith, and Aerosmith have graced the stage during this raucous and rowdy week, and this year is no exception.
The concert line-up for the 2012 Sturgis Motorcycle Rally is starting to take shape and there will be more bands announced in the upcoming weeks. Just in case you weren't excited enough about attending the Sturgis Motorcycle Rally this year, here are just a few of the amazing performers you can see at the Buffalo Chip Campground.
August 4th – Shinedown, Adelitas Way, and Finding Clyde

August 5th – Zac Brown Band and Candlebox
August 6th – Journey, Loverboy, and Saving Abel
August 7th – Boston, Sweet Cyanide, and Buckcherry
August 8th – Eric Church and Lukas Nelson and the Promise of the Real
August 9th – Sugarland and Lynyrd Skynyrd
August 10th – Slash featuring Myles Kennedy and the Conspirators
August 11th – Sublime with Rome

The Buffalo Chip Campground's celebrated outdoor amphitheater guarantees participants an incredible view and a once in a lifetime experience during the rally. In addition to the music, adrenaline junkies can even Zip the Chip during the concerts and soar 800 feet above the concerts on the longest zip line ride in the state. Rock out with your friends this year at one of the largest outdoor concerts in the country.
For Sturgis Buffalo Chip concert and ticket info hit up https://www.buffalochip.com
The Russ Brown Motorcycle Attorneys® will be at the 2012 Sturgis Motorcycle Rally, rocking out with the best of them! We'd love to see you; so come on by, and check out BAM, our free roadside and legal assistance program. With over 1.5 million members and counting, we are the nation's largest network of Bikers Helping Bikers®. Call us today to learn more at 1-800-4-BIKERS and discover what sets us apart from other motorcycle law firms. We Ride—We Care—We Win.
"If you have been involved in a motorcycle accident, don't let it steal your freedom! Call 1-800-4-BIKERS to learn how an experienced motorcycle accident lawyer can get your bike fixed, money for your medical bills, and compensation for your pain and suffering."