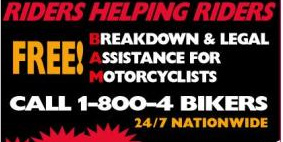 Who is at Fault in California Left Turn Failure to Yield Motorcycle Accidents?
California Biker Injury Lawyers
California bikers are all too familiar with this scenario:
You are driving along and see another vehicle waiting to make a left turn at an upcoming intersection. You wait to see if they notice you and wonder if they are going to pull out in front of you or yield. In many cases, by the time you realize the other vehicle is not going to yield on a left turn, it is too late for you to stop and you collide with the other vehicle. Unfortunately, failure to yield when making a left turn is a common cause of motorcycle accidents involving passenger vehicles and motorcyclists in California.
The Orange County Register reported a California motorcycle accident in July of this year. A Newport Beach police officer suffered leg and facial injuries when a car pulled out in front of the police officer's motorcycle at the intersection of Newport Hills Drive and Ford Road. The car driver appeared to be unharmed, but the police officer was transported to a nearby hospital by ambulance for his injuries.
According to California Vehicle Code §21801, vehicles turning left or making a U-turn must yield to other vehicles coming from the opposite direction until they can make the turn with "reasonable safety."
It seems like it would be easy to prove fault in a failure to yield on a left turn California motorcycle accident, but it is not.
It can be difficult to prove because part (b) of this same California Vehicle Code says that after yielding and signaling for a left turn or U-turn, a driver may go ahead and make the turn and drivers approaching from the opposite way must then yield to the turning vehicle. In addition, in California, Traffic Accident Reports are considered hearsay so they cannot be used as evidence to prove fault in court nor will many insurance companies accept them as proof of fault.
The other driver and his or her insurance company may use the second part of this California Vehicle Code to avoid paying on a California motorcycle injury claim by stating that the turn had already commenced and the motorcyclist failed to yield; however, you do not have to accept blame if you were not at fault. An experienced California motorcycle lawyer can help you prove your case.
If you have suffered injuries in a California motorcycle crash in which another vehicle failed to yield when making a left turn, our skilled California biker attorneys can help you. Whether your accident occurred in Bakersfield, Santa Rosa, Oakland, Los Angeles, or any other city in California, call us at 1-800-4-BIKERS today.
Powered by Qumana