The city of Laconia, New Hampshire is home to the oldest motorcycle rally in America- it also has more motorcyclists per capita than any other city in the Nation. In fact Laconia's slogan is "We Ride," and it's true. Every city official, old timer, new timer, and even the unsuspecting grandma at the local grocery store spends their summer months with the wind in their hair and bugs in their teeth.

The state's motto "Live Free or Die," could also have a hand in their sense of adventure as well. People from New Hampshire are cut from a different cloth; they are kind but determined, stubborn at times, proud and understand the meaning of freedom- a word synonymous with riding.
From the mountains to oceanside, the state offers much to the motorcycle enthusiast. It's rocky and hilly, densely wooded, boasts 1,300 lakes and ponds, is blessed with a small but beautiful 13 miles long Atlantic coastline, and has a slew of unique roadside bars, breweries, Inns, and kitschy general stores.

I had never ridden in Laconia, but this year the Iron Lilies (an all women all Harley riding group I'm part of), was invited to lead and participate in ten days of charity rides and events. We went with the expectation of putting at least 1,000 miles on our bikes before we left and had no problem reaching that halfway through the rally. We had already ridden over 1,500 miles just to get there and only stole a few hours sleep before starting the Rally's first morning ride. All of the riding was equally beautiful but there are a few routes that can't be missed if you ever make it to the area. Below are a few of my favorites.
https://goo.gl/maps/o4KC5fZDR4o
Kancamagus aka "The Kanc": Everyone told me that one of the roads I have to do while I'm in town is the Kancamagus (Hwy 112), a 37 mile twisty road through the White Mountains. This road is favorite with the V-twin crowd and it's easy to see why. This scenic byway has quite a few twisties, a lot of sweepers, a hairpin turn or two, and it climbs almost 3,000 feet up to the peak of Mount Kancamagus on a 10% grade. The pull-offs along the Kanc become impromptu gatherings of riders and the pace of the curves invites a leisurely low-revving lope.
Because New Hampshire has unpredictable weather along with harsh winters the road has some rough patches along the way. There are a few areas of holes, bumps, and broken pavement that can make for a rougher ride and throw you off your line if you lean too far in a curve. I have a slammed suspension, and my back definitely felt every bump. It wasn't anything too concerning, just something to be aware of.

One other factor to be cautious of while on the road are Moose. The North Eastern part of the USA is Moose country and they are everywhere (especially at dusk), so plan your ride during the earlier part of the day unless you want to make friends with this giant beast.

Another reason why I like the Kanc is because it's customizable. There are a couple of roads that break off from it and can make it a totally different experience if you wanted to change it up a bit. While you're on the Kanc you will pass a small cut through road called "Bear Notch", a narrow two-lane road that provides tighter curves, winding through an unmolested forest and comes out at the base of Mt. Washington.
The Kanc is 50 miles north of Laconia and there are many options for where to start so I just listed the Kanc on the map and you can plan your route from there. All roads that lead to it are almost equally amazing and you honestly can't go wrong with any of them. Depending on where you start there's the Woodstock Inn Station and Brewery, a historic building that serves locally crafted beers and a homemade meatloaf that will beat your Mom's.

Even though the Kanc itself is relatively short, remember that there's no gas (or town) until Lincoln, so go with a full tank and enjoy the ride.
 
https://goo.gl/maps/TMKBarJRuhF2
Mt. Washington Auto Road: The road itself is a little under eight miles but the route to get to it is an 80-mile winding back road that cuts through waterfalls, covered bridges, and riverbeds.
To ride the Auto Road is a badge of honor, just like saying you have done an official Iron Butt ride… and it's totally worth the sticker you get at the base of the mountain. They say the best way to overcome a fear is to just do what it is you're afraid of- and this road will definitely challenge a lot of fears. What I like most about this road is that when you're on it, there's no turning back- you have to commit.

This twisty ride to the sky is closed twice a year to automobiles, allowing motorcyclists to have free range on the narrow and steep climb. The mountain road grade ranges from 12% to 22% up and back down, has a couple of hairpin turns, is a combination of tarmac and dirt, and has no guard rails. The mountain is home to the world's worst weather, with the highest recorded winds in the world (231 mph), and a place where they say that "fate is decided".

As intimidating as all that sounds keep in mind that motorcycles have been traveling this road for over 100 years and on the day I went I was joined by 4,000 others on every kind of bike imaginable, all with the same look of determination in their eyes. None of us crashed or died.

At the top you're at 6,288 feet above sea level and when you reach it there's no greater sense of accomplishment. No matter how long you've been riding, this mountain will leave you in shock and awe.
There's a summit up top enclosed in glass so while you're celebrating and warming up over coffee you can look past the surrounding mountain tops and your bike and gloat at what you've just done. It's totally fine to brag about it there too, as everyone else is doing the same thing! Be a tourist and get your pic with the sign at the highest point, it's not everyday you climb a mountain like this. Then get ready for the ride back down, and just remember to use low gears and engine brake most of the way… or pull off at one of the many lookouts to cool down your brakes and enjoy more to the scenery.

https://goo.gl/maps/KaLXNt1rXyx
Coastal Ride to Bentley's: If you're this far North in America, you might as well go to Maine along the coast for a 70 mile ride to Bentley's Saloon and Campground. This place has become a staple of Bike Week, but it's also a great place to hang out the rest of the year too.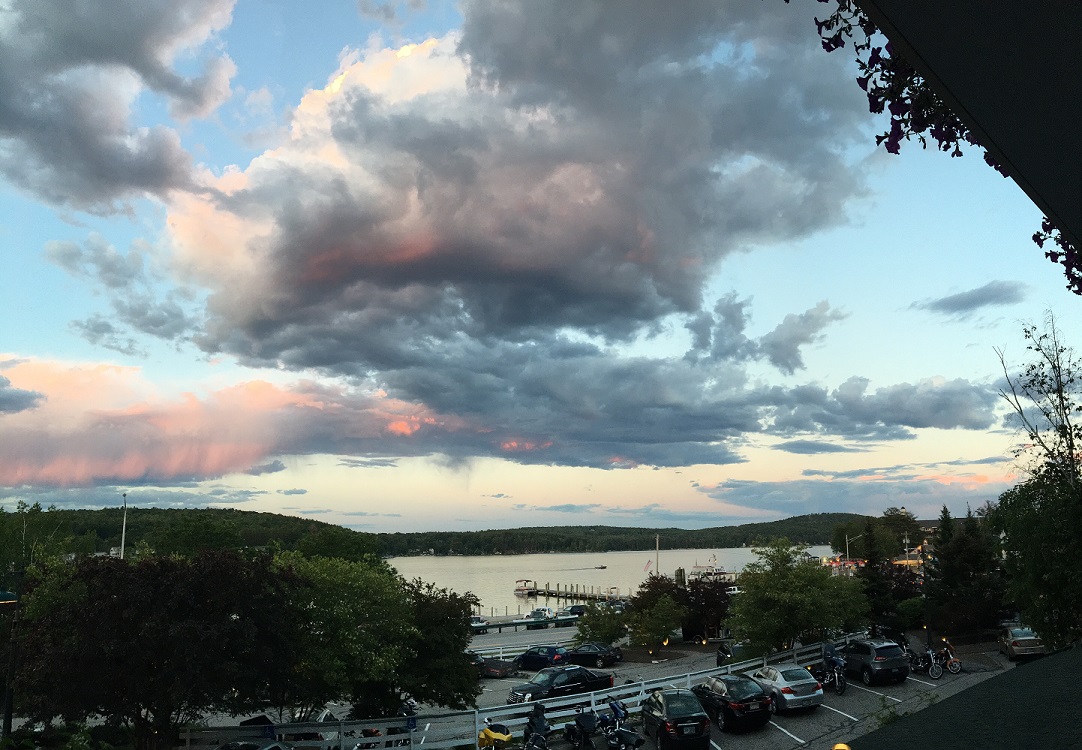 Owned by legendary super-modified race car driver Bentley Warren, this New England destination is known for its unique atmosphere filled with racing memorabilia and vintage motorcycles hanging from the rafters. They have live music almost every day, buckets of lobsters, and ice cold beers. It's a great place to wet your whistle and talk shop with the many other motorcyclists that gather there on a regular basis.
From Laconia you head southeast along Lake Winnipesaukee, make a few turns until you hit US-1 North. There you will go along the coast for a short but breathtaking ride until you hit some back roads again and make it to Bentley's. I added this ride because it includes more of a chance to hang out and visit another state while you're in the area. The people are friendly, helpful, and filled with suggestions on where you should ride next. That's what makes this stop a must if you have more time to explore- as you will leave with a ton of options and motorcycle routes.

Article & Photos Courtesy of Leticia Cline
"If you have been involved in a motorcycle accident, don't let it steal your freedom! Call 1-800-4-BIKERS to learn how an experienced motorcycle accident lawyer can get your bike fixed, money for your medical bills, and compensation for your pain and suffering."