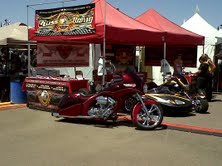 Texas Motorcycle Accident Lawyers;  On Monday, August 9, 2010, a Dallas motorcycle police officer was injured while escorting President Barack Obama. The following day, NBC reported that the officer, identified as Senior Cpl. Michael Manis, was released from the hospital with only minor injuries. Manis was part of the "leapfrog" formation in which officers that are assigned to escort the president trade positions. This leapfrog formation is designed to allow the presidential motorcade to pass unstopped through intersections in the Dallas area. According to reports, Manis tried to speed up and ended up jerking his front wheel causing the bike to flip.
Luckily, the Dallas motorcycle accident, which occurred in the 2900 block of Wycliff Avenue at Hartford Street, only left Manis with minor head injuries and abrasions to his elbows and hands. Even though his injuries were not severe, they did leave his wife and children shaken up after the accident—wondering what could've been.
Unfortunately, the Manis family is not the only one wondering what could've happened, and a large number of Dallas police officers cant help but draw eerily similarities between this Dallas motorcycling accident and one that happened just a few years ago. On February 22, 2008, Senior Cpl. Victor Lozada was killed in a Texas motorcycle crash that occurred while transporting U.S. senator Hillary Clinton through North Texas. Immediately following his death, the Dallas Police Department put rules in place that essentially required all of their motorcycle police officers to practice the route prior to being involved in a motorcade assignment.
While Cpl. Manis managed to escape his Dallas motorcycle accident with only minor injuries, the Dallas Police Department will be investigating the cause of the accident, in order to continue improving their motorcycle motorcades. Motorcycle safety continues to be a prime focus for the Dallas Police Department and motorcycle officers everywhere.
Motorcycle Accidents can be devastating and you need to make sure you have someone specialized in motorcycle law – Contact 1-800-4-BIKERS 1-800-424-5377 today to get the legal representation you deserve.
Powered by Qumana