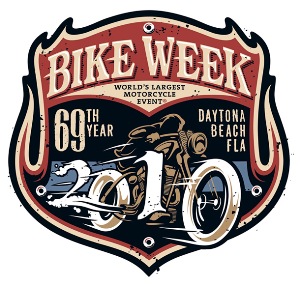 With this years Daytona Bike Week festivities officially over, motorcycle enthusiasts, racing fans, merchants, and everybody who made the trip to Daytona are on their way back home. There was so much to do, that i doubt that anyone could have actually witnessed all of the events, and fun things to do.
At last count, the streets, event areas, and the city of Daytona were looking much in disarray while city workers clean up and the city descends back into its normal pace. Whatever brought you to Daytona; the people, the thousands upon thousands of bikes, motorcycle racing, and even the countless hot biker babes, one thing is certain; Daytona Bike Week was a Blast!
There were some cool live auctions, events to raise funds for Soldiers Angels, a non-profit team that provide comfort and resources for Military personnel in Iraq, a motorcycle swap meet, and quiet a few other charities that helped raise money for a variety of good causes.
With everyone making their journey back to their homes, or where ever it is they came from, you can be sure the roads and highways will be a obstacle course of normal commuter traffic, and all of our  brother bikers all trying to make it to their destination safely. Now is the time to be extra careful and alert, cause no one wants to turn a kick ass biker party into a nightmare over a mistake or misjudgment on the highway!
We bikers already know that we need to be looking for that motorist who is not looking for us, and even though our bikes may be loud, we can't let our guard down thinking that we will be seen when making that turn or lane change. Proactive riding is what saves lives in congested and heavy traffic conditions. Forget about lane splitting (it is illegal anyway!), and just throttle back a bit and let those automobile and truck drivers go around you, after all you more than likely busted ass to get to Daytona in the fist place, so you may as well take your time getting back home.
This may be the perfect time to take a few side stops along the the way, weather you are heading north up the coast on I95, I75, or making your way west on I10 there are plenty of things you can do to past the time while the highway congestion and drama dies down.
A few of my bro's decided last year that they would ride to Daytona, and trailer their bikes back home after the party was over, and when they got back home to sunny Southern California, all they could talk about was all the fun they had, and how much they were looking forward to next year! That is one of the real joys of riding a motorcycle, the camaraderie of close friends doing what they love and the power and excitement of getting in the wind.
I am sure as the many road weary and tired bikers make it safely to their destination, they will be warmly greeted by wives, girls friends, children, and loved ones who are so glad they are now home and didn't become another accident statistic on the highway, which is another facet in the world of those who ride. This old biker told me once when i was around 13 or 14, "It's sad to say, but some of us will go down on the road, so they can teach the rest of us how to ride!"
If you or a loved one has been injured in a motorcycle accident, you need an experienced and aggressive motorcycle accident lawyer to help protect your rights. Call Russ Brown the motorcycle lawyer @ 1-800-4-BIKERS today.