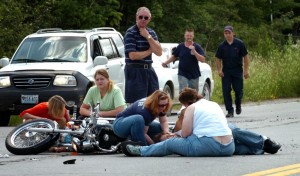 PINELLAS PARK, Fl- Traffic was closed on southbound US Hwy 19 after an unidentified person was killed Sunday night. Authorities reported that around 8:37 PM a motorcycle ran into the back of a car and was ejected from his bike. the deadly accident involved 2 motorcycles and a car, however police on the scene were unsure how the second motorcycle became involved and the number of other people injuries although 3 ambulances were said to be on the scene.
There is no word yet on any other injuries and officials have not released the identities of anyone involved.
No one can predict when they will become involved in a motorcycle accident, and this alone is the reason if you ride a motorcycle you must always ride as if your very life depends on it! First and foremost, a proactive stance that is both offensive and defensive is imperative. it just isn't enough to wear safety equipment and believe you will be OK. There are so many variables that can occur anytime you are riding your motorcycle that it is vitally important a motorcyclist always stay alert for any signs of danger and especially be on the lookout for the automobile driver that doesn't see you!
The MSF and NHTSA urge motorcyclists to:
• Get trained and licensed.
• Gear up — including a Federal Motor Vehicle Safety Standard (FMVSS) No. 218-compliant helmet manufactured to the standards set by the Department of Transportation (DOT).
• Ride with no drugs or booze in your system.
• Know your skill limits.
• Keep learning by taking refresher rider courses no matter how long you have been riding a motorcycle.
Motorcycle fatalities and injuries are not the problem of just one person or organization to solve it is everyone's responsibility — the states, local jurisdictions, national organizations, rider groups, manufacturers, insurers, individual riders and drivers. It's everyone's responsibility to do everything within their power to ensure a safe and enjoyable ride for all motorcyclists, every trip, every time.
If you ride a motorcycle you need to always put safety first, the life you save could be your own!
If you or a loved one has been involved in a motorcycle accident In Florida call 1-800-4-BIKERS to speak with an experienced motorcycle accident lawyer who can give you the facts about your rights and what you should do next!