The Kawasaki J Concept Motorcycle – It's fast and furious, but only when you want it to be.
The geniuses behind Kawasaki have unveiled a true transformation with the J Concept motorcycle. The bike is designed to easily modify from an upright cruiser to a road-hugging sport bike with relative ease. By simply using a hinge that is located beneath the rider's seat, the bike can adjust the width between its dual front wheels while at the same time lengthen and shorten its wheelbase; in either situation the two rear wheel remain in a fixed position.
While the bike is in "sport mode" the front wheels are closer together and allows the rider to lean into the bike. When the rider wants to slowly cruise to show off the ride the wheels can spread apart to provide the stability needed at lower speeds and the seat will adjust into an upright position.
To play up on its dynamic futuristic appearance, the bike is electric and is powered by a Gigacell nickel-hydride battery which was originally developed for Kawasaki Heavy Industries transportation applications.
For riders itching to get their hands on the Concept J, it unfortunately isn't intended for mainstream production at this time. However, it definitely is making a splash at testing the waters for what the new generation of riders might be interested in after the success by competitors such as Can-Am.
Stay tuned!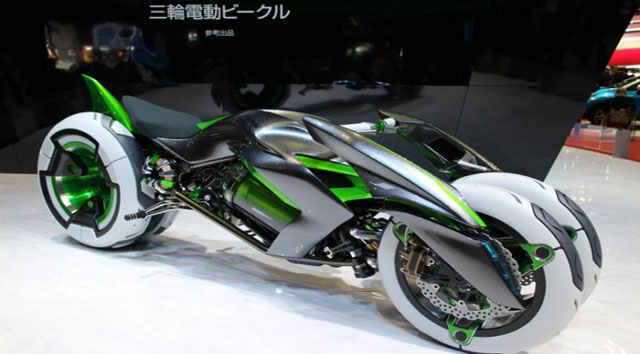 Russ Brown Motorcycle Attorneys® Harley-Davidson Softail Motorcycle Giveaway 2014
Russ Brown Motorcycle Attorneys® and BAM, free emergency roadside assistance for riders will be giving away two brand new Harley-Davidson Softail motorcycles in 2014. When you see Russ Brown and BAM at a major motorcycle event stop by the booth for details. Two lucky BAM members will win in 2014. If you have plans to attend any of the International Motorcycle Shows, Daytona, Ohio Bike Week, Sturgis Motorcycle Rally, ROT Rally, etc stop by the booth, sign up for BAM and enter to win in 2014. For more information about BAM, the nation's largest network of Riders Helping Riders®, head to RussBrown.com
Ride Safe!
See you on the road!