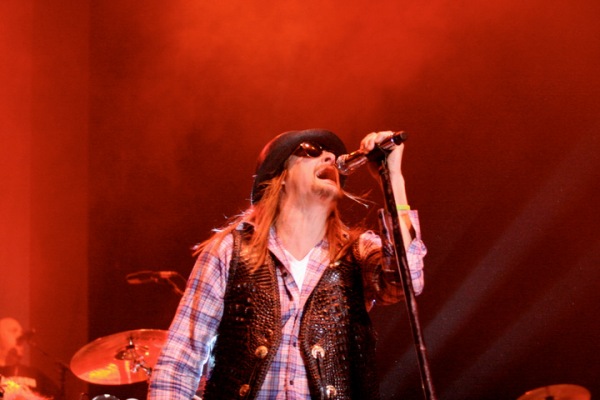 Those of you who didn't make it to Sturgis or the Buffalo Chip this year truly missed the rock show of the year with Kid Rock kicking ass and taking names at Sturgis 2010! When i saw that ZZ Top and Bob Dylan would be headlining at the Buffalo Chip this year, i knew i would  make seeing both acts a priority, and i was so blown away by the pure power soul and artistry of ZZ Top that i didn't think any other act on the bill for the Buffalo Chips 2 week party could upstage the Texas Home Wreckers……well i was dead wrong.
I got to the Buffalo Chip early to see Bob Dylan, and seeing him live awakened my early years of live music and following my favorite bands…i was fortunate to have a Press Pass and VIP credentials to make it back stage to see Dylan perform form stage left; i guess in my old age i have lost the drive to push and shove at festival shows, and and it is a good thing that i stayed back stage, because when Kid Rock took the stage all hell broke loose and there was a collective push to the front of the stage.
Breaking the records for attendance at the Buffalo Chip, there was an estimated 100,000 plus for Kid Rocks show at Chip! Kid Rock took the stage in his usual cool and cocky manner and proceeded to churn the crowd into a frenzy kicking it off with Rock and Roll Jesus…In perfect form, Kid Rock and crew held the Buffalo Chip in their collective hands while belting out their slick Motor City hits one after another!
This show was not only a tribute to rock and roll music, but also to every biker who made the run this year. i have had the pleasure of hanging out and partying with bikers from as far away as Germany, and from places all across the United States. I made it a point to ask people why the made the journey, and while the answers very, the general consensus is they all wanted to be a part of the biggest motorcycle rally in the world, and celebrating freedom and being in wind, they couldn't think of any place that would rather be than at the Buffalo Chip!
I guess you could say that the essence of the biker lifestyle is a celebration of freedom and being in the wind…..of course i am sure that includes friends and family.
Another amazing fact is with over 100,000 people in attendance at the Kid Rock show, there wasn't one fight, no bullshit, or drama that is common place at large capacity rock and roll music shows…Bikers have a motto…"We Give what we get!"…. So you can boil it down knowing that everywhere you went in the Buffalo Chip you got respect, and were greeted with friendliness and a hearty "how the hell are ya!", and more times that not an iced cold brew as well!
If you or a loved one has been injured in a motorcycle accident you need a tough and experienced motorcycle lawyer who will fight to protect your rights! Call 1-800-4-BIKERS to speak with one of our lawyers today!