One of the best things about my job working for Russ Brown Motorcycle Attorneys®, is meeting some incredible people in the motorcycle industry. One of those shining stars is Carmella Brown.  Many of you know Carmella. She is the creator of New York Rider Magazine and can be seen at most of the major motorcycle events, not just in New York but all along the East Coast.
I met Carmella at the International Motorcycle Show in New York City in 2009. I knew as soon as I laid eyes on her that she was a force to reckon with. We had a great time in New York City and have worked together at many events since then.
What makes Carmella stand out?
Carmella is fierce about protecting bikers rights. She goes to meetings, she goes to court hearings, she writes articles, she supports children charities, etc, etc. Carmella is a doer. When she was at the 13th Anniversary Catskill Mountain Thunder motorcycle celebration a fire broke out at the Blackthorne Resort. Carmella ran straight over and started to help. She found out that a group of young Romanians  who worked at the resort every summer lost everything in the fire. Carmella immediately went into action. She collected clothes, money and supplies for these kids from vendors and fellow bikers at the event. She then took her truck and headed to Walmart to load up on additional supplies for the kids. She explained the situation to the assistant manager at Walmart who gave Carmella 10% off the entire purchase. Carmella did not stop there…
Carmella started making calls to New York attorneys to make sure these kids got their passports back.
On Thursday, October 14th Carmella sent me an email with a link to www.syracuse.com. It was a an article about Fred Salisbury, who at the age of 89, jumped from an airplane. The article goes on to say that Fred Salisbury, a WWII paratrooper wanted to do something different and why not do it again. Salisbury said it was a beautiful day to jump and reminded him of the time he served with the 87th Airborne, from 1944 to 1946.
Salisbury, who has two daughters, five grandchildren and 12 great-grandchildren, isn't ruling out the possibility of jumping again. On Saturday he jumped with an instructor and his family watched as he made his way to the ground.
Fred Salisbury is Carmella Brown's Grandpa.
I had a huge smile on my face when I finished reading the article because I could see where Carmella got her 'balls' from.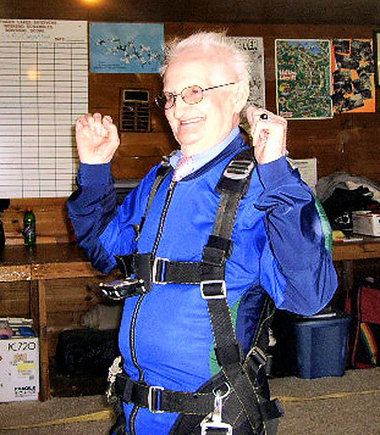 Powered by Qumana