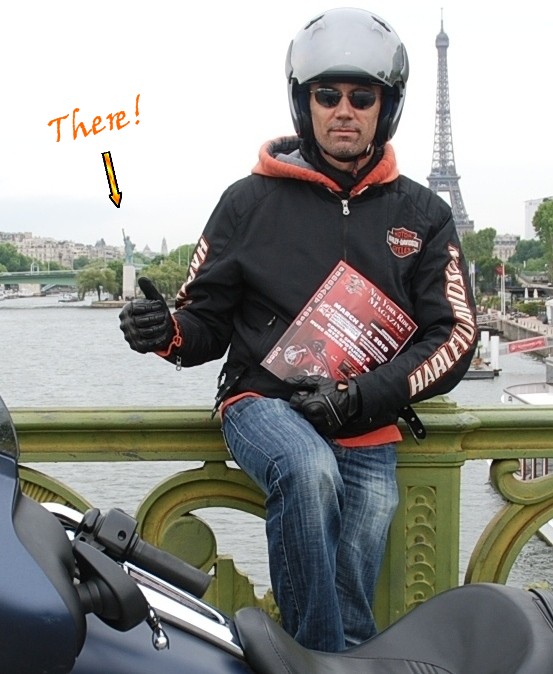 Salut à toi rider Newyorkais! This is a letter from a French fan of New York Rider Magazine. Enjoy!
Have you ever been to… France / Paris my friend? Maybe not? …
Ok, it would be my pleasure to welcome you but it's especially my duty to help you to prepare the psychological aspects of this trip, to try to reduce the cultural shock (Traumatism?). I insist, trust me. Take a seat, have a beer (or a valium) and read it. You and me, you and us, are not so different. We have our own style but in fact, you will discover that like you, we proudly ride French American Harley Davidson motorcycles .
The traffic in our cities (yes we have cities, not only small typical villages) is sometimes heavy and exactly  like you, we proudly drive French American Cadillacs.
After hours, or on saturday morning, we use to go shopping (no so proudly) to French American Wall Mart Supermarkets (pic on right).
I know that American tourists worry about their security (I'm not talking about you of course my friend, as me you're a rider, nothing could effraid us) when they come to my country. No reason, believe me! Our cops are not dangerous,                                                           they even smile working (Photo below). Plus, I confirm, after this photo, i'm still                                                          alive  and free.

I know, I'm now going to deal with a delicate topic : French / Parisian women … Touchy, touchy, touchy (even for us Gaulish Parisians)!!! Finally, I'm sure you already know everything you have to know about our blond princesses: they are charming creatures and wear the nicest clothes of this wide world (french lady in pink shirt  – right)

At the end, let me introduce my last literary fatal and definitive argument to convince you to come: the FRENCH STATUE OF LIBERTY. Hey, I'm serious, don't laugh, it's not a joke!!!! I'm sure you remember that the original (located in NYC) was offered by the French People in 1886 to celebrate the centenarian of the American Declaration of Iindépendance as a symbol of friendship between our two great and free Nations (photo of Herve above). You find this statue in the west of Paris, on the river Seine, nearby the Eiffel Tower, oriented to look America.
When I told you that we were already friends…
See ya soon on the road (who knows?)
Hervé
P.S.: have a look there for having a best and beautiful view of the French Statue of Liberty:  https://fr.wikipedia.org/wiki/Fichier:Paris-liberte-eiffel.jpg
Thanks Herve for the letter and hope to see you on the road. Perhaps at the Sturgis Motorcycle Rally?  I'll be at the "Best Party Anywhere!" That, however is still a few weeks away. Today I'll be heading to Long Beach California for the annual Long Beach Calendar Motorcycle Show. It is incredibly hot in Los Angeles today so it will be nice to be on the coast of Long Beach, CA. Russ Brown Motorcycle Attorneys® and BAM will be at the show so stop by the booth.
A lot of motorcycles will be on the road today and the news is already full of motorcycle accident reports including Aerosmith legend Joe Perry was in a motorcycle accident. There  was reports of another man vs deer motorcycle accident out of Des Moines. I wrote a previous blog on motorcycle vs deer accidents and to see what kind of coverage you have on your motorcycle if you are in an area where these types of motorcycle accidents are common. And a sad sad story from WHITMAN COUNTY, Wash. On July 16th two people were killed when a pick-up turned into their Harley Davidson motorcycle. Kathleen Russell was pronounced dead on the scene. William was taken to Pullman Regional Hospital where he was pronounced dead soon after he arrived. Our prayers to all those families affected by these and other motorcycle accidents.
Signing off from Los Angeles. See you in Long Beach.
Powered by Qumana