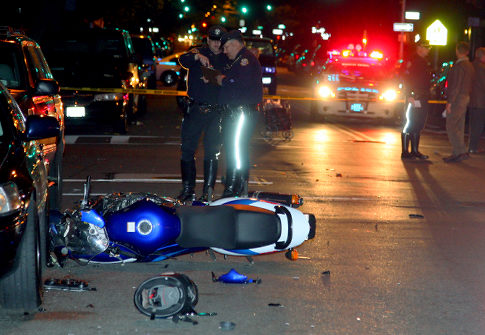 Looking for the right personal injury attorney in New York after you have been involved in a motorcycle accident is not as difficult as it may sound. A New York motorcycle accident lawyer is the best person you can talk to after being injured in a New York biker accident. You need someone who specializes in motorcycle accidents and is a rider himself or herself. They know the ins and outs of motorcycle law specific to New York and know how the insurance companies assume the motorcyclist is at fault even when that is not the case.
How to find the right attorney?
Ask fellow riders, check out biker websites, talk to motorcycle clubs. Many lawyers pose as motorcycle lawyers to get the business but very few are actually part of the community, attend events etc. Russ Brown Motorcycle Attorneys® are part of the community. They can be seen everywhere from the Rock Store in Los Angeles to the Sturgis Motorcycle Rally, at Daytona, the Ride to the Wall in Washington DC. Any major rally you will find Russ Brown and the BAM team. Russ Brown created BAM after breaking down on his motorcycle over 100 miles away from home. He envisioned a large group of bikers that would help fellow bikers in times of need in their neighborhood and BAM was born. BAM now has over 1.5 million members and is growing stronger every year. The goal – to help you if you are in an emergency situation – we call BAM members near you to help.
If you are in need of emergency roadside assistance in New York while on your motorcycle or you have been injured in a motorcycle accident – get a New York Biker attorney who will be there for you.
FREE Consultation: 1-800-424-5377
If you or a loved one has been involved in a motorcycle accident in New York, you need a tough and experienced lawyer on your side. Since 1975 Russ Brown has been winning millions from his clients with a 98% success rate! Call 1-800-4-BIKERS to request a 100% free consultation today!