German Mechanic Builds Bike Powered by Airplane Engine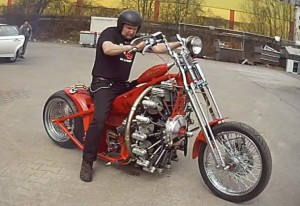 Here's to innovative thinking–German mechanic Frank Ohle has created, what he calls the Red Baron; a chopper that features a 9 cylinder, 150hp Rotec Radial R3600 aircraft engine.  

This truly unique motorcycle has garnered international accolades as a triumph of engineering. It has been featured in popular vehicle media outlets like Motorrad and Top Gear, to name just two. A video featuring the bike has also gone viral on the Internet.
Taking a full 18 months to construct, Ohle drafted and crafted every detail of this bike, (other than the engine), from the frame to the headlights. The engine itself is a standard aircraft power plant built for use in small planes. Painted red with splashes of white, the motorcycle was constructed to capture the spirit and look of its namesake, the Red Baron.
Ohle also elected to keep a small propeller on the front of the engine, adding a really cool element to the look of the bike it, which gives both the rider and spectator the odd feeling that the bike will take off any minute, (though we all know that's impossible).
This is not the first time Ohle has captured the imaginations of European gearheads with the spectacular creations that roll out of his shop. He has captured numerous building titles around Europe with his customized motorcycle creations.


Russ Brown Motorcycle Attorneys®