Traveling on Kindness – BAM Motorcycle News
Leon Logothetis believes in the kindness of strangers. So much so, that he is going to travel around the world on his motorcycle, counting on nothing but the generosity of those around him. That's right; he has no money, no food, and no shelter—just his bright yellow vintage motorcycle that he has aptly named "Kindness One".
This isn't the first time Logothetis has counted on the kindness of strangers. In 1985, he bought a London taxi and named it the "Kindness Cab". He drove this cab from New York to Los Angeles, CA doing good deeds with a veteran that he was taking to a VA Hospital for cancer treatment. At the end of his journey, he donated $11,500 to charity.
Logothetis' new motorcycle journey has just begun—on August 16th, 2013. He recently met with Good Morning America and chronicled his adventures thus far. So far a family in Las Vegas gave him food and a place to sleep. In Nebraska, he met some cowboys that not only allowed him to stay on their ranch, but also gave him a crash course in the Art of becoming a cowboy and some Slap up BBQ.
In Pittsburgh, he ran into some bad luck and couldn't find anyone to help him. That's when he met a homeless man who shared his food with him and showed him where to sleep. Logothetis describes he encounter as humbling and truly inspiring.
According to Logothetis' twitter account, he is already aboard a ship traveling from New York to Barcelona—free of charge and paid in full by "kindness". His travel itinerary has him traveling through France, Italy, Montenegro, Greece, Istanbul, India, Bangkok, Cambodia, and Vietnam. His journey is being filmed for a TV show and to help raise awareness and funds for the Make a Wish International.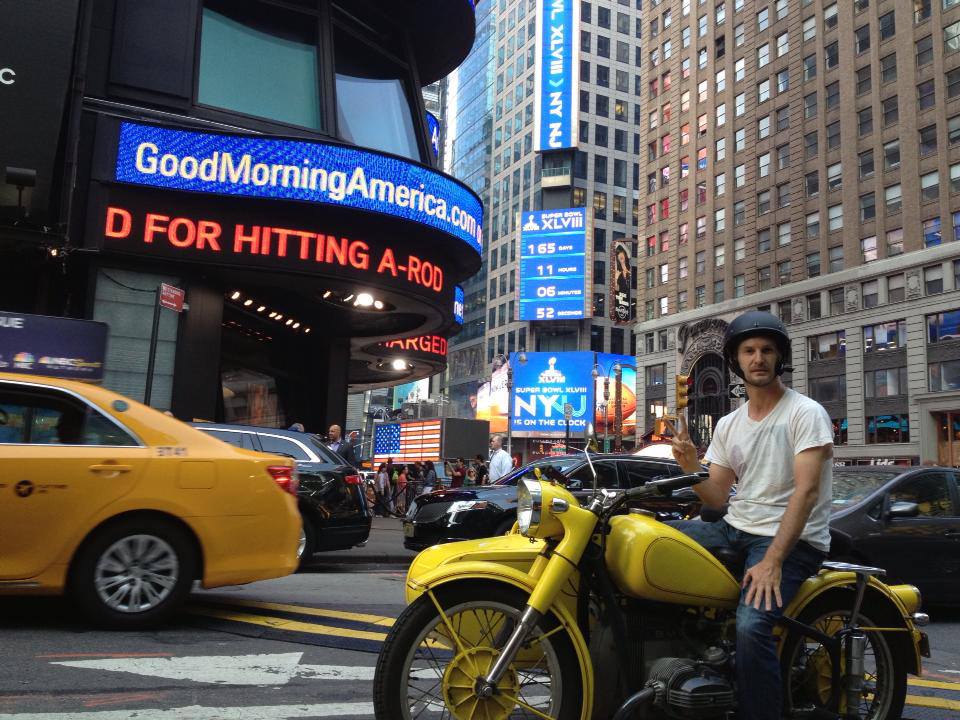 Why does he do this? Perhaps he likes the thrill of the adventure; perhaps he likes to connect with people from all walks of life; perhaps he is out to send a message. We have a feeling he will accomplish all three along his global journey.
You can track Leon's journey on his website www.kindnessone.com.
At Russ Brown Motorcycle Attorneys®, we love stories of motorcyclists showing the generosity of the human spirit. His journey has inspired us—and no doubt, it will inspire you as well. In today's day and age, it is incredible to witness the good in the world—especially through the eyes of a motorcyclist. We will be following Leon's journey closely and will update you of his progress along the way!
Russ Brown Motorcycle Attorneys®