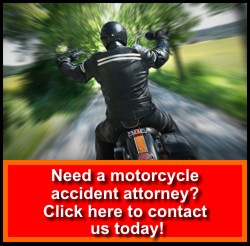 On August 8, 2006, a 51-year-old husband and father of two, John Potts, was "t-boned" by a Hummer 4×4 while driving his motorcycle through the intersection of Jog Road and Beeline Highway near the border of West Palm Beach and Palm Beach Gardens in Florida. James Harvey, a self-employed environmental lobbyist, was driving the company-owned vehicle that hit Mr. Potts. While Mr. Potts was not wearing a helmet at the time of the injury, in Florida, motorcyclists are not legally required to wear a helmet while riding.
Mr. Harvey's defense was to blame the construction company responsible for maintaining the traffic signals, but eyewitness testimony led the Palm Beach County jury to another conclusion. On Thursday, they rewarded $8.48 million to Mr. Pott's widow and two daughters: $4 million direct to Mrs. Potts, $2 million to each of the daughters and $480,000 for estimated loss of income that the self-employed locksmith would have earned in his remaining years of work. A verdict such as this is harder to come by during economic times, but the jury felt that the circumstances warranted compensation to reflect the magnitude of the loss felt by this particular family.
While no amount of money will ever replace the loss of a loved one, if a motorcycle accident does result in loss of life (especially due to someone else's negligence) it is always worth consulting with an experienced Florida motorcycle lawyer to review all of your legal options.
If you or a loved one is injured or killed in a Florida motorcycle accident, our experienced Florida motorcycle accident attorneys can help you get compensation for your injuries or losses so you can move forward with your life. We have motorcycle attorneys available to help in any Florida city including Panama City, Fort Lauderdale, Orlando, St. Petersburg, and Tampa. Call us at 1-800-BIKERS today.
Powered by Qumana