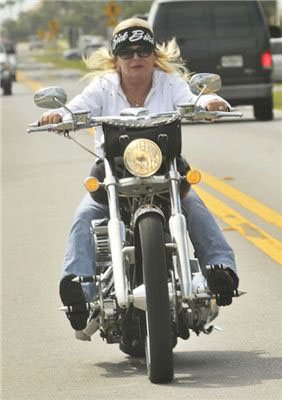 How refreshing to hear from Reese a self-taught rider, how she put ego and pride aside to acknowledge bad riding habits and was open to fine tuning her skills. She's a cool Moto mama and it's a pleasure to shine the light on a gal whose inner determination opened the door for her get out on two wheels.
Name:
Reese Mills
Location
: Destin, Florida
Occupation:
Vacation Rental Properties
Currently rides:
07 American Ironhorse Outlaw – Just sold my 09 HD Street Bob
When did you start riding?
 2006
What got you involved in motorcycles and how did you start?
I always rode passenger and decided it was time to ride my own. Determination is what made me do it. I taught myself to ride in a football field. I always rode with the guys on the back and the guys I know all drink and ride. I am firmly against that so I went into Harley and asked them for a starter bike and he sold me a Sporty 883. Which I would never advise a woman to purchase, only because I found it to be top heavy. The Street Bob is a nice handling bike. I really push all women I know to take the motorcycle safety class. Being self-taught, I failed it even though I had rode all over the country by the time they offered a class in this area. I failed it based on myself taught bad habits. I wouldn't trade this bike for anything else now.
How has riding motorcycles impacted your life?
It is the freedom to get up and go when my job becomes too stressful. It seems to clear my head just to get out in the wind without a care in the world.
What has been your biggest challenge with riding?
My height.
What do you like most about your model motorcycle?
That I found a bike I can touch the ground finally.
What modifications have you made?
Easy clutch installed, brought the foot pegs back, added chrome wheels and custom paint. The clutch modification helped as I found the clutch very tight and I couldn't hold it in with small hands, so we put in the easy clutch and it can be controlled with two fingers now.
When you're not riding motorcycles what are you other interest?
Gardening
What advice do you have for other women riders?
Get out there and do it. It is something you can enjoy all alone.
How tall are you
? 5'2"
What is your weather like year round
? I ride year-round in Florida. We do have a pretty bad love bug season, but I learned to make sure my ears are covered and wearing the proper riding gear usually helps. It's never too hot for riding on the weather side. Gets a little hot on the right leg with the Big Radius pipes though.
How is riding therapy for you?
It frees my mind and just feeling the wind on my face and blowing through my hair. I have met some great people since I started riding.
I enjoy benefit rides the most. Toys for Tots, rides for our Veterans, people needing help with hospital bills, etc. I enjoy traveling places I wouldn't have gone in a car.
Respect to her for taking control of her life and not riding as a passenger with guys that drink. I hear horror stories from gals who didn't take that into consideration. I appreciate Reese and other women riders who have the courage to grab the handlebars of their life and be in control of where they decide to roll…
Ride ON!
Brenda Fox
From Florida to Texas, California to Ohio, Pennsylvania to Arizona,

Russ Brown Motorcycle Attorneys®

fight for injured motorcyclists on the road and in the courtroom. We have been in the motorcycling community nationwide for over thirty years and are available to those injured in a motorcycle accident or riders who have a legal concern, twenty four hours a day, seven days a week. Our experienced and aggressive motorcycle injury lawyers focus on motorcycle accident cases.

Call the motorcycle injury accident lawyers today about your accident 1-800-4-BIKERS.