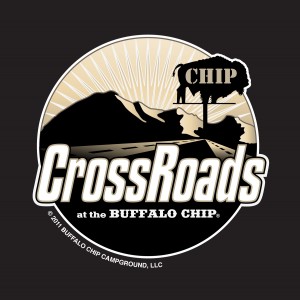 For over 30 years the Buffalo Chip has been dedicated to providing a one of a kind experience to its campground visitors and the 2012 Sturgis Rally has kicked off with a bang and looks like it may be one of the best years yet. 2012 has begun with the Sturgis Buffalo Chip opening of the new  CrossRoads. The Buffalo Chip has always been a focal point for presenting the finest live music, entertainment and camping in a friendly environment, but with the addition of the CrossRoads Cafe it gets only better.
The CrossRoads provides visitors with a free access area at the Chip where rally enthusiasts will be able to visit friends and vendors, enjoy food, drinks, and music and find a much-needed relief from the traffic in the town of Sturgis.
"There has long been a need for a complete motorcycle rally park with free admission that's easy to get to, provides access to industry displays and vendors and has ample and easily accessed free parking. It's been planned for years and I am delighted that the Crossroads is now open for the 2012 Sturgis Rally," explains Rod Woodruff, owner of the 560 acre Sturgis Buffalo Chip. "The Crossroads gives the Sturgis Rally visitor and general public the opportunity to come to the Chip to look at custom bikes, shop, view new products, get motorcycle mechanic work done, enjoy good food, full bar service, beautiful dancers, live musical entertainment, and just hang out and meet some friends without having to pay an admission fee."


This new addition is located adjacent to the entrance to the West Gate next to the Freedom Field of Flags. It is viewable from Highway 34, and attracts riders coming into Sturgis from the east. The Chip has erected a statue of a 30-foot-tall V-Twin engine by the CrossRoads Cafe and the giant statue has become one of the iconic Sturgis photo-op of the 2012 rally.
The CrossRoads boasts live music, cheap drinks and food and plenty to do and see, and it is 100% free, it doesn't get an better than that…