Florida Motorcycle Attorney; Being a female Police Motor Officer is not for the mild mannered, spectators of life…
Determination, physical agility and top of the crop riding skills are a few of many needed requirements to pursue a career as a law enforcement motor officer. Michelle from Orlando, Florida is an amazing inspiration as she shares a bit of her story…
Name: Michelle Angeloff
Location: Orlando, Florida
Occupation: Police Motor Officer
Currently rides: 2009 BMW RTP 1200 and a 2011 Street Glide
When did you start riding? What got you involved in motorcycles and how did you start?
I started riding leisurely in 2004. In 2005 I was certified as a police motor officer.
How has riding motorcycles impacted your life?
I never imagined that I would be riding a bike for a living and loving every minute of it.
What has been your biggest challenge with riding?

The biggest challenge for me has been competing against the male competitors in the motorcycle competitions. I am usually the only female in a very male dominated venue. It has taken a long time and a lot of hard work to finally achieve recognition.
What do you like most about your model motorcycle?
I like the BMW because it is very quick and runs much cooler than the Road King. However, I love Harley Davidson's for competitions. I love my Street Glide hands down.
What modifications have you made?
The BMW has a lower seat. I have not made any modifications to my Harley Davidson Street Glide.
When you're not riding motorcycles what are you other interest?
I enjoy running and working out, spending time with my good friends and playing with my dogs.
What advice do you have for other women riders?

My advice for other women riders is to ride safe and never ride above your skill level. Always scan the road around and in front of you. And never assume that people see you. I know this because they rarely see me behind them with my emergency light on.
How tall are you?
I am 5'5"
What is your weather like year round?
The weather is pretty hot and humid most of the time.
How is riding therapy for you?
I have some of my best thoughts while riding. That is actually when I thought about contacting your web page. When I'm not riding for work I can be found on my HD at least one day over the weekend. I just feel free when I'm on my bike.
No surprise when not on a bike working, Michelle can be found on her Harley. Love that!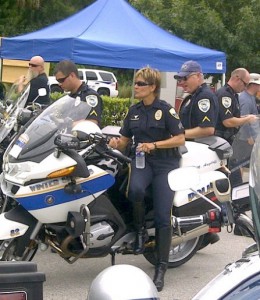 Ride ON!
Brenda Fox

Russ Brown Motorcycle Attorneys® have been fighting for motorcyclists hurt in auto/motorcycle accident for over thirty years. If you were injured in a motorcycle crash in Miami, Tampa, Orlando, Florida, Jacksonville or anywhere else in Florida we can help you. Call 1-800-424-5377 for a free consultation and speak to an experienced motorcycle accident lawyer in Florida today.