Photographer Michael Lichter is one of the motorcycle industry's most accomplished photographers. He has over 4-decades of experience shooting motorcycles and biker culture and has published work in dozens of magazines over the years. Chiefly, he is known for having a key role in Easyriders magazine, a union that has lasted over 40 years. Today, we rolled the motorcycle off center stage to bring forth the man behind the lens. Michael has traversed the world for more than 40 years, and his photography accolades have provided him a unique acceptance globally.  Today, he shares the art of getting a good picture of your bike. We'll also look at 40 years of changing journalism and find out what brings a great biker story to life. This is a conversation with Michael Lichter. 
Michael, how did you get started in this business, and what keeps you at it?
"I didn't start by thinking I was going to do features for magazines. I was just a rider and a photographer and did both of those things. I've had a darkroom since I was 13 years old, so I've always had a passion for photography. In 1977, I purchased my first Harley from Frisco choppers in San Francisco and rode it back to Colorado with a friend. I just started taking pictures from the bike. I would ride places and take pictures of what I saw. I made it to my first Sturgis in 1979. We were shooting films at that time, and mostly black & white. What keeps me at it is that I can't imagine myself not doing photography. I've been doing it for over 40 years and I don't think people would want to pay me for the number of hours I put into it. I spend a silly amount of time staying up until all hours of the night. Here I am 40 years later and I was up 3 nights ago until 4:30 am and I don't think I've been to bed before 2 am in the last week. It may be a job or an assignment, but you're really doing it for yourself. You have to love what you do so much that you'd do it even if you weren't getting paid for it. And then I've been fortunate to be able to have a wife and raise a family by doing it."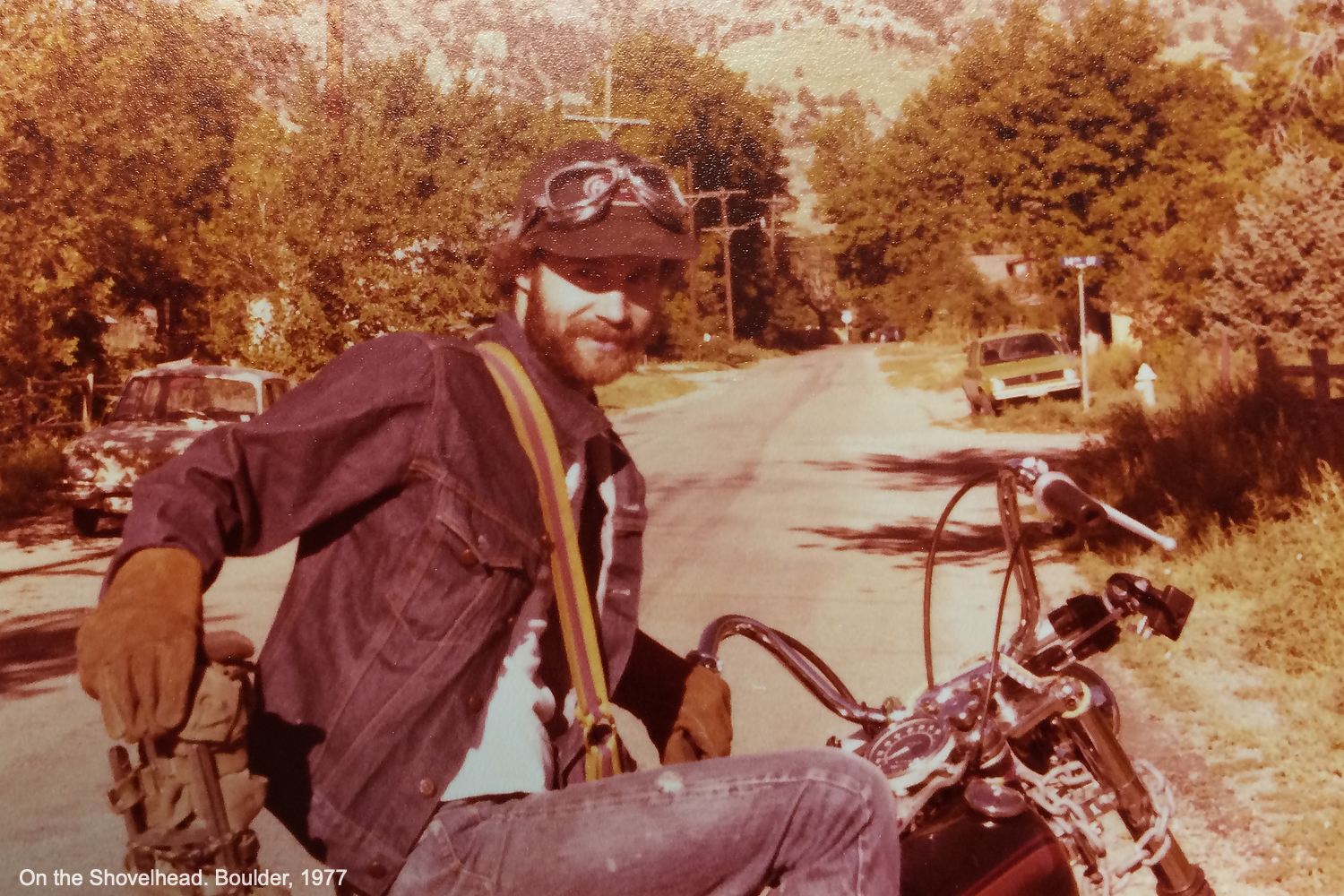 What is it that makes an interesting photo?
"That's a good question because it's something I ask myself every day. You can always make a better photograph, it's a matter of how far you want to go. Sometimes it's as simple as getting up on your tippy-toes, or getting down on your knees and moving a foot to the left or to the right, that can change everything. Photos that work the best for me are ones that have their own energy within them. We're talking about a 2-dimensional space here, something that's flat. There's no actual depth to it, everything is suggested or implied. Really what you're talking about is forms and shapes in space, and how they relate to each other."
You have a custom motorcycle exhibition show in Sturgis each year. It's certainly known as the place to be, especially on opening day. For someone who hasn't been, can you explain a little bit about the theme and the selection process for motorcycle builders whom you invite?
"I never call what I do in Sturgis a motorcycle show at all. I am really clear that it is an exhibition. And I make a point to distinguish that because I think there is a difference. To me, a show is putting a bike on display and showing it off. There is much more thought and intent behind what I do. I come up with a new theme every year, and try to convey what this is in the title. I invite people that I believe fit the theme, and that build bikes of a quality the exhibition is known for. Then, I find artwork that fits along with the show to go on the walls. The themes may be conceptual, or stylistic in nature. I did café racers one year, I did a naked show one year where the motorcycles couldn't have any paint or finish on them. There were 35 bikes in a sea of raw metal that year. For "Passion Built", you couldn't make a
living from your craft, so it was all non-professional builders that year, and one of the artists on the walls was Willie G Davidson who displayed a number of watercolors he has painted just for the love of painting. Some people might argue that bikes are not art, they are functional machines, and I absolutely agree with that. However, I think you can look at things from many levels. People see things in different ways."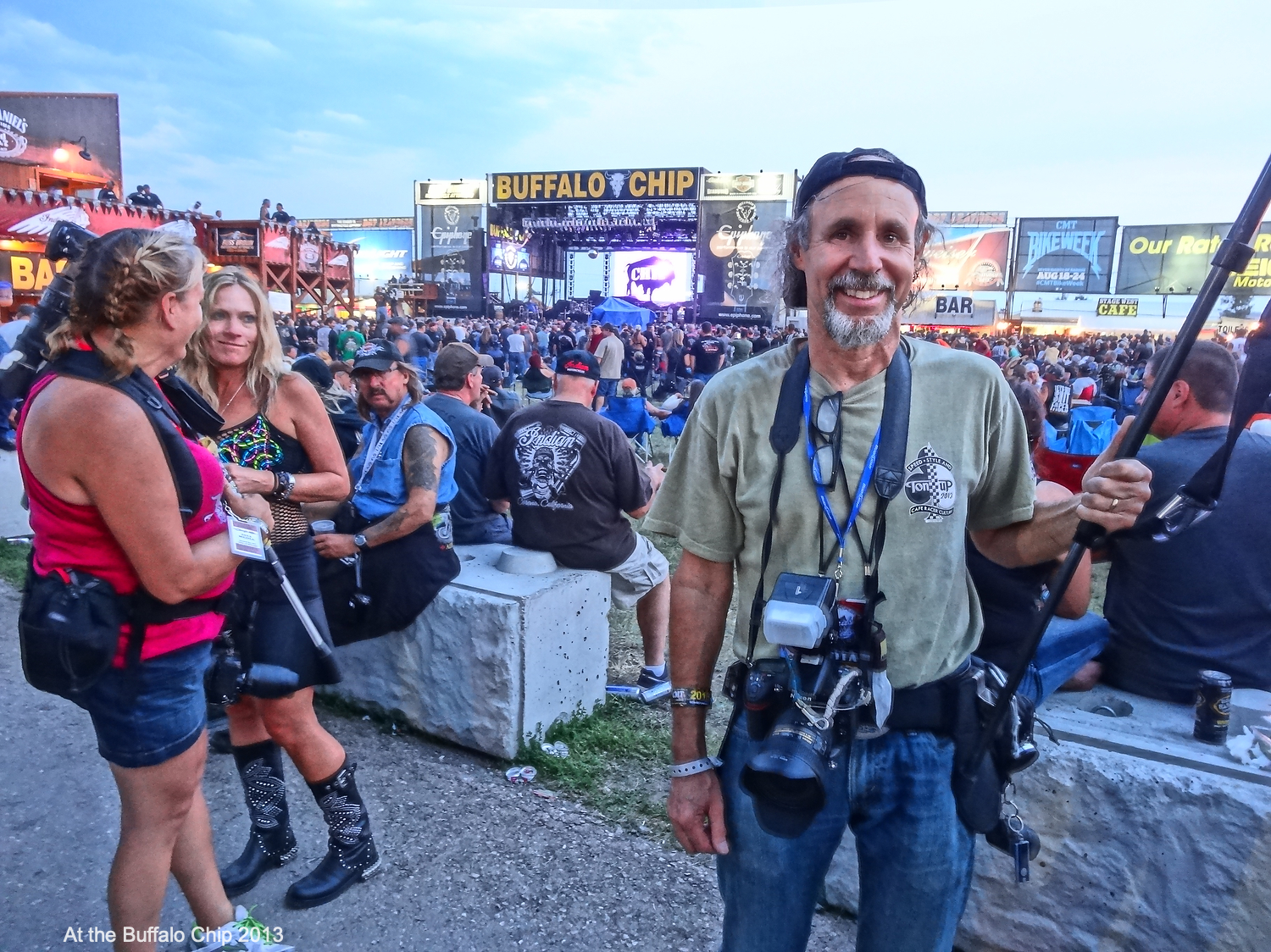 I don't know how many people are aware of this, but the right-hand man helping you document events, is actually your own son Sean. How is it working with family?
"Since 1978 I've had full-time help, which at one point included 2 full-timers and one half-time employee at the same time. I don't shoot commercial work like I used to do, so now one person is perfect. When Shannon gave me a few month's notice, four years ago, I offered the position to Sean, and he accepted. I don't like to say that he works for me, but rather, that we work together. I say that for a few reasons because the job requires a lot of teamwork, and we work under the same stresses and pressure. In addition to assisting on shoots, he is responsible for processing images, fulfilling requests, and updating the website. I'll tell ya, I am a very lucky person. I don't know how many people get the opportunity to work with their kids, especially in this capacity. We've ridden through Nepal together, been to Siberia in winter, Europe several times, Japan, and are still looking forward to more travel. We're going to shoot in Italy next Tuesday and we're going to go skiing for 3 days after the assignment. He does a great job putting up with me. I am a perfectionist and can be hard to get along with and very demanding at times, but he somehow does a great job putting up with me and that's amazing."
Have you ever been involved in a motorcycle injury accident?
I've had my share of spills off the bike, but nothing too major. 
Where do you see motorcycle journalism heading in the future?
"Based on what I've seen over the last ten years, motorcycle journalism is following the broader profession. This means it's gone into the hands of the average person. Anyone can have a website or vlog, and almost everyone has social media. If someone isn't at an event, they want to see it in real-time, and this is tough on traditional journalism since I see journalism as not just reporting, but also putting things into context and part of the bigger picture. You can't do this in real time. And so,  I miss some of the great magazines and reporters that have disappeared and question much of what I see going on. As for the guys starting out and trying to do a good job, I feel bad that so many people don't value photography as they used to, and expect to get it for free, while at the same time, the cost of new equipment has skyrocketed. I'm not sure how a young photographer can make a decent living at it anymore. 
You've done quite a bit of traveling worldwide to document motorcycle riding, but where is the strangest place you have found yourself?
"I've been in places like China, Tibet, Russia. Parts of Asia, India, Afghanistan. I've shot in Nepal a couple of times and in Siberia, which was my last shoot before COVID. Shooting ice racing on lake Baikal was very different and cool. I've had many experiences in different places and cultures. To have seen many things, and be accepted through motorcycling, just makes my life feel very full. This being said, I've had so many experiences that can be described in this way that I can't name a single place."
How do you bring a story alive? What's the secret ingredient to make a story rise up off of the page and really connect with the reader?
"What I've always tried to do is photograph people at the moment, doing what they love to do. If it's a knife maker, they're making a knife. If it's a fabricator, they're bending sheet metal. Or maybe there are people at the moment just having fun. I absolutely love shooting that. There is also the written word, which I have to supply more and more. My writing is sometimes, in part, a reaction to the digital world. As I see it, people take a fraction of a second to look at something and that's it. They can swipe left, swipe right, and move on. They don't really know what's behind an image. So, when I am writing I try to convey not only what happened at an event, but also what's behind the event, why it's happening, and where the energy was coming from? If I'm profiling a person, what makes them tick? What have they accomplished and what are they about? That's what I try to do."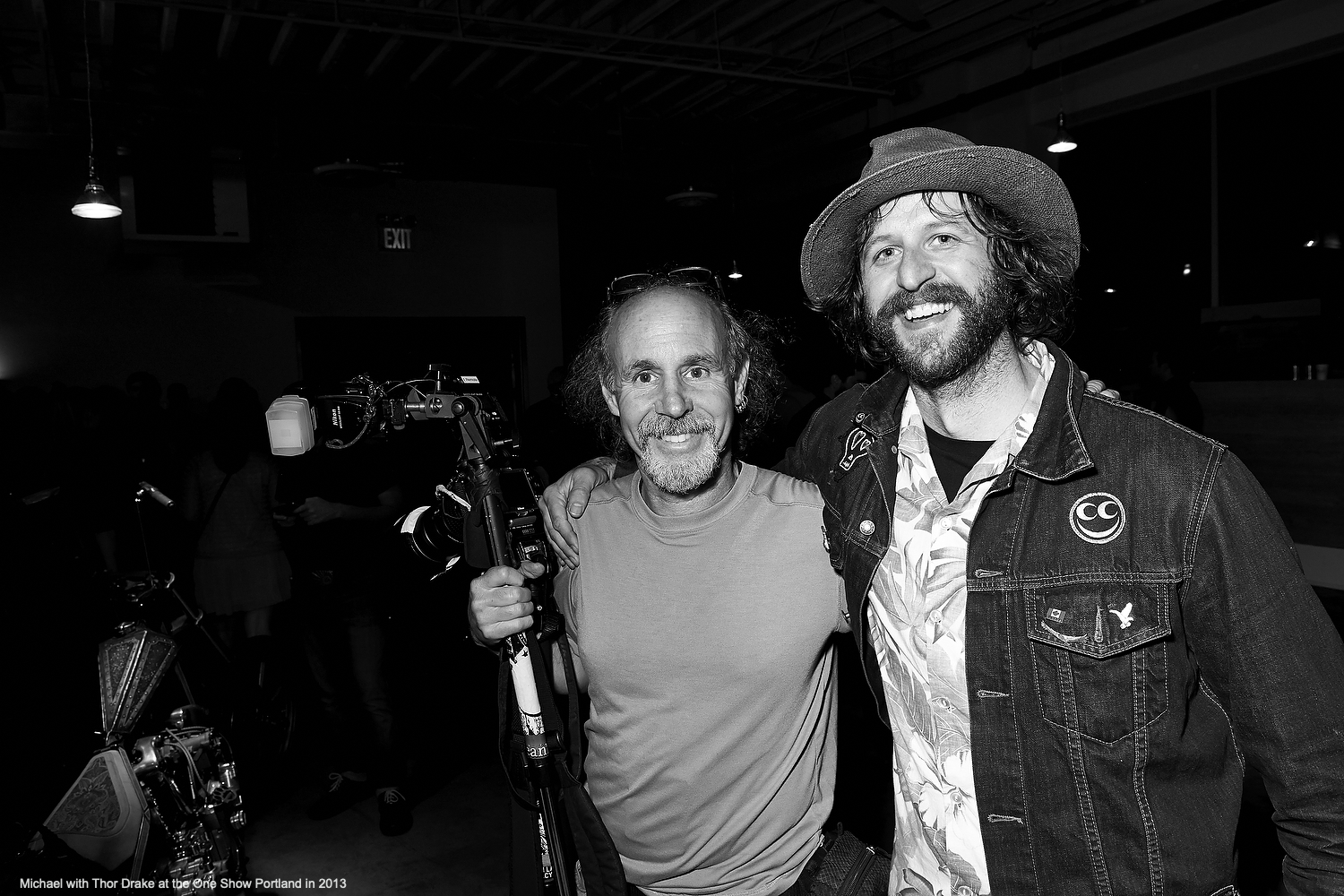 You can find out more information about Michael by visiting www.lichterphoto.com or check out his Instagram @michaellichterphotography.
Written by Ethan White, @countrygrammr.
"If you have been involved in a motorcycle accident, don't let it steal your freedom! Call 1-800-4-BIKERS to learn how an experienced motorcycle accident lawyer can get your bike fixed, money for your medical bills, and compensation for your pain and suffering."