Picture by the_ornery_one
Spoiler alert: This story has a happy ending. The life threatening tumor in my wife's brain never delivered. So now, the outlandish dream that we used to only joke about–riding to both Fuel Cleveland and Sturgis Motorcycle Rally in a 2 week road trip–is becoming a reality. Our 5 kids, stack of bills, and life's little roadblocks have only made us more creative and more intent on fulfilling our dream.
Something tragic happened for us to be able to take this opportunity. November 2018 will be 5 years since we were faced with the dreadful news that Stephanie, my wife, had a tumor in the 4th ventricle of her brain and needed emergency brain surgery 4 days later. We had only a weekend to spend time with our loved ones, swallow the 50/50 chance of life or death, plan accordingly, prepare for 5-7 months of unemployment, fight insurance companies, explain the situation to our children, and somehow keep our own minds positive and not crumble from the stress and fear. These trials taught us to live on so much less than the average U.S. household, travel light, and reside in our 640 square foot tiny house. We consider this scare a blessing in disguise and are so thankful that it happened.


This is also where motorcycles have always played a part in my life—two wheels help me cope with reality, and calms the psychobabble that goes on in my head. I have always had some sort of motorcycle. Well, let's be truthful, I have had some sort of rat bike that was hard tailed, pieced together by old hand me down parts and fabricated from what I had laying around. Still today, we have our old rat bike. She has grown to be a machine loved by so many, and is now lovingly called "Maxwell House". This year, however, we were able to pick up a used 2015 Road Glide which is like riding a recliner compared to the hard tails that I have been buzzing around on. It is this "new" bike that we are able to tour with and take on new adventures.


Which brings me back to our dream trip to Fuel Cleveland and Sturgis Motorcycle Rally…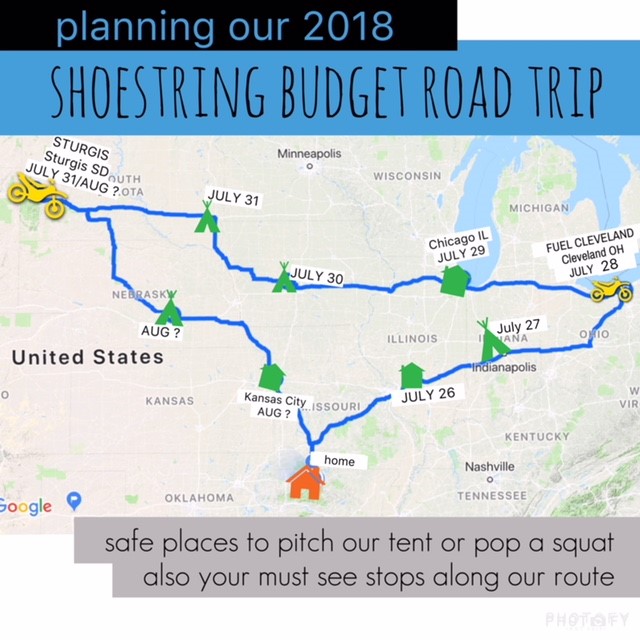 Stephanie and I decided that we are making this trip happen this August. Great! But with 5 kids to consider and all of our bills (I bet no one is surprised that brain surgery is expensive), just HOW are we going to accomplish this? No, the kids are not coming with us on our two-wheeled road trip. They are on the older side and will be cared for during our 2 week expedition. And even with our bills, my wife and I were able to pony up a shoestring budget for the trip… $2,000 for a 2 week outing. That's $2,000 to cover two people for two weeks and roughly 3,200 miles of gas for riding, places to sleep, food and beverages, and whatever else may come up during our journey. We are calling this our Shoestring Budget Road Trip.
We've divided our 10 state trip into three different sections. The first leg, from our hometown in Arkansas to Ohio for the Fuel Cleveland show, is 868 miles. The second leg, from Cleveland to Sturgis, South Dakota for the rally of all motorcycle rallies, is 1,313 miles. The last leg, from Sturgis back home to Arkansas, is another 972 miles. That's a grand total of 3,153 miles, not including sightseeing and must-see stops along the way. At the end of our trip, we will be excited to add up the exact overall mileage.


Luckily we will be able to avoid costly hotels by camping or crashing with our Facebook friends and Instagram followers. These connections on the internet are what brought us together. They make up a community that connects us, makes us stronger, and allows us to tell our story. As of writing this today, I am amazed at how these folks reach out and open their hearts and homes to us. This motorcycle road trip is only one of many experiences that we have had with the grateful hearts of individuals and communities.


As we are packing and preparing for our trip, I have fabricated a tall sissy bar for the Road Glide to accommodate our large hiking bags. These two hiking bags along with our two saddlebags are all that we will have for storage. One saddlebag will hold our two sleeping mats and two sleeping bags. In the other saddlebag goes our coats, gloves, and what we have for rain gear. As for our hiking bags, we will each have 2 pairs of jeans, a pair of shorts, 8 pairs of socks, 8 underwear, 8 shirts, 2 long sleeves, and small miscellaneous toiletries. We have our laptop and camera along with a few cords that we will stick down in the bags as well. Overall, packing is going to be minimal and tight. But to say the least, we are loving every minute of it! At the end of the day, our passion runs deep for each other and for the love of life. This Road Glide is a representation of our commitment of living life at the fullest. Therefore, we named her Liberty.
In just a few days we will set out to the Fuel Cleveland Show and Sturgis Motorcycle Rally to meet the amazingly creative builders and artists, and ride through one of the country's most scenic regions. Spreading happiness & sharing good times without regard to gender, ethnic background, or what brand of motorcycle you ride. We want for every mile that we ride to inspire individuals to discover new adventures & meet amazing people along the way. With your help, we can achieve this!

Instagram: @the_ornery_one (https://www.instagram.com/the_ornery_one)
Facebook: The Ornery One (https://www.facebook.com/theorneryone/)
#stayornery
"If you have been involved in a motorcycle accident, don't let it steal your freedom! Call 1-800-4-BIKERS to learn how an experienced motorcycle accident lawyer can get your bike fixed, money for your medical bills, and compensation for your pain and suffering."