I never check the weather in the summer before a ride in California because it's like – it's not going to rain or snow down here so we're good! Right? Wrong. I live on the ocean in LA so the temperatures are pretty low compared to the rest of the state, even during a heatwave. When Al from Sick Sycles SoCal Choppers hit me up about riding inland to Kernville, I didn't blink an eye. Little did I know, we were about to melt 3 days away.

Let's Go – Nick and his Evo chopper
Cody from Hawg Supply had been rebuilding the transmission in my FXR for the past couple weeks and had just finished up in time for us to leave. He spent so much time on my bike that he wasn't able to get his Panhead tuned up in time to take it on the trip. I said he could just take the FXR and asked EagleRider if they'd lend me a bike for a couple of days. Sure enough, they hooked me up with a 2020 Harley Davidson Heritage.

The EagleRider Heritage parked outside at Hawg Supply in Downtown LA
Friday morning, the crew started showing up at the Codys shop. We had Adri Law there, Sade from the band LA Witch, Joey Kerivan who built a bike for Born Free last year, and Tyler Wheeland, who has one of the coolest survivor Panheads in LA. Our buddy Nick created a route for us to avoid the major highways. Even though we left at 10 am, the sun was already insanely hot.

Lined up near Downtown LA, ready to go.
We took the Angeles Crest Highway up through the mountains and into Palmdale. Coming down the mountain into the Desert Valley was like riding into a hair blowdryer. It was insanely hot. I think it was the hottest temperatures I have ever ridden in. Al and his crew left from Redlands. We were planning on meeting up with them on the 395 highway but because their route was 111℉ they decided to just hammer through the day and meet up at the river in Kern.

Our route from LA to Kern River
Since we didn't have to go way over to the 395 HWY, we decided to go through Tehachapi and ride through the wind mills. It was still over 100℉ and every little cloud that went over the sun was a relief. Even though the heat was extreme, the roads were amazing. I actually had ridden part of this route years ago on a Moto trip from Canada and had been wondering where these roads were for years after. Sometimes it's nice to let someone else lead a ride and let them take you on an adventure. That's what this whole day felt like to me.

Riding through the windmills in Tehachapi

Nick leading the way through the desert hills of Tehachapi
Our 3-hour ride turned into a 10-hour ride which was totally fine with me. The small roads were cool and at every gas station, we found a spigot to soak ourselves and our clothes in. I bought 8 big water bottles that day. At one gas station, Adri and I ignored an "Employees Only" sign that leads us into the store's cooler storage. We spent a solid 15 minutes in there cooling off.
Tyler cooling down at a gas station
Although I was jealous of the boys' choppers, it was nice to have a comfortable and reliable bike through the hot spots of this trip. Breaking down in this heat would be super dangerous and I'm glad we didn't have to deal with that at all on this trip!

My Heritage at a Kernville gas station
When we got to Kern River, we found Al and his crew. There were tons of rad bikes in the campground, a burger shack, a rope swing into the river, and even a bar full of beers! It was a perfect spot to spend the weekend.

Al on his chopper at the campsite
More campsite

Todds Bike at the the campsite
Our friend Ryan just had a birthday and cruised down from Northern California to celebrate for the weekend. He scooped up the Infamous Tom Fugle Chopper "One Love" a while back and had it at the campsite. It was pretty cool to see that thing in real life and even cooler to see Ryan riding it and keeping it alive. Ryan doesn't just ride the thing, he pops wheelies on it down the road and crushes at 100mph all day.

Ryans bike
We spent the next 2 days riding around Kern. Al had a whole bunch of activities planned for us – hiking, group rides, and even river floating. That's right, there were 25 of us dirty biker kids floating down Kern River in dollar store Floaters. It was hilarious. Cody and I took the Heritage for a rip one evening after the heat cooled down. He hadn't ridden the new Harley line yet so it was fun to sit on the back and let him cruise through the Sequoias during sunset.
View from the backseat
On Sunday, it was time to clean up the campsite and cruise home. I shot a few more photos of the bikes that rode out and helped clean up about 10,000 beer cans. Those boys sure know how to party and thankfully they didn't see where I hid my tent up in the trees or they'd come to haze me in the night.

Who's pup!?
Martin's Chop he rode from Redlands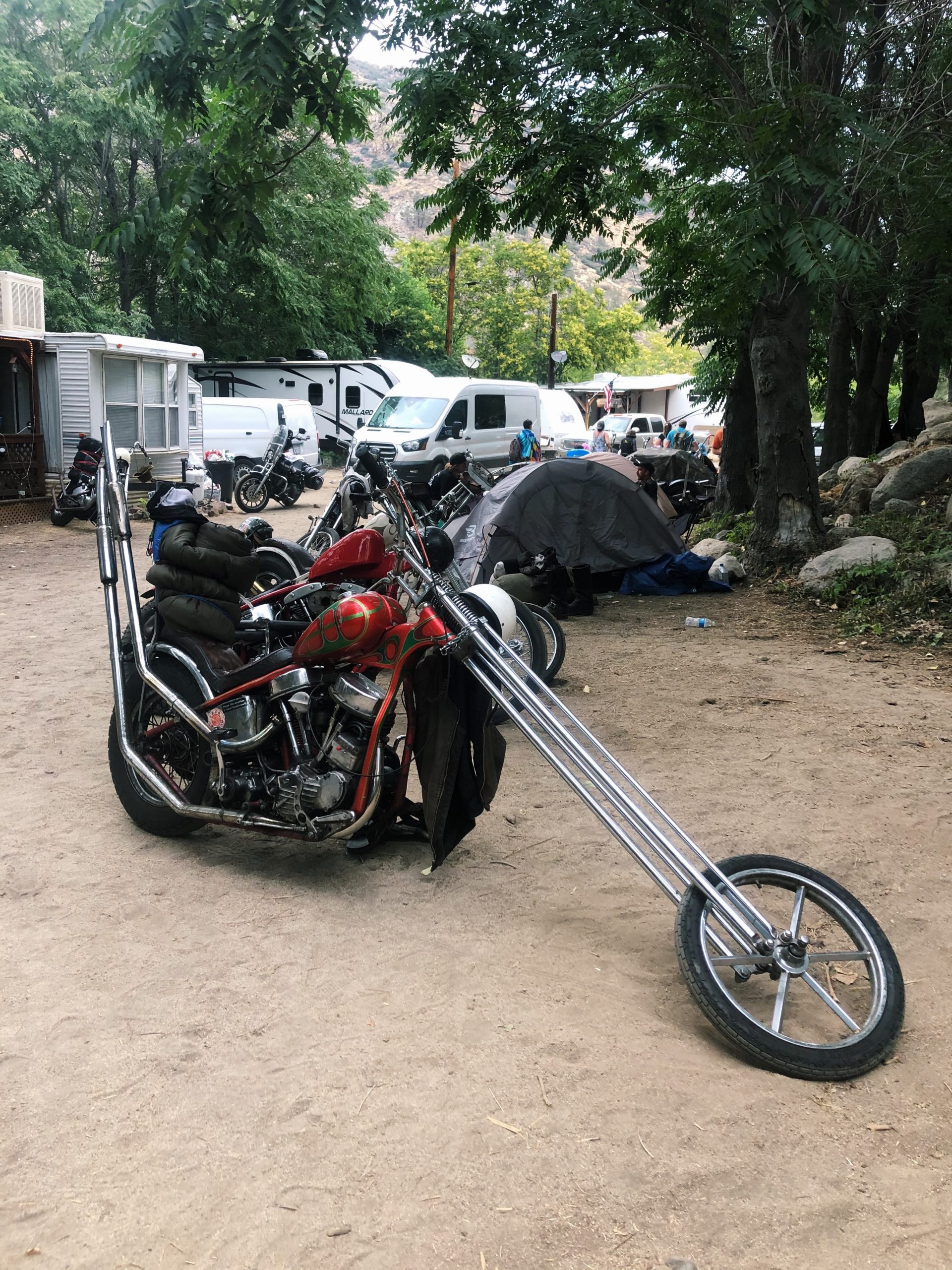 Tylers Panhead
We didn't take off until 6 pm on Sunday. The temps were over 110℉ during the day so we decided on a sunset/night cruise. We rode home a totally different route and stayed all together until we got to HWY 14. There was a little rainstorm in our distance and it was beautiful. There was a single rain cloud with a rainbow that came out the side all the way down to the desert. It looked like the boys were riding right towards it.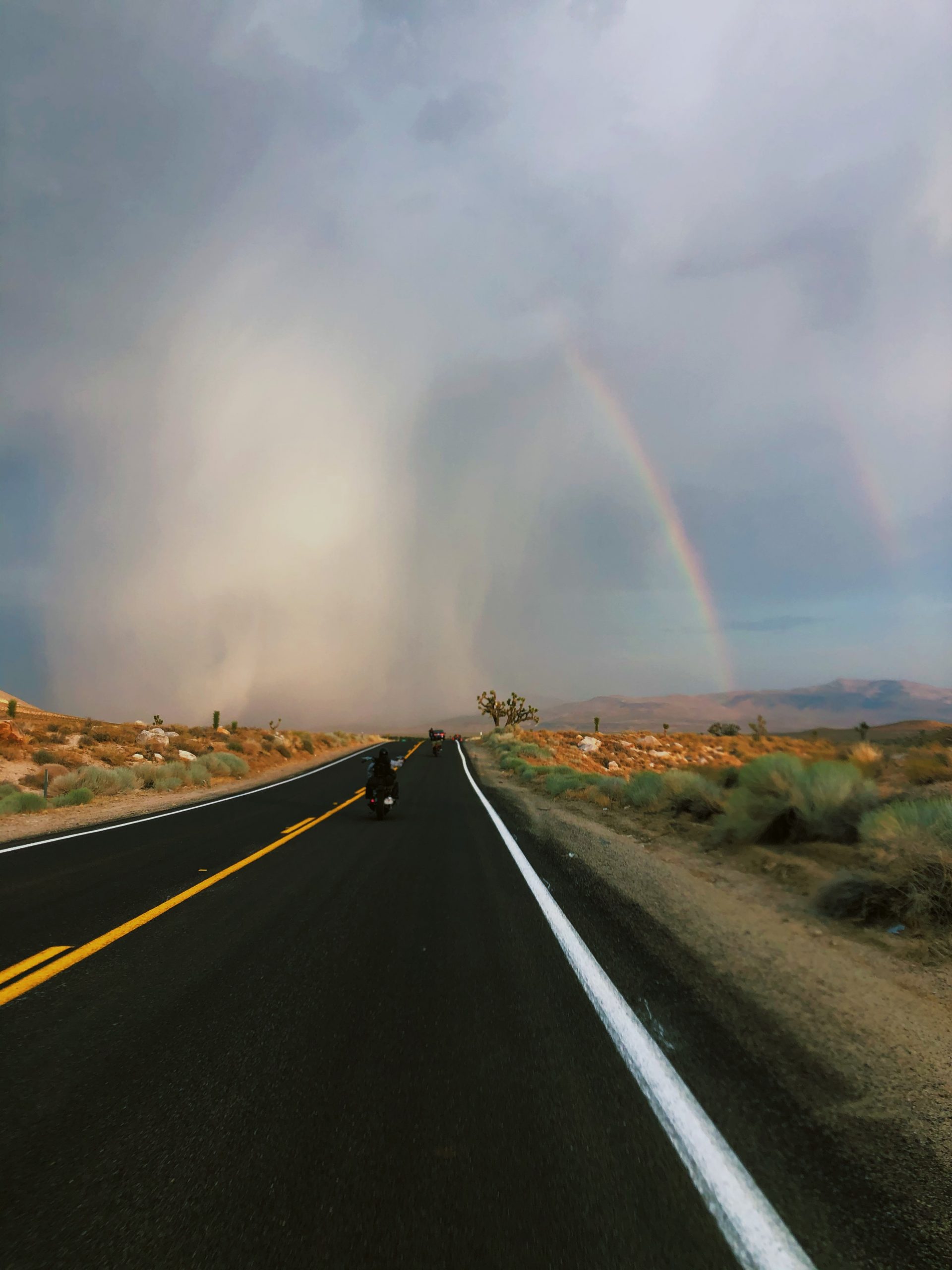 The storm!

Flipped my phone around – Me, Adri and then Cody on my FXR
We split away from the Redlands boys once we got to HWY 14. The 4 of us: Adri, Cody, Nick, and I rode into the evening heat through the Red Rock Canyon State Park and past the rainstorm that actually sprinkled on us for a minute or so. Nick had a leak in his gas tank so we spent some time on the side of the highway but the Summer night was nice.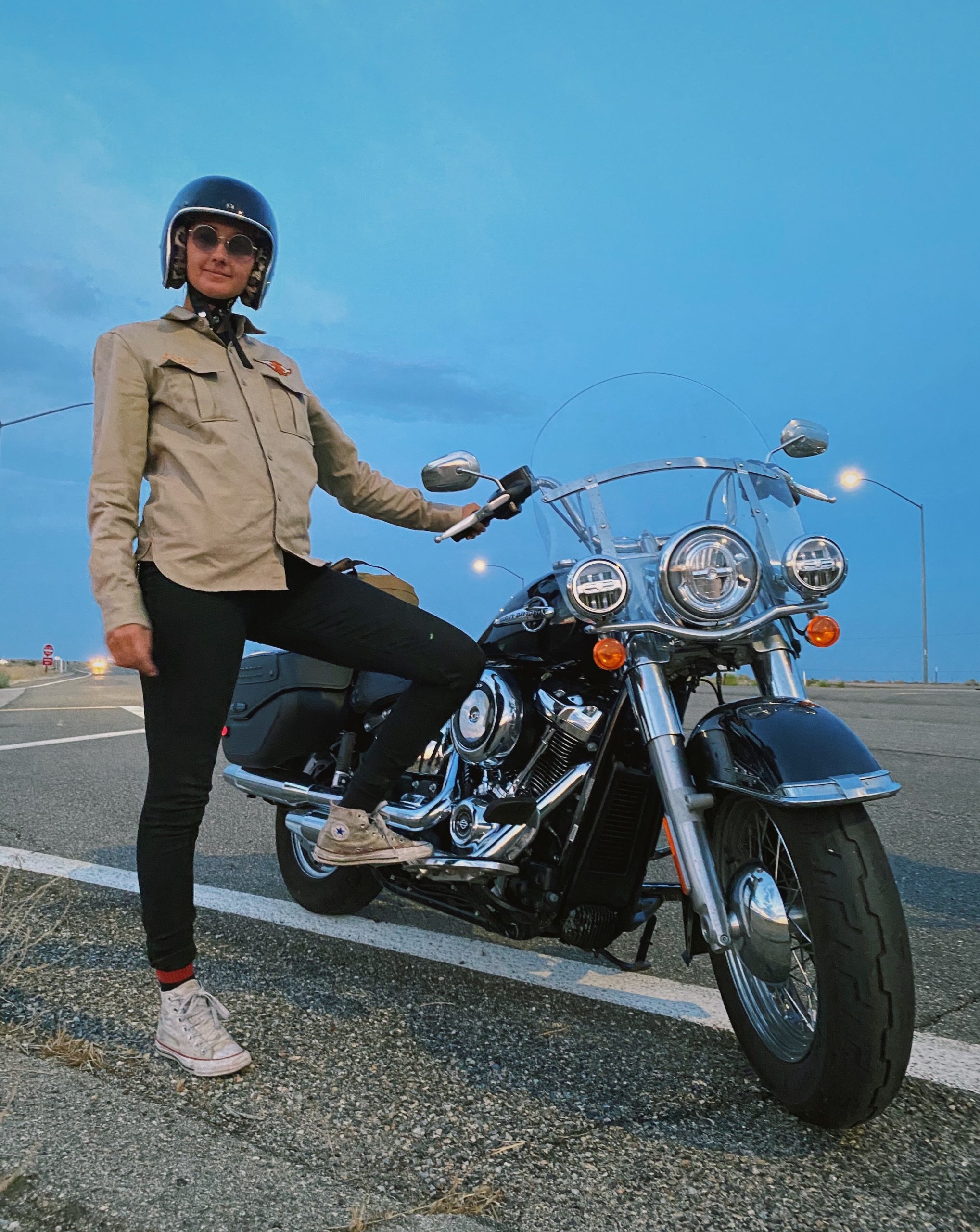 Stuck on the side of the road with my Heritage
Our route home wasn't as intricate as our ride to Kernville but it was pretty dang amazing. The night skies, the summer air after sunset, the little amount of traffic – everything was perfect. After a weekend of sun and riding it was an awesome ending.
When we got home, the news was claiming that Death Valley was the hottest place on earth this past weekend, reaching 131℉. We were less than 100 miles from there on our way home.
I took my Heritage back to EagleRider the next morning. Shout out to those guys for hooking it up! I had a really good experience at their store and with their bike. If you're ever in need of a bike rental, try using EagleRider – they have tons of bikes to choose from dirt bikes, to fast bikes, to any type of Harley Davidson. Until next time guys! Stay cool!

The Los Angeles EagleRider
Becky Goebel @actuallyitsaxel
"If you have been involved in a motorcycle accident, don't let it steal your freedom! Call 1-800-4-BIKERS to learn how an experienced motorcycle accident lawyer can get your bike fixed, money for your medical bills, and compensation for your pain and suffering."