By: Johnny Killmore
Photos: Courtesy Dope Skin Leather Works
Life gave Anthony Martinez several opportunities to give up on his dreams. A stint in Youth Corrections could have steered him into the prison-industrial complex. Instead he found a higher power. An eight-month battle with early-onset arthritis could have put an end to his love for creating art. Instead, he redoubled his efforts. A new career creating graffiti art on the convention circuit for multi-billion-dollar corporations fell apart when COVID-19 ended public gatherings. Instead of retreating to the security of a 9-5, Anthony doubled-down on his talents.
Moving from paints to leather, he has launched Dope Skin Leather Works. While he specializes in custom seats for motorcycles, his talents go far beyond that. Because Anthony does the and not just the tooling and dying, he also produces items ranging from wallets to leather helmet covers. It doesn't matter what it is: if it will hold still long enough, Anthony will wrap it in natural leather, customize it with insane detail, and put a finishing coat on it to protect it for years to come. Anthony even takes on the near-impossible task of portrait work on everything from seats and saddlebags to tank covers. With extensive experience both as a tattooist and air brush artist, Anthony has unknowingly been honing his skills in leatherwork his whole life.
But unlike tattoos, where shading creates the illusion of depth, leatherwork actually does create depth, requiring delicate work with hand tools to literally carve an image into the leather. Going too deep will damage the physical integrity of the piece, so there is no easy way to cover up mistakes with some extra shading. When Anthony is creating a piece, he looks more like someone restoring an ancient artwork or performing micro-surgery. Using magnifying glasses and working with painstaking precision, Anthony is able to create one-off works of art that match the finest show-quality motorcycles. Recently, we were able to pull Anthony out of his Lancaster, California workshop to ask him about his craft. With a working-class background, he turned out to be down-to-earth, gracious, and extremely thankful that he can do what he loves for a living. We asked him about how art came into his life, how he stays inspired despite the long hours, and what it was like nearly losing everything when arthritis took away the use of his hands for eight months.
JK: "So for most artists they start out when they're kids. So, for, what made art stand out initially?"
AM: "Well I remember as a little kid, my dad would sketch out patterns in the sand when we'd go to the river. He was also a leather artist, and I really admired that. I also had an uncle: he was a woodworker. he'd make statues—these really detailed statues—out of wood. I always admired and as I grew older, you know, I'd be in school and instead of listening to the teacher—to the lesson or whatever was going on—I'd be drawing, sketching. I'd do characters and other things. "Then I got into graffiti. You know, doing graffiti bombs and vandalizing stuff, but I grew out of that and really got into more fine art, as in detailed, really fine art. A lot of pencil, black and gray pencil, which got me into portraits. That's where I really started to refine [my skills]."
JK: "So a lot of artists stick really close to one medium and get really good at it, but I've seen your airbrush work and the leatherwork and they're both up to a really high standard. What caused you to move from paint to leather?"
AM: "Well part of it was, I was doing airbrushing, [and] I started a business with my wife doing airbrushing, and we got to the point where we were getting pretty known. We were going all over the country, working with Hitachi and all these cybersecurity companies. We were traveling with them—me and other artists—and we were customizing their products, their giveaways, to their main clients. "But [even though] we got to the point where we had a lot of contracts lined up, the Coronavirus hit, and 'boom,' that killed everything… it just stopped. And so, we're thinking, 'what are we gonna do now?' and I had a bunch of leather here in my workshop: I had been playing around with it [leatherwork] a few years ago but I lost interest. But now I have all this time on my hands, and I had a few seats, and I had some ideas from before, so I just decided I'd start customizing these seats."
After posting images of his first seat to Facebook, Anthony received far more positive comments than he expected. It shouldn't be a surprise if you just look at the work, but Anthony has been posting his work for years. He's done highly detailed airbrush pieces, tattoos of varying styles, and has even done felt marker work on clothing or etched designs into Ugg boots. For Anthony to see such a reaction over his leather design, a lightbulb was sure to go off. With this, his limit can be his imagination, not the hassle of owning a tattoo shop. He could work from home and be a 10-second commute from his family, instead of traveling the country working convention centers. Perhaps best of all, his work would be out on the road being shared with everyone. This doesn't mean leatherwork is a cakewalk. Getting leather to conform to compound curves is tedious. The art still needs to be laid out in sketches and worked on in multiple phases. And unlike tattoo guns and airbrushes, the tool doesn't do the physical work: which brought on arthritis when Anthony first started working with leather a few years ago. That nearly cost him everything.
JK: "So I heard something about you losing the use of your hands? Can you tell me what happened?"
AM: "Yeah, that was about three years ago, when I first started working with leather. I was just so into it, I made a couple of leather purses fully custom, then some bags, and I messed up my hands from working non-stop. My hands got so bad I couldn't even move them, so I went to the doctor and when she tested me she wasn't really sure why but I had a severe case of arthritis. "The doctor though, she was able to put me on some medication and thank God I overcame that. I'm free now, 100% free. Some people that take that [medication] are on it for the rest of their lives, but for me, they put me on a really high dose, and then I just, by myself I went down to a lower dose, and just kept getting lower and lower, and now [the arthritis] is gone."
JK: "So how long did that stop you from doing any kind of art?"
AM: "That set me back, I would say… a good eight months."
JK: "Wow. So nowadays, in terms of time, what's an easy job and what's a hard job?"
AM: "An easy job, like a solo seat, I can do that in like two days. And I'm talking about fully customized, fully tooled. I can wrap it in leather—I do all that work myself—I can tool it with the client's idea, then dye it [if they want color], and have it back in two to three days. "And something bigger, like a two-up seat, that can be anywhere from four to five days, just because it's a lot more work. But yeah I can do anything, not just seats. I've done saddlebags, tank covers, helmet covers; basically anything you can imagine being wrapped in leather, I can
cover it and tool it."
Thinking about Anthony not being able to do any work with his hand for eight months actually reminded me of motorcycle racing. When a rider gets a big injury that puts them out for the season, even if they recover physically, will they be able to get back out there with the same enthusiasm? Even professional racers can struggle with "getting back to work" because it's both your passion and your paycheck. It's hard to imagine not just losing your passion and you work, but the very use of your hands. Every day there are dozens of reminders of how important your hands are. Fortunately for Anthony, he recovered not only physically, but he recovered the excitement he feels when a piece of his work is not just admired by others, but actually used. And as he has built up more time working exclusively with leather, he has been modifying or scratch-building his own tools.
This shows he has both the workmanship to do upholstery and finishing leatherwork, as well as the ingenuity to push his craft into new territory. This might also explain why Anthony moved through so many different mediums, going from pencil to paint, to tattoos and now leather.
JK: "So I get that the Coronavirus made it possible to move from paint to working leather, but as an artist, what has you working in so many mediums? Why are you trying new things?"
AM: "I'm the type of guy who doesn't like to focus on one particular style or medium. I've always wanted to work in different mediums. I've wanted to airbrush, rock carving, wood carving. I wanted to do graffiti and then marker art. "That's actually what I was mainly doing for Hitachi, doing graffiti marker art for their promotional products. From there I got into tattooing and became really experienced: I have over twelve years tattooing. I even owned a shop at one point, but I closed it down after awhile."
JK: So with the leather, what are you mainly focused on? I know you've done other projects but where are you concentrating right now?
AM: "For me with the leather, my focus is on bikes. To me, a Harley-Davidson is a work of art, it's not just a motorcycle. I feel wonderful that I'm providing an addition to these beautiful masterpieces that custom builders are working on. You know, you've got a guy spending close to a hundred grand on a single bike, so for me it's a real opportunity to be able to customize a seat for one of these bikes."
Viewing it in that sense, there must be a lot of pressure to make each piece perfect. But then, perfectionism is a double-edged sword: it pushes some people to higher achievements and causes ulcers and high blood pressure in others. Anthony has a lot of experience in this realm though. As a tattoo artist—especially one who does portrait work—perfection is the minimum standard. This shows up clearly in his leatherwork, but if you look at his body of work it's even more impressive. The final product is excellent and that's apparent at a glance, but Anthony's ability to start with a vague idea from a customer and turn it into a highly detailed sketch, over and over, is more impressive.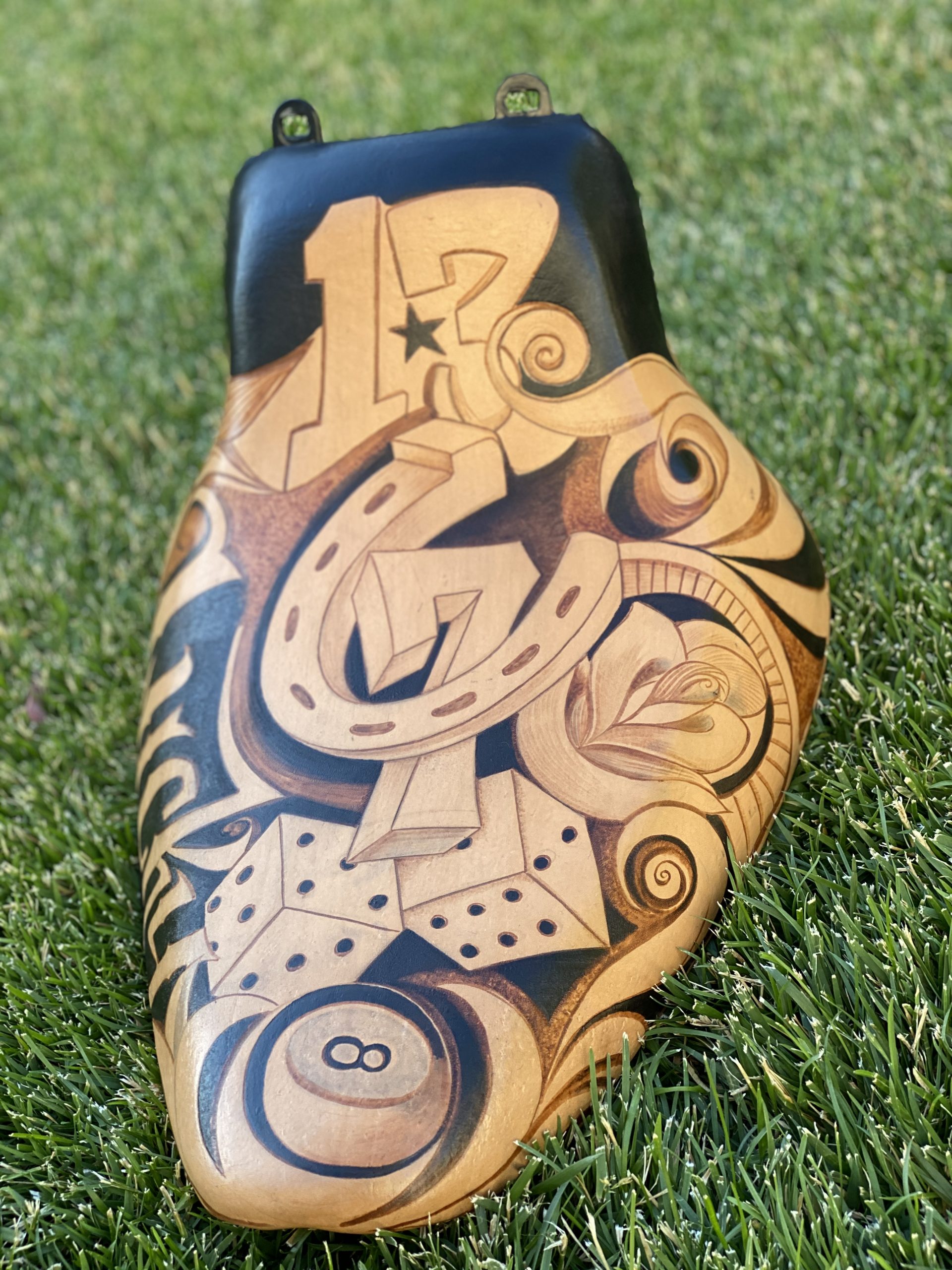 The level of detail is there whether he is wrapping a seat or a shot glass, adding color dyes or creating depth with only the grain of the leather itself, every piece that comes out of Anthony's workshop seems to grab the eye and pull the viewer in. And while some parallels can be made between tattooing and leatherwork, in actuality designs in leather are done with etching, not ink and needle, so it is as close to wood carving as slinging ink. I asked Anthony about what crosses over, and he seemed to think it's mainly about quality, in methods and materials.
JK: "So how do you keep the quality [of work] up when you're doing leather?"
AM: "It has a lot to do with what the customer wants. I start with their idea and keep refining it, and work with… I prefer to work with just leather than doing dyes. But if the customer wants [dyes] I can do that because I get my leather from Mexico. It's all natural. That's the only way I can do this work. I've tried all the other leathers they have around here but they have these oils or dyes already in them. If you get it natural, then everything is so much better. The dyes, and the tooling is easier; everything comes out so much better and it lasts. […] I put a finish on my custom pieces to preserve them."
It was inspiring to spend an afternoon talking with Anthony Martinez. From growing up in East Los Angeles and getting caught up in the RAMPART police scandal, Anthony used a positive attitude and belief in a higher power to learn about himself and grow. Where others might develop a chip on their shoulder when life deals them a bad hand, Anthony doubled down on his passions while developing a work ethic that allowed him to hold down a day job while still practicing his craft. That attitude allowed him to rebound from closing his tattoo shop to starting a business with his wife, traveling the convention circuit with major brands. When COVI-19 put an end to public gatherings (along with the event/convention circuit), Anthony again doubled down on his passion, using his positive attitude to launch Dope Skin Leather Works.
While it's easy and even sometimes justified to play the blame-game when things don't turn out the way we expect, fault-finding doesn't actually change the result. Adversity is like a flame: it melts the weak and it tempers the strong. Anthony Martinez is strong. Check out his work and get in touch with him at www.dopeskinleatherworks.com. You can also cyber-stalk him on Instagram at @Dopeskinleatherworks
"If you have been involved in a motorcycle accident, don't let it steal your freedom! Call 1-800-4-BIKERS to learn how an experienced motorcycle accident lawyer can get your bike fixed, money for your medical bills, and compensation for your pain and suffering."