A Conversation with Megan Margeson
by Becky Goebel @actuallyitsaxel
If you've never seen a young lady crush a ton of miles on a chopper, well, you're about to. A few days ago, Megan Margeson was featured on the Harley Davidson Instagram page with her Harley Davidson Panhead Chopper and her Panhead-chopper-riding mother. Of course, the internet went crazy. It's not everyday that you see two women on matching 60's choppers riding around like it's no big deal.
Megan is a good friend of mine. She lives just across the river from me in LA and I've interviewed her a few times for publications and blogs. This girl does not get the attention she deserves, and you're about to read why.
Megan, who are you and what do you do?
"My name is Megan Margeson, I'm 26 years old, and born 'n raised in Torrance, CA. My life pretty much revolves around motorcycles: I work at a Harley-Davidson dealership doing Marketing, ride dirt bikes, have a 1964 Panhead Chopper, and am on the Victor McLaglen Motor Corps motorcycle stunt team. I grew up with parents who both ride choppers, so riding has always been a big part of my life. Each Summer, my parents and I go on a long trip: about 3 weeks and typically a little over 5,000 miles. While we go on quite a few trips annually, this one is our longest, and by far our favorite! (117 days until KSO! You best believe I'm counting!) On old choppers, it is always an adventure and, each year, we seem to make incredible friends along the way. There is no other community like the motorcycle community, and I am so grateful to be a part of it."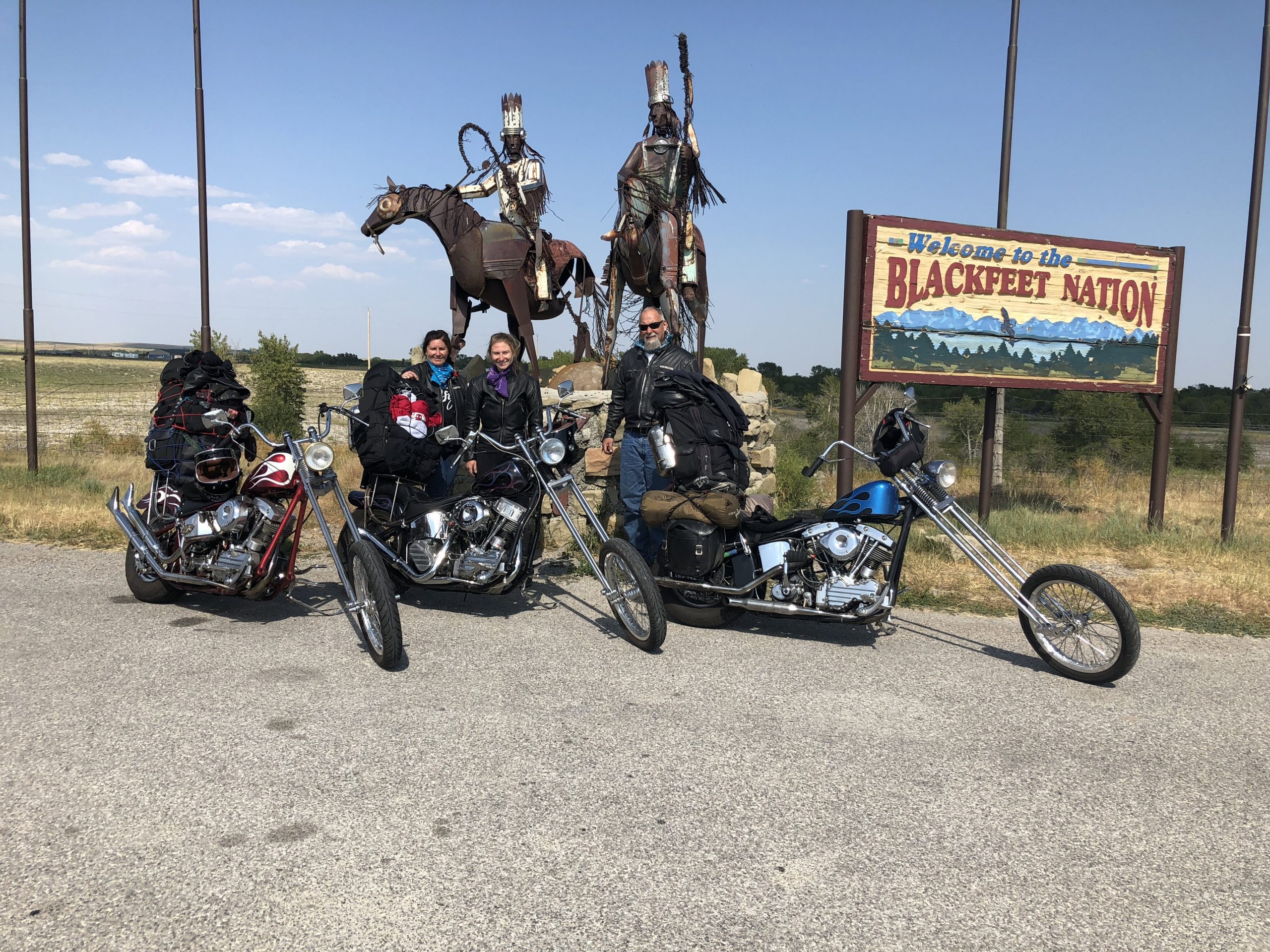 If you walked past Megan on the street, you'd never assume she's a badass, big-twin riding chopper mama, but that's kind of the way of the world these days – women can and will do anything they put their heart into, even if it's against the grain! Throughout this article I would like to cover Megan herself as a person and a rider, but I also want to touch on aspects of being a small woman on a very stereotypical "strong man's" bike.
Like me, Megan is pretty tiny – she's 5"4 and 125 pounds. She represents a good portion of the women out there that think that they would be "too small to ride." I wanted to talk to Megan about what people think about her out in the wild – at those gas stations she stops at in the middle of no where. Journalists like to play it safe and ask the same types of questions, but I want to know more. I want to know the answers to the questions you all are thinking as you look at photos of Megan and listen to her story.
Megans story, her experience and her personality are perfect for addressing these types of questions. Megan, thanks for being a part of this article, thanks for your honesty and thanks for just being you! Here we go:
What bike did you learn to ride on?
I grew up riding dirt bikes, so I was fortunate to have the basic mechanics of riding down before graduating to the street. When I was 18 years old, I signed up for the MSF Course to obtain my M1 endorsement. They had me riding a little Suzuki, which didn't feel much different than my dirt bike. I remember (prematurely) thinking, "Oh it's way easier to ride a street bike than I thought it would be!" After passing the test, I borrowed my friend's Sportster and went on my very first ride. At this point, my Dad and I began to build my Panhead chopper, but it would be 6 years before it would be ready for its maiden voyage. 
What was it like to ride a chopper for the first time?
The first time I rode a chopper was not a planned event. My Mom and Dad had just gone out for a little ride and when they returned home, to my surprise, my Mom came into my room and asked if I wanted to try riding her bike. I couldn't get my boots on fast enough! I think because it happened so quickly, I didn't have time to start doubting myself or psyching myself out. I was running on pure excitement. I got on the bike, started it up, and my Mom gave me a little pep talk about how it's not harder to ride, it's just different. And that could not have been more accurate. My Dad took off first, and I followed behind. At no point did I think it was more challenging to ride to a chopper, if anything it was just way more fun. As I followed him down the street, it was my first time truly experiencing that feeling—you know the one. I was overcome with emotion, to the point my eyes welled up with tears. This moment I was sharing with my Dad, my very first chopper ride, would be one I would never forget. 
Did at any point you ever think "I'm not gonna be capable of this"?
My Mom never rode on the back of my Dad's bike, not once. When I was 8 years old, she decided she wanted to get a bike of her own, so that she could ride alongside my Dad. It wasn't long after getting her Harley-Davidson Heritage Softail Classic, that she took my Dad's 1949 PanShovel Chopper for a ride. The moment she got off, she told my dad, "Well, now we have to build me one!", and that they did! They built her Shovelhead chopper over the next couple of years and, for most of childhood and teenage years, I would ride on the back of my Mom's chopper, my sister would ride on the back of my Dad's, and that was our typical Margeson family outing. Growing up with a Mom who was living proof that "girls can do anything the boys can do", taught me that I can do whatever I set my mind to. At no point did I think I was incapable of riding a motorcycle or, more specifically, a chopper. And I owe that to my parents raising me with that mindset. 
Do you recommend riding a chopper to people who are new at riding? Why?
My recommendation to anyone who is relatively new to riding, is to ride whatever bike is going to be most comfortable for you and give you the most confidence, whether that's a chopper, a bagger, or a CB350. I am very grateful that I had my friend's sportster to take my first couple of rides on. My first time on the road, I was overcome with anxiety. You're not only focused on just riding the bike, but now you have cars cutting you off, bicyclists in the road, kids crossing the street, weather, and everything in between. It was really beneficial for myself to be able to focus less on the bike, as it was smaller and comfortable to ride, and more on gaining experience and confidence on the road. That being said, I believe that once you gain the confidence of navigating the streets and proper handling and control of the bike, you are capable of riding a chopper, a softail, a bagger, and everything in between.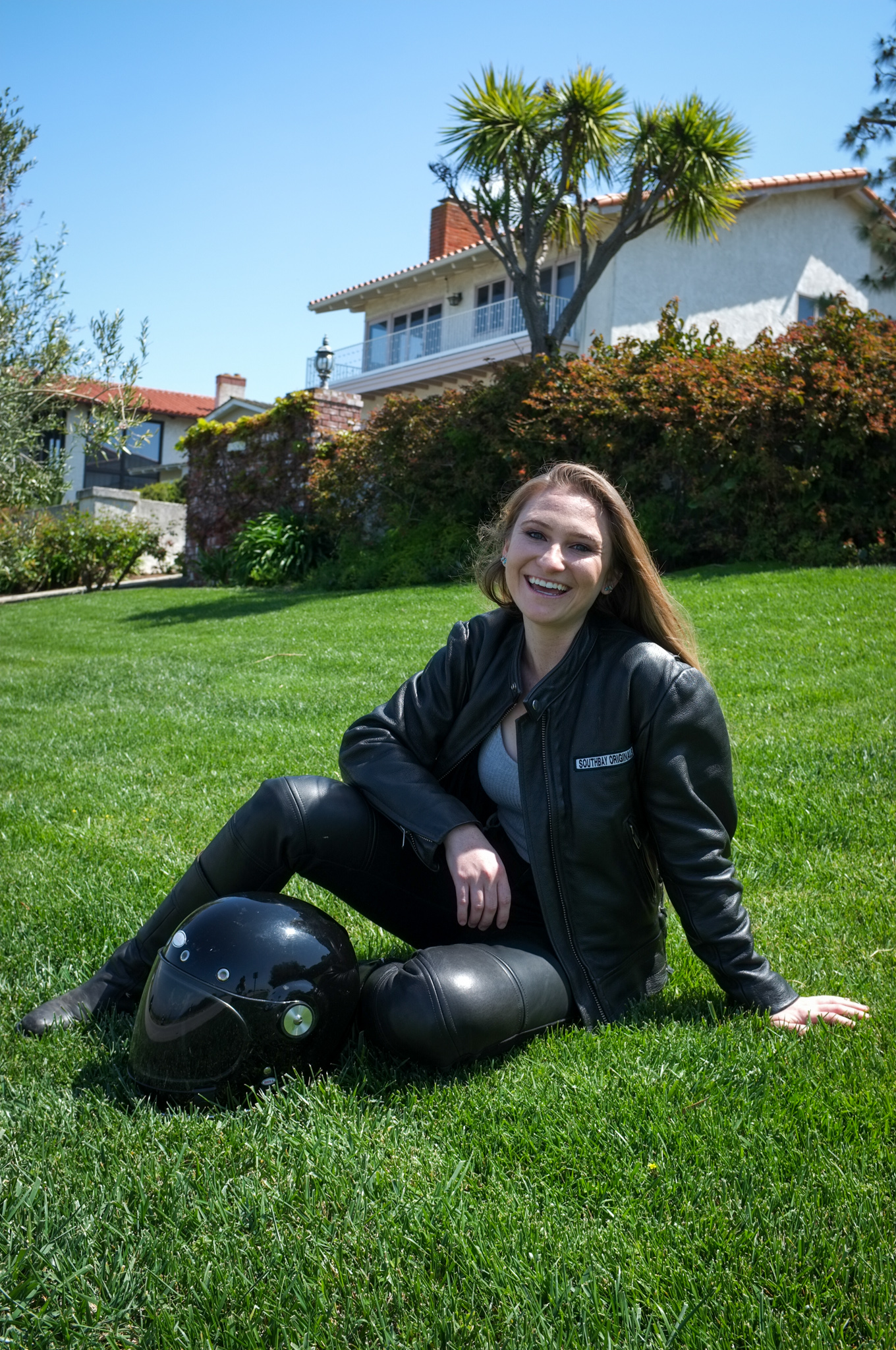 My recommendation for anyone relatively new to riding?
Whenever someone I know wants to learn how to ride, I always get them out on a dirt bike first. The bikes are lighter, you have full gear on, and most importantly, no distractions. You're in the open desert, you don't have to be focused on traffic or staying in your lane. You can get comfortable with use of the clutch, changing gears, braking, etc. My next recommendation is to take the MSF Course! It's not only tons of fun, but you learn a lot of valuable information. I still think back to things I learned in the course and feel better prepared to react to different situations because of the education I received there. Lastly, seat time. People often get discouraged at the beginning, which keeps them from riding. However, the more you ride, the more confidence you will gain. Take it step by step: first ride around the neighborhood, then venture onto main roads, then freeways, and beyond. If you are going to ride with others, ride with those who are going to ride safely and at a comfortable pace.
Do you feel like you're always in control? 
One of the reasons I love riding motorcycles, is because you're constantly teetering on the edge between being in control and being utterly out of control. I do what I can to control what I'm able to: comfortable speed, always wear full gear, abide by traffic laws, etc. However, I do not have control over most things: weather, other riders, cars, road debris, construction zones, and much more. For these reasons, it's incredibly important to ride defensively and constantly be aware of what's happening around you.
Does your size, weight or strength ever get in the way of managing your bike?
I work at California Harley-Davidson and am constantly moving around and riding everything from Sportsters to CVO Street Glide Specials. It definitely takes more strength to maneuver the larger bikes, and I am not the epitome of strength by any means, and I'm able to do it. Part of it is confidence. It took me a couple months of working at the dealership before I rode a bagger. They always intimidated me and there's a big misconception that the Street Glides and Road Glides are for the 'big boys'. I rode a Road Glide first and was so surprised at how much easier it was to move around and ride than I was made to believe. Just to put it in perspective, I'm 5'4, 125 pounds, and feel confident in saying I could ride pretty much any bike you put in front of me.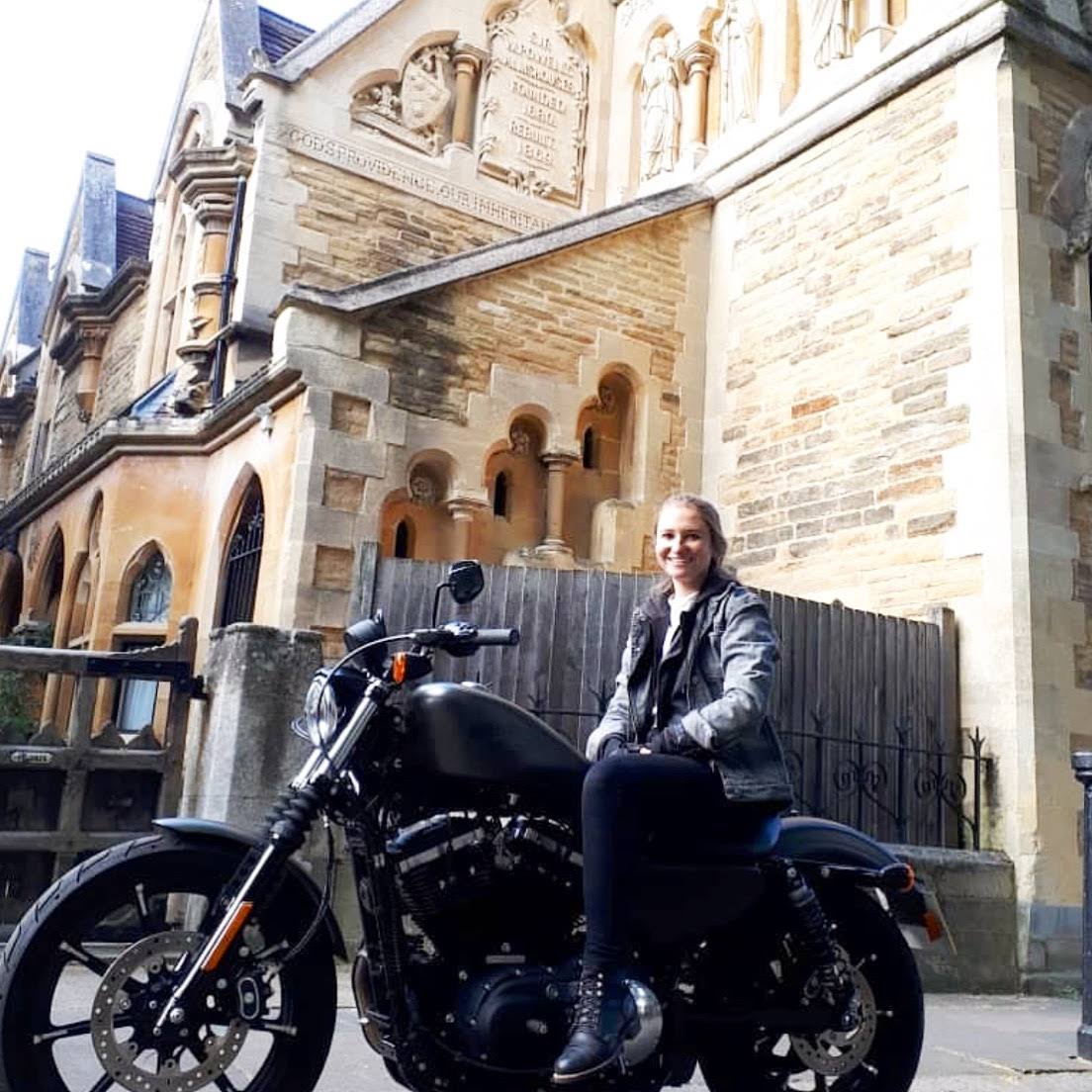 Do you ever get in situations with your bike that you can't get out of?
I, honestly, can't think of a time that I got my bike into a situation I couldn't get out of. Part of this is luck, the other part is thoughtfulness. I'm very careful about where I park, pull into, etc., in order to avoid getting stuck.
Have you ever dropped your bike?
I have never dropped my bike, but I did drop a bike at work. Part of my job is to take photographs of our pre-owned bikes when they come in. I needed to take a picture of a Street Glide but had to move a Heritage that was parked in front of it. I hopped on the bike and rolled it forward, didn't double check the kickstand, and fully committed to tilting it over on its (unknowingly retracted) kick-stand. The bike and myself went down. Thankfully, it landed just right so there wasn't a single scratch. I was on the verge of tears when it happened, mostly from embarrassment mixed in with fears of potentially damaging the bike. When I went inside and told my boss, everyone started sharing all the times they've dropped bikes. Customers, co-workers, my bosses, everyone there had dropped a bike (many more than once!). Why does no one talk about this?! I feel like it's such a faux pas, but it seems like it's just one of those things that everyone experiences at some point.
Have you ever crashed a bike?
I have not. But I also live by the saying, "it's not 'if', it's 'when'". It may seem ominous to think such pessimistically, but I think it's what keeps my leather jacket and chaps on in 115 degree weather. I would much rather be a little extra toasty than the alternative. Full face helmet, leather jacket, Kevlar riding pants or leather chaps, and riding boots always. I believe it's a choice everyone has the right to make: if you want to wear shorts, flip flops, and a crop top, that's your prerogative; I don't judge either way (well, maybe a little with the flip flops…).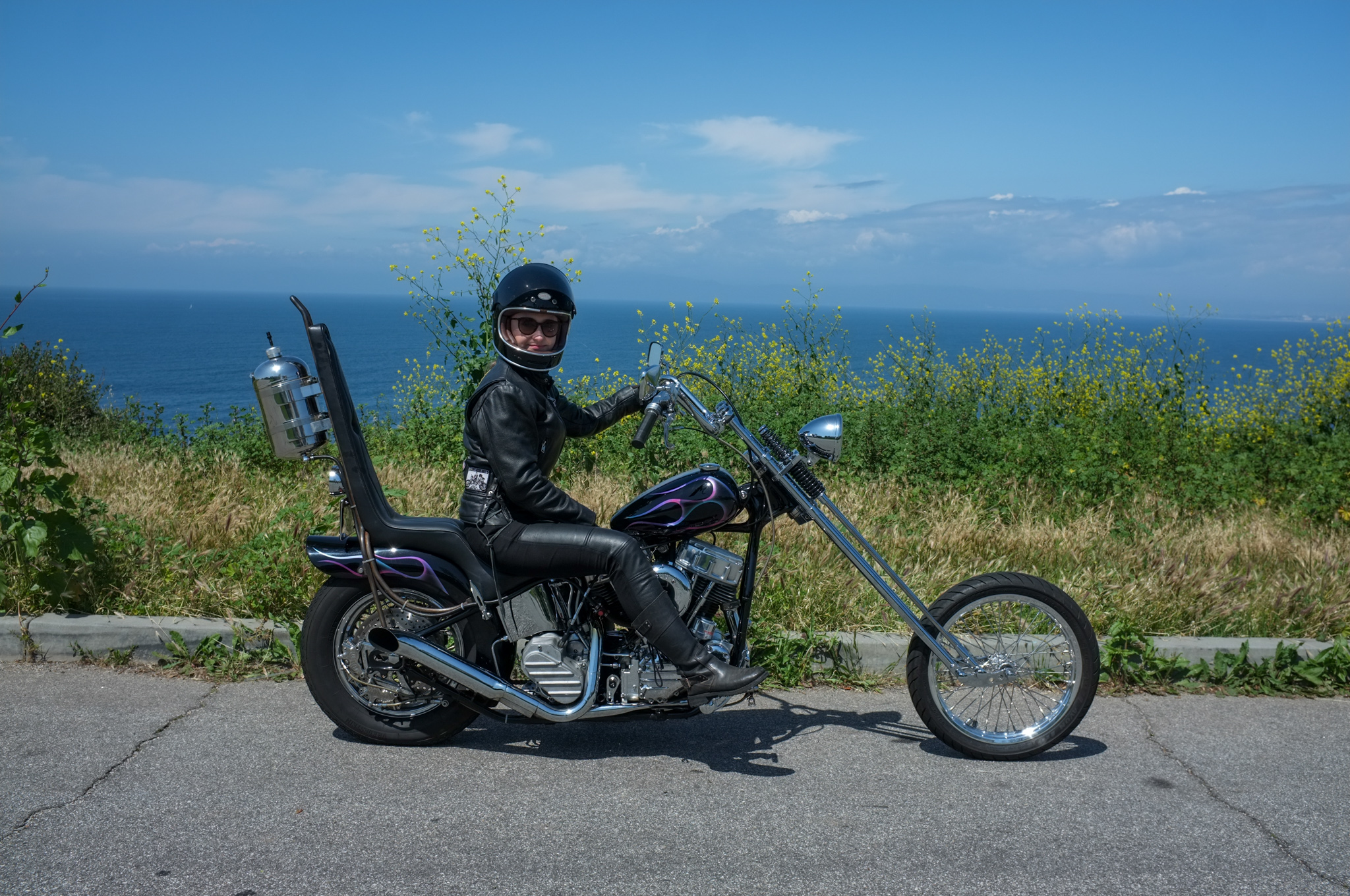 The question all the non-chopper people wanna ask – Do you get sore!?
Temporarily! I have a pretty nice seat cushion, which I covered in sheep skin for extra comfort and durability, but after 400 miles on a hardtail, you best believe my butt hurts! I don't have highway pegs, so my knees start aching throughout the day. I usually get creative and throw my right leg onto my carburetor, do some riding stretches and kick my legs out a few times. I also have a throttle paddle, which is a game changer!! It's no cruise control, but not having to hold onto the throttle so tightly for 9 hours on end, really helps relieve stress on your right hand. The most painful part of riding a hardtail chopper: the kidneys! It is unreal how painful it is riding the Los Angeles freeways with no rear suspension. I chose not to wear my kidney belt one time and I will never make that mistake again! A kidney belt really makes all the difference!
Why don't you just ride a normal, comfortable, safe, and easy bike?
Don't get me wrong, riding a "normal" bike is tons of fun! I rode a Heritage Softail about 3,000 miles last Summer and having rear suspension, cruise control, a comfy seat, a large gas tank, and a gas gauge was REALLY nice! But it was almost…. too nice. I feel like the bells and whistles take away a bit of the experience for me. My bike has a story. I chose and designed every aspect of the bike. My Dad put blood, sweat, tears, and a whole lot of heart into building it. It's also 56 years old, which comes with challenges in itself, but also instills in me a deep appreciation for the history of, not just my bike, but motorcycles in general. You can prepare and maintain an old Panhead as much as possible, but things are still going to happen, and that just adds to the adventure. And, I'd be lying if I didn't admit that I also just feel way more badass on a chopper than I do a Heritage (no offense, Heritage, I love you too!).

The chopper has a reputation of being "dangerous". How do you keep safe on your bike?
Here's the deal: a chopper is more dangerous. I don't have a front brake, no "ABS technology", no "Reflex Defense Riding System". Harleys have seen a lot of improvements, to both safety and comfort, over the years. The bounce of a springer front end, while makes for a fun ride, doesn't provide for a necessarily "safer" experience. But, there are a few measures I take to make my "dangerous" ride as safe as possible. One of those things is that my genius of a father put two rear brakes on my bike! So, the lever that is typically for a front brake, actually connects to a second rear brake! This comes in handy when stopping on hills or coming to an abrupt stop, and also provides a sense of comfort knowing if I were to lose one of my brakes, I can still rely on the other. I'm also all about the moto gear! I wear head-to-toe gear ALWAYS! "All the gear, all the time!" I also do my best to stay as vigilant as possible on the road. Whether that's watching for distracted drivers on the 405 freeway or deer running onto the mountain road, defensive riding is key!
What are you the most scared of happening when you're on your chopper?
When people tell me they're scared to ride, I tell them, "it's good to be a little scared." Every time I get on my bike, I understand the risks, but I also accept them. Of course, my biggest fear is getting into a fatal accident. But I argue that being "scared" is no way to live. Something can happen to you at any given moment, motorcycle or not. Motorcycles make me happiest and not riding would be taking away a piece of my heart (all the cheese, but the truth).
Do you ever get scared before you get on your chopper?
I don't think I've been scared before the start of a ride, but I've definitely been scared during a ride. My parents and their friends all have little patches on their jackets/vests that say "South Bay Originals"; it's not a club, just for their motorcycle friends (family). They call themselves the "originals" because they've been building and riding choppers in the South Bay of Los Angeles since the 1960s. I was offered one of these patches during my first year of riding, but turned it down; I didn't feel like I deserved it. All these men and women have some CRAZY stories of cross-country adventures and, at that time, I just kinda cruised the town. This feeling of inadequacy changed the day I rode into Sturgis, SD. My parents and I had spent hours on the side of the road that day, in the middle of nowhere Wyoming. My Dad blew a head gasket and needed to be towed to our next stop: the Sturgis Rally. It was getting late, the sun was beginning to go down and it started POURING. I've never seen rain like this in my life. And then came the pounding hail, brutal 60mph wind gusts, and lightning striking the ground around us. It was so bad that cars were pulling off the road. But we were in the middle of nowhere; there was nothing to hide under, no places to seek shelter. My Dad was following my Mom and I in the tow truck and could barely make out our taillights. The only thing I could see was the painted yellow line directly to my left. I hugged that line, tightened my grip on my handlebars, clenched my teeth, scared to blink and just did everything I could to stay on the road. When we safely arrived at the gas station, the first thing I said to my Mom was, "Okay, I'll take that patch now." I had officially been initiated into the "I can now ride through anything" club.
What's something you'd like to say to someone reading this article right now wondering if they could do what you do?
In all honesty, it confuses me when people comment on how "skilled" I must be to ride a chopper. While I appreciate the sentiment, if a chopper is built correctly, meaning the rake and trail are set up properly, then it really shouldn't be difficult to ride. Just like my Mom said, it makes riding different, but not harder. If you want a chopper, I say go for it!! It's the most fun you'll have on two wheels!
Megan is gearing up for her next ride happening this Summer and does a great job documenting everything on her social media. Be sure to follow her Instagram Page: @meganmargeson to stay updated on her and her trips!
"If you have been involved in a motorcycle accident, don't let it steal your freedom! Call 1-800-4-BIKERS to learn how an experienced motorcycle accident lawyer can get your bike fixed, money for your medical bills, and compensation for your pain and suffering."