Riding an American-made Harley-Davidson already makes a pretty bold statement. The Motor Company's bikes embody what being a motorcyclist is all about. The bikes come with an ethos and reputation unlike any other and undeniably American.
What if you want to take that to another level with some patriotic touches? An American flag can be a smart addition. Mike Huddleston had the same idea. What he came up with started out as an idea for just his bike and has grown into a fully-fledged company with one goal: provide Harley riders with the best flag mount and flags for their bikes.
A Simple Idea Professionally Developed and Crafted
The story of BaggerFlag starts with a simple problem. Mike wanted a way to mount an American flag to his new Harley motorcycle without putting holes in his bike or damaging it in any way. He wasn't very impressed with the options out there, so he decided to create his own. "You pay $12,000 or more for a bike, you don't want to put a cheap flag on there," Mike said.
Mike has a patriotic background. He's from a family filled with veterans, current military members, and first responders. He was unable to serve due to an asthma condition but still wanted to show support for the country. The flag was a way of showing his patriotic spirit and his appreciation for those who serve or have served.
Mike worked at a shop as a CNC machinist at the time and decided to make himself a bracket that would get the job done.
He started designing up his own flag mount in 2014. After the initial design, Mike and a friend at work came up with a prototype that he put on his bike. He realized that it wasn't quite right, so they worked to refine the design. Mike spent about eight months reworking and tweaking the design. He went through four different prototypes before he hit the one that worked.
Mike said the design is similar to the way a money clip works. It clips on the bike's saddlebags and this allows it to stay in place and hold the flag while not moving around. The early iterations of the mount slid around over time, and Mike had to work on the design until he came up with one that didn't.
What he came up with was a stainless steel and Billet aluminum flag mount that's designed to not scratch your paint or move from the place that you put it. The rubber bumper mounts on the hardware hold it in place no matter where or how far you ride. Attached to it was an 8-inch by 13-inch flag.
Not long after Mike had the flag mounted on his bike people started to take note. Mike is a part of the Southern California biker scene and said everywhere he went people noticed his flag mount. "People loved it and they wanted it and wanted to know where to get it. So I decided it was time to take it to market," Mike said.
Mike started working with a shop that could produce the flag mounts in the number that he wanted. To keep everything American, he also found a company in Florida that makes some of the most high-quality American Flags out there. "I have one that a guy put over 50k miles on one and it still looks great," said Mike.
From there, the business grew. Mike's wife Alicia wanted a flag mount for her bike, which has soft bags on it, so Mike decided to make a flag mount that would work for soft bags. He also expanded outside of just the American Flag to include flags that were specific to veterans, including every branch of the armed forces and a POW/MIA flag. He can also have custom flags made for different biker clubs, organizations, etc.
A Good Idea Getting Recognition
If you're in southern California at one of the bigger motorcycle shows, you're bound to see the BaggerFlag booth. Mike said that it didn't take long for people to start noticing the flag mounts merit and quality.
He and his wife attend about 12 to 15 shows per year and showcase the BaggerFlag mount and the flags at each one. He sold several of the flag mounts and fairly quickly got placed in various stores in the area. Recently, Harley-Davidson dealers began to take note and now you can find BaggerFlag in 18 different stores.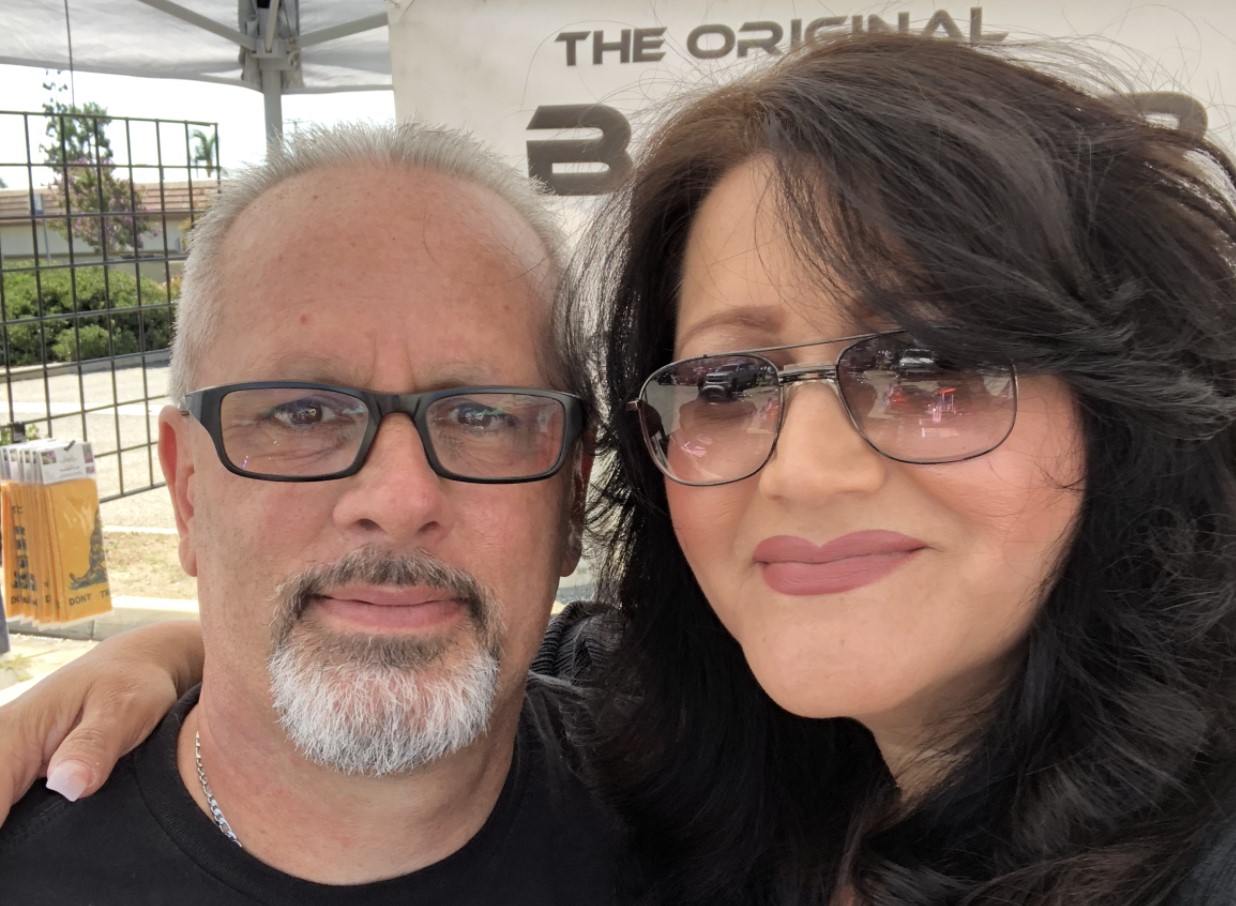 Mike also said there's a Harley-Davidson based in Tokyo, Japan that sells his product now. "They came over to our booth and started talking to us and ended up buying a bunch of our product, and I've gotten two or three reorders from them."
BaggerFlag is one of those unique products that comes around only every once in a while. It's a simple product designed to solve a small problem. It's the attention to detail and the quality that sets it apart from other, similar products. Pair that with the fact that it helps spread a good message through the use of patriotic flags and you have a product that should be a hit for years to come.
Mike also working on expanding his product line. He's working on a flag mount that's designed specifically for Indian Motorcycle models. These will have the same principle but be built specifically for the brand's models, allowing an even larger group of people to let the flag of their choice fly.
Mike's aspirations are to reach more and more bikers as time goes on. He said the website allows him to reach people outside of his Southern California home base, but he'd still like to see BaggerFlag offered in more stores across the country. Until then, Mike will continue to encourage people to let the flag of their choice fly in the wind behind their bagger.
Visit their Website or follow them on Facebook.
"If you have been involved in a motorcycle accident, don't let it steal your freedom! Call 1-800-4-BIKERS to learn how an experienced motorcycle accident lawyer can get your bike fixed, money for your medical bills, and compensation for your pain and suffering."