Bike designer and an apprentice builder, alongside her certified technician husband, Gabe, Chris Gibbany of BoneYard Choppers (North Arkansas) was born in California but has lived in Arkansas most of her life and knew how to ride a motorcycle before she knew how to drive a car. Chris was not the typical little girl who played with dolls but loved collecting Hot Wheels and toy motorcycles. While other little girls wanted to pretend to be Daisy Duke from the Dukes Of Hazzard, Chris would imagine that she was Bo Duke, driving the General Lee.
What got you interested in motorcycles?
My husband, Gabe has always been in love with the internal combustion engine. Even as a child, he told me he was tearing things apart, building go-karts, dirt bikes, etc. For me it is the freedom that bikes give me. The ability to look at a machine and know that it will give you many hours of pleasure and just owning it is one of the greatest things out there. We both love FREEDOM and motorcycles give you that. We both love the old iron, especially vintage Harley's, so that is why we have ended up as "BoneYard Choppers" with our logo "Old Iron Never Dies".

What was your first motorcycle? First bike I learned to ride was a 185 Yamaha Exciter, first bike I bought for myself was a 1990 Yamaha DT Enduro – bought in 1993.
What made you decide to build your own?
For Gabe, the appearance of the 70's and 80's choppers is what drove him to eventually start building bikes. Also the fact that nobody builds like that anymore. The thrill of the chase looking for old parts, chasing down every lead that we hear about is a thrill in itself. I wanted to start building my bikes so that no one could say "I ride a bike just that" and to let my personality out in something that I am riding. As my building progresses, so does the evolution of what I like, and the styles that can be mixed. In the end, the whole bike has to flow and look good from every angle.
How was the experience of building your own motorcycle?


One word- ADDICTIVE! I have sold almost everything I own to now have three old vintage Harley's and so has he. When we hear of a lead, where someone tells you "there's an old 30's or 40's Harley over there for $1000", we are literally fighting over which one of us is going to get it. It has almost become a competition between the two of us, but I think it keeps you motivated. I am currently building a 56 Panhead in a Gooseneck frame and a "secret" chopper while Gabe is building a 1935 VD Harley and a 1918 T Harley.
Do you face any challenges as a woman on the road?
The biggest challenge is probably from other WOMEN who want to badmouth and run down women like me who ride. There will always be haters but we know "haters are my motivators'. As far as anything else is concerned, I feel like when I am riding I get as much respect as the next person riding. I know my bike pretty well so I know anytime there is a noise that shouldn't be there.  Sometimes I can fix it myself, sometimes I have to wait for the husband. If it is motor related, I don't want to make anything any worse.
Any advice for women who want to start riding?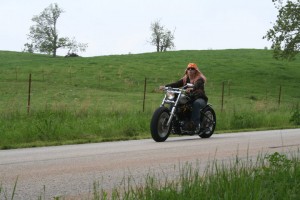 Start small. Starting on a dirt bike or an Enduro may be the way to go. Learn the mechanics of the bike and then take the course. But start small for sure. Many people go and buy the biggest baddest bike they can afford and drop it. Then when they can't pick it up they give up.
How is riding therapy for you?
I feel like riding gives you a certain form of "power" and it gives you the sense of freedom that makes all of your troubles disappear.
Contact Chris at BoneYard Choppers North Arkansas
or at her blog on being frugal and a gearhead, all at once- www.amazingcheaplife.blogspot.com/
"There is ALWAYS more to learn and riding an old vintage bike is in itself an adventure!" Chris
I love that Chris is living her life, her way and to the fullest!
Russ Brown Motorcycle Attorneys® have been fighting for injured motorcyclists for over thirty years. Regardless of where or what you ride – we have you covered. From Arkansas to California, New York to Ohio, Pennsylvania to Texas, Florida to Arizona – if you have been injured in a motorcycle accident we are a nationwide team of experienced motorcycle accident injury lawyers. Motorcycle Lawyer Russ Brown created BAM, Free Breakdown and Legal Assistance for motorcyclists. This Free program helps bikers who may find themselves in an emergency while on the road, have a legal concern or have been injured in a motorcycle/car accident. Call 1-800-424-5377 and ask about our BAM program or to speak to an aggressive motorcycle lawyer today.
"If you have been involved in a motorcycle accident, don't let it steal your freedom! Call 1-800-4-BIKERS to learn how an experienced motorcycle accident lawyer can get your bike fixed, money for your medical bills, and compensation for your pain and suffering."