Photo by CharlieTravelingChopper
Through the doors of the arena the walls of chain link fence wait to be filled with art from every corner the country, Steel pillars await the Biltwell David Mann Tribute Helmet Show, and outside the grass longs to be filled with choppers of every style. It's a cool and rainy California morning for the 16th year, but soon enough the rumble of motorcycles will push away the clouds and bring the sun.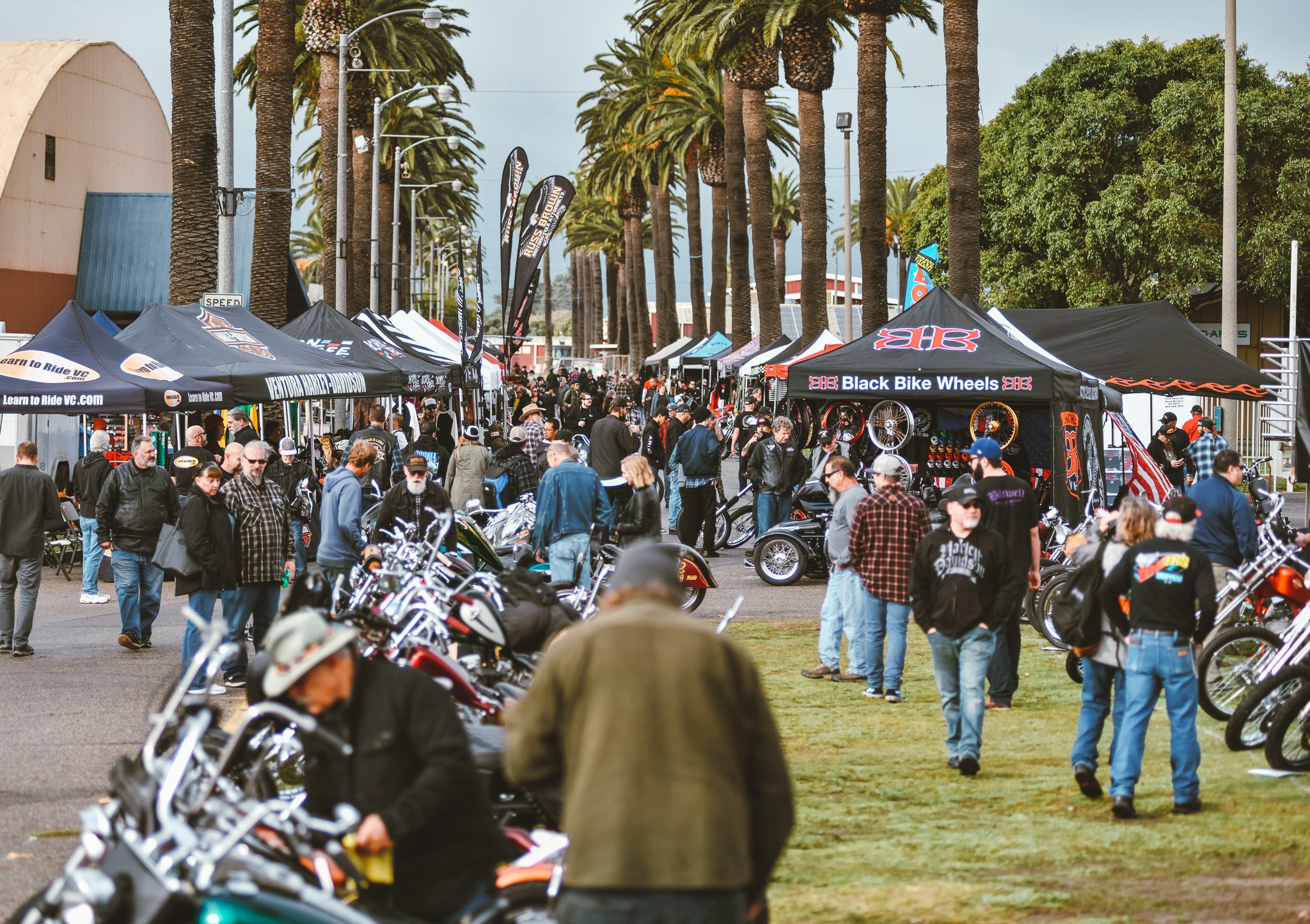 Photo by CharlieTravelingChopper
Chopper Fest is not only an amazing excuse to see spectacular choppers and quality artwork, but it's a great place to see old friends, ride the coast, and soak up the sun. Well, I suppose the sun part was barely present but it came out for a little while to warm the cool steel bones of the bikes. This venue has been one of my favorite motorcycle events since the first time I was asked to participate in the in the David Mann Tribute Art Show. In a way, I feel this show really pushed me into the path of motorcycle art that is present in my work today. I mean really what motorcycle artist, or even motorcycle rider, isn't influenced by David Mann in some way shape or form. More than 60 talented artists in the same room due to the inspiration David Mann brought to the motorcycle world.

Photo by CharlieTravelingChopper
This year I had the honor of getting to draw and set my art up next to my dear friend Darren Mckeag. This seemed pretty suiting because he was one of the artists I got to paint live with all weekend the first year I set up here 6 years ago. My how time flies. His art is remarkable and unmistakably a unique passionate voice in the motorcycle world. As someone who has supported me during my career, he has inspired me to help and support others on their path in the art world.

Photo by CharlieTravelingChopper
As you meander up and down the rows of artists you get to see how everyone interprets the subject of motorcycles into their own style of art. Some art falls in the venue traditional Pin Striping and Custom Paint, some of the art is considered Low Brow or Kustom Culture, and some fall into the genre of Fine Art. Where these styles begin and end are getting harder to tell as many of the artists take the freedom to flow between the styles, which to me is refreshing to see. In a world where artists are supposed to strictly define themselves, it's comforting to see many trying it all and falling in love with the exploration of art. At least that is my artist's statement. Screw the rules my art will constantly change, learn, and grow as I change.

Photo by CharlieTravelingChopper
A Kustom Culture Helmet show is always a key element when showing today's motorcycle art. Every year Biltwell donates helmets to selected artists in order to make this show happen. This year 11 Artists skillfully painted custom helmets in tribute to the Legend David Mann. Most of these helmets are either a direct tribute to him as a person or as a tribute to his art. This year I was approved to break from the tradition and paint a helmet to be a Tribute Piece to Jessi Combs. The goal was to bring awareness and to raise money for The Jessi Combs Foundation. On one side it features Jessi riding her Lily bike and blowing a kiss. The other side has her logo and a quote that has been resonating with many of her followers and reads "While you're waiting, somebody else is Doing It!" It is a quote that reminds me to get up and take life by the balls daily. Don't wait to take that epic ride or that once in a lifetime journey, just get out there and do it. The only person who is holding you back is you. Anyhow, the helmet was auctioned and went over very well with the highest bidder, Nikki Henry, taking it home for an amazing $930. Your contribution is just breathtaking! It was incredible to be able to honor my friend in this manner. You will always be missed and have fun riding comets.
For information on art and helmets contact my Instagram KaylaInfernoArt
Cheers!

Helmet by Kayla Koeune (Instagram: KaylaInfernoArt)

Airbrushed Helmet by Stephen Gibson (Instagram: @Airoilandlead)
Helmet by Kate Cook (Instagram: @Asphaltcanvascustoms)

Helmet by Cathy Mejia (Instagram: Artgirlcathy)
"If you have been involved in a motorcycle accident, don't let it steal your freedom! Call 1-800-4-BIKERS to learn how an experienced motorcycle accident lawyer can get your bike fixed, money for your medical bills, and compensation for your pain and suffering."