Words by Kelly Yazdi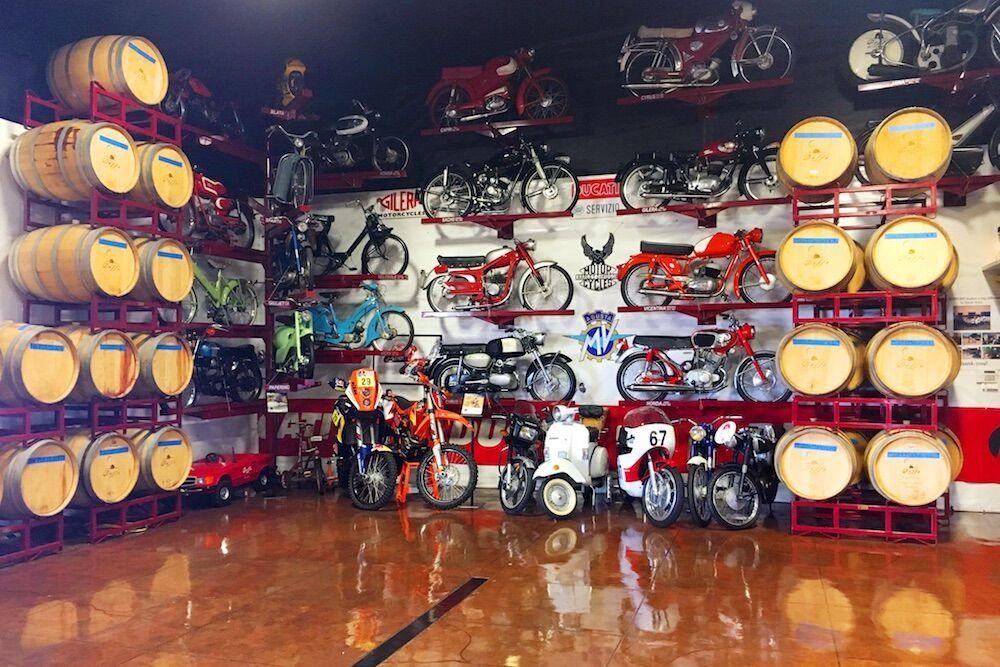 The Doffo Winery estate is grown on fifteen acres of hand-planted vines with another fifteen or so acres farmed locally and is also home to undoubtedly one of the largest privately owned collection of vintage motorcycles in California.
Near the end of January, I found myself in Orange County heading east on the 91 freeway en route to visit Doffo Winery.  Located in the wine country of Temecula, the Doffo estate is one of the most beautiful places I've ever seen – covered in backcountry roads, picturesque rolling hills and horse pastures, and usually, the sky is decorated with hot air balloons.

Photo by Doffo Winery
As I got closer to the winery, it was evident I wasn't the only one enjoying the scenery as several motorcyclists and wind-enthusiasts were enjoying the weather as well.  Even in the midst of "winter" motorcyclists can always be found prowling the roads. Once I parked in the lot of Doffo estate, I stepped outside to witness one of the most beautiful sunsets I've ever witnessed, the sun kissing the vineyards with its hues of orange and gold.  There is just something profound about the Temecula Valley Wine Country.
Photo by Doffo Winery
As I made my way up to the tasting room, I met a man named Adrian who was kind enough to share about his experiences at the winery, explaining that every time he came for a tasting, he felt like he was coming over for a family dinner.  When we began our tasting, Adrian told me that Doffo Winery was his go-to spot after finishing work. When I asked him what his profession was, he confessed to me that he himself worked at a winery down the road, and simply loved Doffo so he became a member.  What a compliment.

Photos by Doffo Winery
In the middle of our tasting, Damian Doffo came through the door and greeted me with a big smile.  It had been some time since we motonerds had last seen each other at the Moto Beach Classic and we were both eager to catch up.  To my delight, his father Marcelo, and his sisters Brigitte and Samantha also joined us in the barrel room to talk about all things Doffo and moto.
Photo by Doffo Winery
"This place is more than a winery. It's where we grew up, where we forged so many memories and learned who we were meant to be. Our father, Marcelo, built this place. He took a barren piece of desert and turned it into a thriving oasis. He worked the earth, coaxing bountiful vines from the once-barren soil. He poured concrete, laid bricks, operated machinery, taught himself how to make wine… How could one man work so hard to chase his dream? We didn't realize it at the time, but he was building our character, too. To us, this is a magical place. Once you come here, you'll understand what we're talking about."   -The Doffo Family
Photo by Doffo Winery
Doffo Winery is like a home away from home for anyone who visits and has one of the friendliest staff I've ever met.  The winery's success certainly stems from its combination of deeply-rooted family values, unparalleled love and serious dedication to the art of winemaking.  In addition to their commitment to making world-class wine, their passion for motorcycles and their stellar collection deserve an award all on its own.
"We've been riding since we were able to sit on a bike," says Samantha Doffo. Motorcycling has been a part of the Doffo's lives since childhood and will always remain an integral part of their family gatherings and events, along with their Italian & Argentinian heritage.   Damien, Brigitte and Samantha – and their kin as well – all play unique and vital roles in their family winery and they diligently work together to keep their familial values alive in everything they do.
Photo by Doffo Winery
Of all of the things to feast your eyes on at the Doffo Winery, the one that captures everyone's attention is the MotoDoffo Vintage Motorcycle Collection that includes over 220 motorcycles and scooters spanning eight decades from manufacturers like Ducati, Moto Guzzi, Gilera, Honda, CZ, Vespa, and more. A lifelong motorcycle enthusiast, Marcelo Doffo has been collecting rare and vintage motorcycles for as long as he has been making wine…more than twenty years. His collection is artistically placed in areas all over the winery such as the MotoBarrel Room , as well as strategically sprinkled in various places around the venue to complement the wine aesthetic. The MotoDoffo Collection is absolutely a must-see for any two-wheel enthusiast. From classic builds, iconic cafe racers, sportbikes and beyond, the MotoDoffo Collection reaches deep into the history of motorcycles while cultivating the connection between two-wheeled machines and the human spirit.
Photo by Doffo Winery
Complementary to the motorcycle collection is the MotoDoffo Wine selection, a complete menu of four wines inspired by the moto-spirit and curated with the essence of excellence. These wines include: MotoDoffo Super Tinto, MotoDoffo Gran Tinto, MotoDoffo Royal Tinto, and the Kurt Caselli Foundation Tribute Wine.
Photo by Doffo Winery
Check out more on the Moto Doffo Story here :
Ride, Race and Restore
.
Speaking of gatherings, in the case that you are in the Temecula area on March 31st, 2019 make sure to stop by Doffo Winery and join us for a women-oriented motorcycle event in collaboration with Motorcycle Missions.  More details to come!  
2019 events at the winery are as follows:
February 14

: Valentine's Dinner at Doffo Winery

May 11

: FAST Ride (charity ride that ends with a reception at Doffo Winery)

May 12

: Mother's Day Brunch at Doffo Winery

June 8

: 6th Annual Kurt Caselli Foundation Benefit at Doffo Winery"
For further event details, please visit: https://www.doffowines.com/events/ or contact Doffo Wines at https://www.doffowines.com/contact/.
Connect and plan your trip to Doffo Winery by visiting them here:
https://www.doffowines.com
facebook.com/doffowinery
@doffowinery

Photo of Marcelo Doffo
Photo of Damian Doffo
Photo of Samantha Doffo
Photo of Brigitte Doffo
"If you have been involved in a motorcycle accident, don't let it steal your freedom! Call 1-800-4-BIKERS to learn how an experienced motorcycle accident lawyer can get your bike fixed, money for your medical bills, and compensation for your pain and suffering."