Even though I ride a 1956 Panhead most of the time I am also very focused on showing the world that you don't need a lot of money to have fun on two wheels. My husband Gabe owns this pair of Yamaha TW's, so we set out to show everyone just how much fun can be had while riding 200cc enduros. Riding these bikes that are usually topped out at 45 for 100 miles at one time is a lot more challenging than most people think. I mean, I am sore for a week afterwards.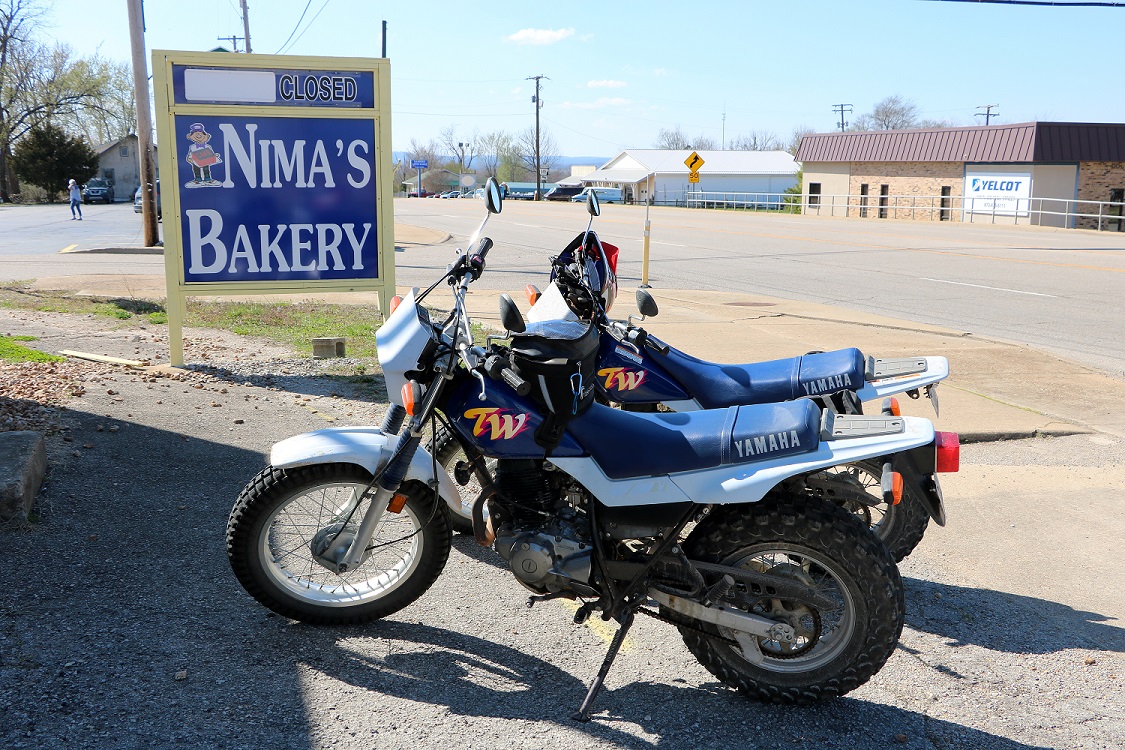 I don't do the party scene…so I have something new to offer. The real joy of riding is getting out and seeing what's in your own backyard! My most recent ride venturing into Baxter and Marion counties stayed on pavement and showcased many little towns, including Everton, Bruno, Flippin, Yellville, Gassville, Cotter and Summitt with much to see. The weather was warm with highs in the upper 60's and clear skies.
Although I WANTED to take the Harley out, I have been off-kilter for almost two weeks as I have a two-inch open ulcer on my thumb from a brown recluse spider bite, not to mention my index finger and palm that also got attacked – all on my right hand. Yikes! I wasn't sure if I would even be up for the adventure, not to mention putting my hand into a tight fitting glove. We ended up wrapping my thumb and I took an Ibuprofen to help with the pain.  I had no intention of riding all day as I wasn't sure my hand would allow it.
The forsythia bushes are among the first plants to bloom an amazing shade of yellow; the redbuds are blooming deep purple, while the wild plum and wild cherry trees throw brilliant white blossoms out into the landscape.  Being surrounded by natural beauty always gives me such gratitude and brings into perspective how blessed I really am.
Some of the two-lane back roads that we were riding on were really rough, maybe a little too rough for the rigid bikes that I normally ride. Not only was the traffic "light" this day, but there were several stretches that we never met ANY traffic! It was almost like we were riding our own private roads. Some of the roads were lined with picturesque groves of pine and cedar trees. The scenery was just breathtaking!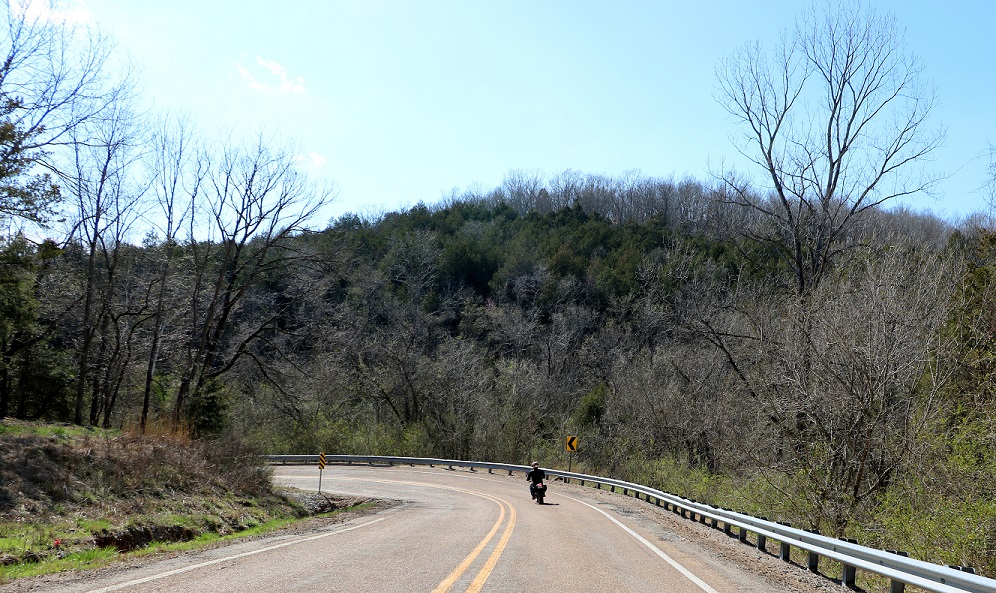 We rolled into a small town of Yellville and since we were starving, decided to hit up a small joint called "Razorback Ribs! Gabe decided to try the fish and I went with a mushroom and Swiss burger. Since we don't buy beef, almost every time we venture out I will almost ALWAYS order some sort of hamburger. I was blown away by how great it tasted. I asked the waitress and she told me it was made from Black Angus, a type of cattle that apparently produces great tasting meat. I wouldn't call myself a hamburger connoisseur, but this was one of the best tasting burgers I have ever had! It made me think of the saying "Ride to Eat, Eat to Ride". Total spent $20.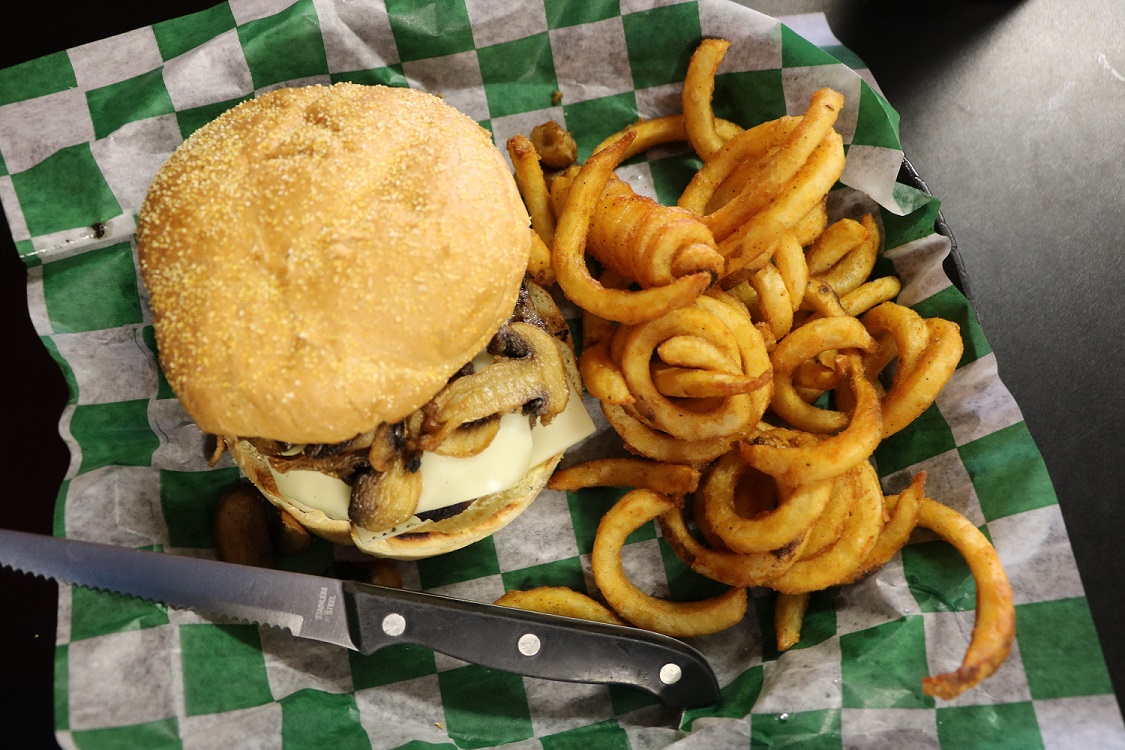 After filling ourselves up, we then had to go fill the dual-sports up as we were almost out of gas. For a mere $6+ we were both back on full and ready to go again. We hit some more two-lane roads, out viewing the peaceful farm countryside when I saw something amazing and whipped my bike around. I parked the bike and slowly got out my camera. Gabe told me that what I was fascinated with was a Brahma bull. The bull had long drooping ears, tons of loose skin hanging down and a hump on his back that apparently he stores food and water in just like a camel.  The bull not only let me take his picture but he let both of us pet him. He started licking my hand and before I knew it he had my whole hand in his mouth! PRICELESS!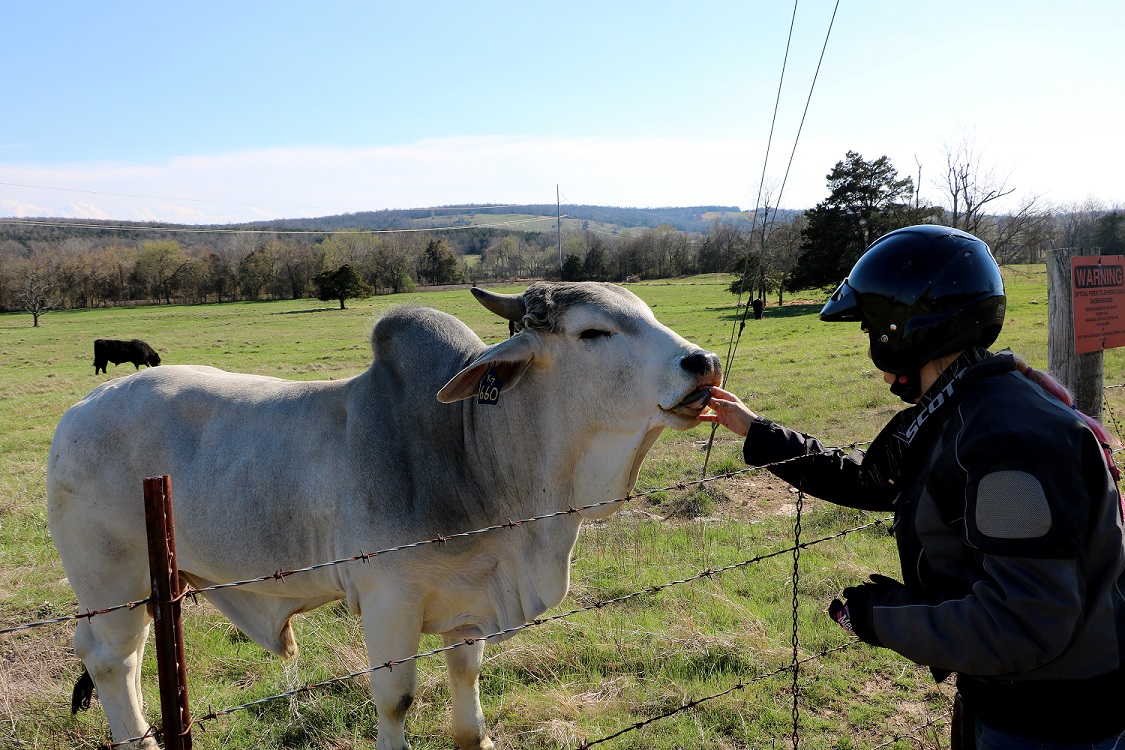 Once the excitement of the Brahma bull sighting was over, we ventured over to Cotter, a small resort town that offers up plenty of relaxed atmosphere. Cotter is world famous for its trout fishing on the White River. One of the most beautiful bridges in Arkansas just happens to be in Cotter. Another cool bridge is also in Cotter and is the MNA (Missouri and Northern Arkansas) Railroad Bridge built in 1905.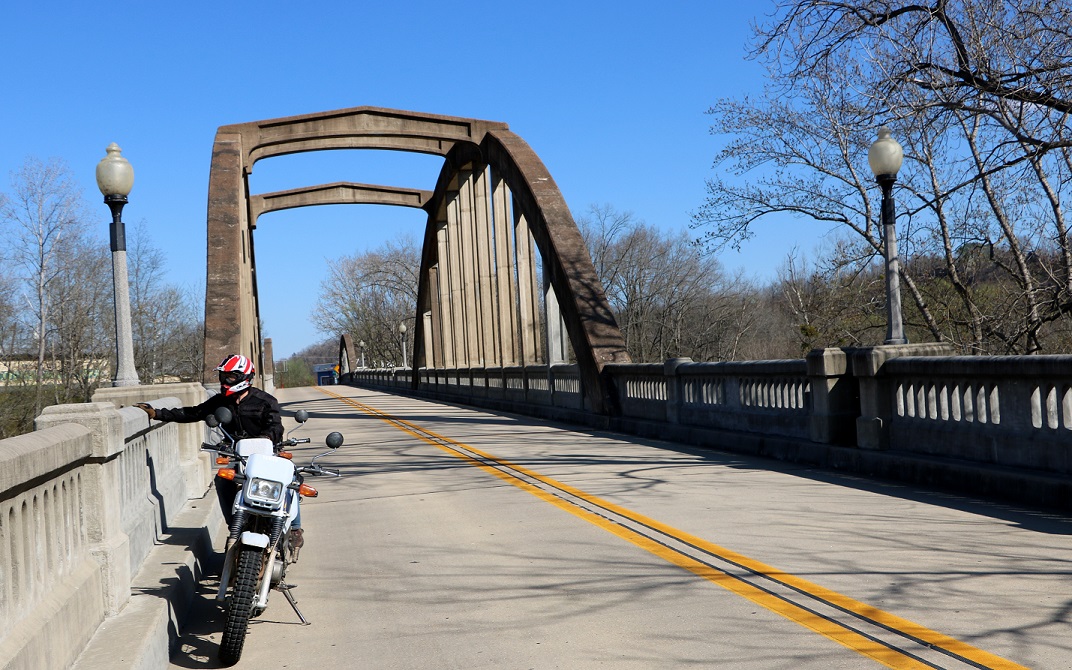 After taking several shots of both bridges and just admiring the design of some awesome architecture, we continued riding. We rode some more rural backroads and then popped out in the little town of Gassville. I saw Nima's Bakery across the road so we decided to go in. I am a cupcake FANATIC (probably since I don't bake or buy sweets) so we both ordered the orange cream cupcakes. To say they were phenomenal would be an understatement. It is just amazing what you find at little hole-in-the-wall places out in rural America! Total spent $5.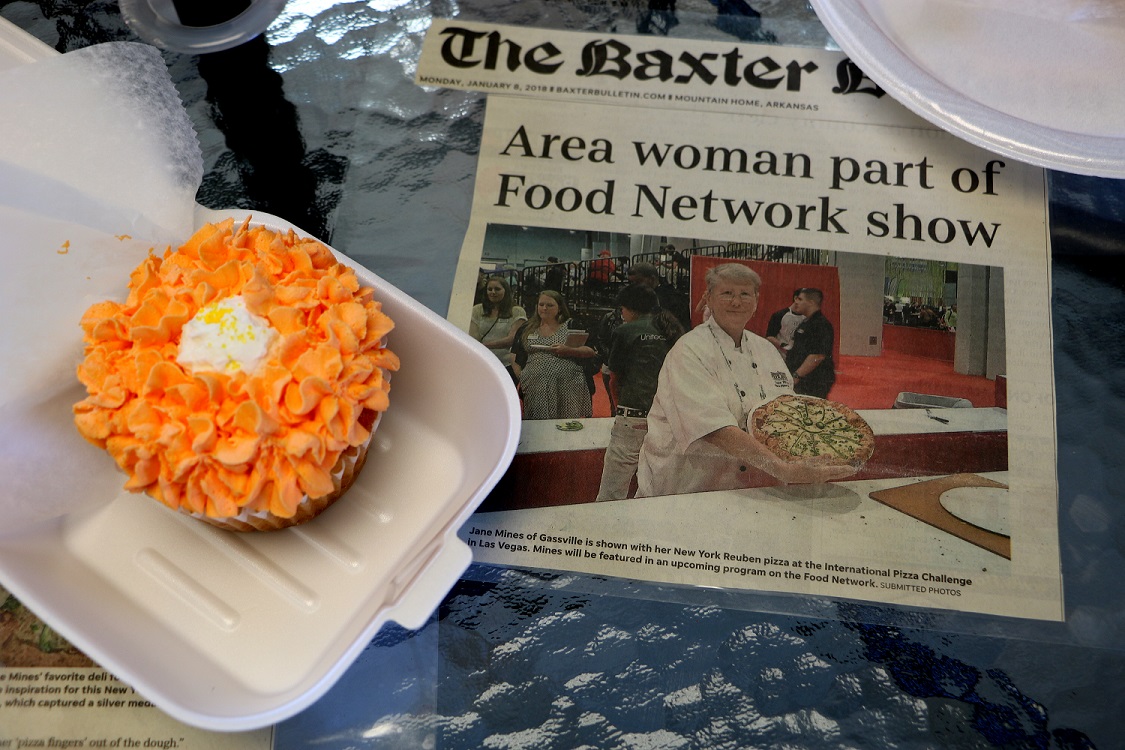 After that tasty treat, we got back on the road when I saw something fly off of Gabe's bike. He turned around and I told him I thought it was his taillight lens. I remembered where I saw it and sure enough, his lens had popped into two pieces and broke off. He grabbed both pieces and stuck them in his saddlebags to deal with later. After riding about 100 miles and seeing many cool and unusual things, it was time to head home.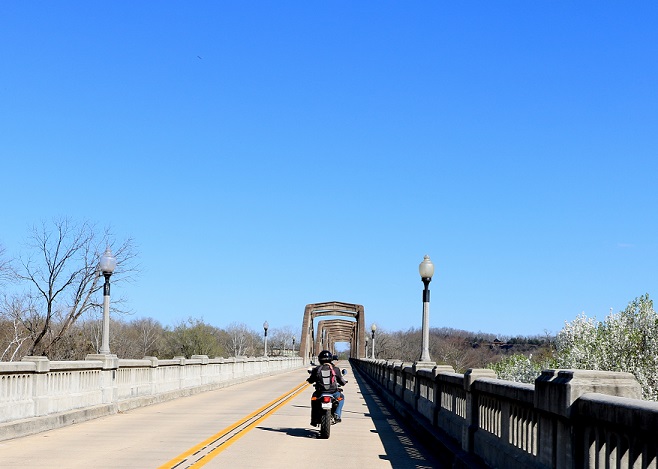 Once I got on the bike and took off, amazingly I forgot all about my hand. The clear mountain skies and the different terrain that we encountered made me glad that we ventured out on the bikes. It would have been hard to pull over and view the awesome bull and even harder to find a place to park a vehicle to photograph those magnificent bridges in Cotter. This part of the country is definitely a place I would like to go back to and spend more time looking around. A motorcycle, whether it is a brand new one, a custom vintage one or just a $1500 dual sport opens up so many amazing opportunities that I can't imagine nor do I want to ever imagine living without one!
"If you have been involved in a motorcycle accident, don't let it steal your freedom! Call 1-800-4-BIKERS to learn how an experienced motorcycle accident lawyer can get your bike fixed, money for your medical bills, and compensation for your pain and suffering."