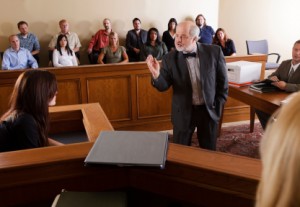 Not all motorcycle accident claims are complicated or so complex that getting a reasonable settlement to cover your medical costs and getting your motorcycle repaired is impossible, but there are some accident cases that have unique circumstances that demand aggressive legal attention in order to compel the at fault party's attorney and insurance company to settle on your terms and that is why you should never choose to handle your accident claim until you have consulted with a motorcycle accident lawyer.
In case you didn't know, insurance companies are in the business of offering financial coverage in the event you are either injured or have been involved in a motorcycle collision where someone else was injured. In the case of you being injured, your insurance company will work with your motorcycle accident lawyer to get compensation for damage to your motorcycle, money to cover medical bills, and a cash settlement for your pain and suffering.
When dealing with the at faults party's insurance company you will find that their bottom line is minimizing their financial exposure and paying out the least money possible. This is a financial management situation for the insurance company, and the idea of conscience and doing what is right is not part of their reasoning for anything they do in their attempts to close your motorcycle accident claim.
In the matter of a motorcycle accident that had plenty of evidence; multiple corroborating witnesses, a police report and evidence that clearly shows the other party was at fault make reaching a favorable settlement a matter of your accident attorney making it clear that it is in the at fault party's insurance provider best interest to settle on your terms in order to avoid a trial that would increase their risk and financial exposure.
In situations where a motorcycle accident claim is more complicated or is evidence is so damaging for the at fault party, your motorcycle accident lawyer will choose to take your case to trial to ensure you are awarded the maximum settlement possible, and the at fault party is brought to justice with both jail time and financial responsibility!
Using an experienced motorcycle accident lawyer to represent your motorcycle accident claim and case brings the knowledge and experience of personal injury and how the laws pertain to motorcycle accidents and victims. Your accident lawyer will use legal precedents and case law to your advantage, he will know how to gather damaging detailed evidence and how to present it in the most favorable light to the opposing party, their lawyer, and insurance company leveraging them to settle on his terms!
The most important reason you should always have a motorcycle accident lawyer represent you is because every single motorcycle accident is different, and even what seems like a quick open and shut claim can suddenly take a turn for the worse and become more complex and without competent and aggressive legal representation on your side, your case could take such a long time to reach a settlement that it can further compound your finances and even your health!
Call 1-800-4-BIKERS to speak with a motorcycle lawyer that gives a damn about you and your accident! In the last 25 years, motorcycle accident attorney Russ Brown has developed an expertise in the area of motorcycle accidents. He has personally handled thousands of cases.
"If you have been involved in a motorcycle accident, don't let it steal your freedom! Call 1-800-4-BIKERS to learn how an experienced motorcycle accident lawyer can get your bike fixed, money for your medical bills, and compensation for your pain and suffering."