In the world of motorcycle racing there is no "fast line" to success. The idea that racers "burst onto the scene" ignores the years of effort they put in to get there. Among the many capable athletes looking for the dwindling factory rides in the world of motorcycle road racing is 17 year old Nic Swensgard. Balancing work, school, and the racing life is no easy task, but even with all that, Nic managed to put together a decent enough resume to attract the support of Russ Brown Motorcycle Attorneys®.
The Arizona teenager has a background similar to other aspiring pro racers. Nic's father raced motocross, and introduced his son to dirt bikes at the age of four. After a few sessions on an asphalt kart track at Josh Herrin's Compound, Nic knew he wanted to give road racing a try.
Nic also knows the privateer's struggle. Relying on family and friends as your crew, searching for funding, and having to race the bike your budget allows instead of the one you need are familiar stories to Nic. Working part-time at DTR Motorsports helps pay the racing bills. Volunteering as a rider coach with XCEL Trackdays helps with track time. And if that wasn't enough to fill a schedule, Nic still finds time to be a student leader in his church's youth group.
The Russ Brown crew managed to slow Nic down long enough to ask him a few questions about racing, training, and future aspirations.

Russ Brown Motorcycle Attorneys®: What do you think attracts you to racing as opposed to just riding open track days?
Nic Swensgard: You know, I want to win [laughs]. I want to be able to race for a living and you can't really do that going to track days. I like the feeling of racing other people, and being the fastest. I know it's a bit selfish to say, 'I'm faster than you' but at the end of the day it's the fastest person getting the paycheck. I'm so passionate about motorcycles, I need to find a way to do it for a living. So, racing, and beating other people, is a way you can do it.
RBMA:  Speaking of racing for a living, what is your ultimate goal then? If things went exactly the way you wanted, where would you end up?
NS: If things went exactly the way I want? Obviously I'd be racing for a factory team in MotoGP. I mean, what racer doesn't want to do that?
RBMA: [laughing] Yeah, no doubt. So do you see a route [to MotoGP] by heading to Europe for, say, the Spanish National Championship? Or do you look more at MotoAmerica and moving up through the national ranks?
NS: You know, we had a few opportunities in 2016 and 2017 to race in England, the pre-Moto3 in [British Superbike], but the fact of the matter is, if you want to race over there you have to pay the teams. That's pretty much in any class until you get to be a top-level guy. So we just never really found the funding, so we stayed over here and raced in the 'States, just to keep the costs down. […] Realistically, if I was gonna race in a [Honda] NSF250 class in [British Superbike], it would probably cost $50,000, and I'd have to live over there and figure all that out. And to do CEV Moto3 [the Spanish National Championships version of the Junior Cup, where most current MotoGP talent comes from], to be on a competitive team, would cost way more money, maybe double that. So I figure I'll stay over here, help promote racing in America, get it back to where it was in the 80's, and hopefully do what Jake [Gange] did. You know, get noticed by a team in Europe and transition from there.
And in that, Nic highlights one of the paradoxes motorcycle racers in America face if they want to turn pro and move to the world stage. To succeed in such a deep talent pool, one needs to be dangerously optimistic and uncompromising. But with huge financial barriers in the way it takes a heavy dose of realism to find the perseverance to continue fighting.
Fortunately, MotoAmerica, the US national superbike series, has been restructuring its classes to give young racers more of a springboard. MotoAmerica introduced the KTM Cup, which mimics the feeder classes in Europe by putting young riders on identical RC390's, which are a good approximation of the more advanced Moto3 bikes that riders ride on the world stage. The desire is to land a Moto3 ride and make a name for yourself, then transition to the Moto2 class (moving from 40hp to 140hp), and from there make the final jump to the 280hp, 220 mph prototype machines of MotoGP: the pinnacle of motorcycle racing.
There are only ten factory bikes in MotoGP, with four of those belonging to teams still developing their racing programs, leaving only two Honda's, two Yamaha's, and the fickle Factory Ducati's that many riders find difficult to ride. It's like a game of musical chairs with hundreds of young, competitive men (and boys as young as 13) trying to land on one chair when the music stops. You can imagine how aggressive the Junior Cup riders are given those odds. Cutthroat does not begin to cover it.
But it's nice to see that Nic isn't ready to compromise his integrity to win. When asked about favorite racers, he admires riders who are humble:
NS: I really admire Jake Gange […] He's just a really relaxed guy, he gets the job done, and he has fun. That's the main thing. You know, a lot of people forget that about racing… you gotta have fun. I [also] really look up to Destry Abbott. He races motocross and endurocross. He is pretty big out here in Phoenix and has a pretty cool story. You know, he got cancer, and then his wife got cancer, [but] he is still doing chemo and he raced a full season of endurocross last year. If that doesn't say something about the guy, you know, he's a hard worker and just a cool, humble guy. […] I also look up to Nicky Hayden a lot. He was a super-nice guy and he was so humble, and just a really hard worker and really passionate and he gave a lot back to the sport. […] And I look up to Ryan Dungy. I haven't met him before; I've just watched some videos with him. He's a hard worker, he's focused, a super humble guy. He doesn't want to create a bunch of smack-talk on the interweb or stuff like that.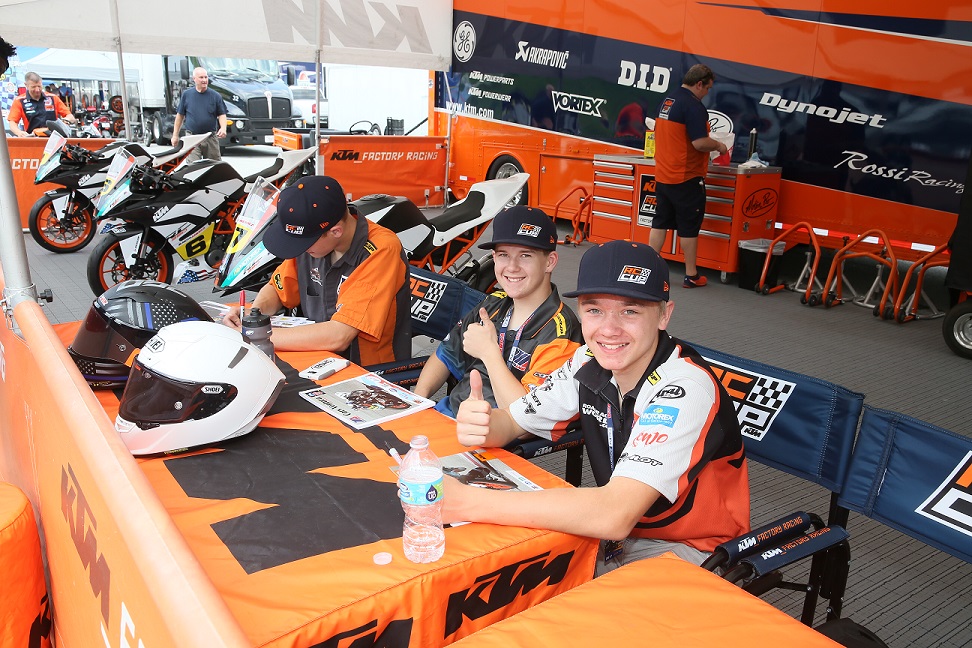 RBMA: So are you going to be doing a full season this year?
NS: I'm going to be doing ASMA [Arroyo Seco Motorcycle Association]. I'll be doing that full season, which is seven rounds in New Mexico. Because last season I was kind of all over the place […] I couldn't really do a full season in MotoAmerica last year [in 2017 Nic got a wildcard ride at Road Atlanta from RoadRacingWorld.com, and also ran one event on his own] so I figure I'm going to race a Ninja 250 in the 300 class, which will be good because I'll be on a slower bike than everyone else, and just push harder […] and hopefully win some state championships. The other goal is to practice on my KTM at the XCEL trackdays and enter the west coast rounds of the [MotoAmerica] Junior Cup. Realistically I'd like to be top-five up there, because I know I can win.
RBMA: So you plan to be at Laguna Seca Raceway then?
NS: Yeah the plan would be Laguna, Sonoma, and Utah Motorsports Park.
RBMA: So do you have a race number assigned this year so people can follow you?
NS: So the last two years for MotoAmerica I was 158. I believe this year they're going to make us do two numbers, so probably 58. It's always been my number, it's when my dad was born, 1958, so I've used that number. I've had it since I was nine.


RBMA: What kind of training do you do off the bike?
NS: I really focus on motocross, and I do an at-home work out. I try to keep it to, not really weight training, but muscle endurance and stuff like that. But motocross is my main thing. It's the most physically demanding sport in the world, super-gnarly, and just… like… an overall [workout]l: I get to ride a bike and it's rough so it's a full body workout for sure.
And there you have it. Living the dream looks a lot like working hard, and Nic isn't shy about putting in the effort. Yet despite help from sponsors like Russ Brown Motorcycle Attorneys® and a part-time job after school, the budget for the next race always looms large. As a fan of motorcycle racing — or just as a fan of young people pursuing excellence — there are actually a few things you and I can do to support Nic.
The number one thing is easy: you just need to care. Following Nic's Instagram (@NicSwensgard58) and Facebook page lets potential sponsors and teams see something exciting is happening. It also lets you live the race life vicariously, without the endless hours of blood, sweat, and tears. Subscribing to the Russ Brown Blog will also get you news on Nic's exploits as well as news about motorcycling in general.
Another thing to do is make a trip out to the race track and cheer Nic on in person. The MotoAmerica rounds are especially fun events with top-level racing, off-track events, and that crackle of excitement in the air that you just can't get from a webcast.
For 2018, Nic has not only secured Russ Brown Motorcycle Attorneys® as his title sponsor, but enjoys the continued support of Arai Helmets, Spidi Leathers, XCEL Track Days, Imune Clothing, Sidi Boots, and ODI Grips. Join this list and follow Nic's rising star.

"If you have been involved in a motorcycle accident, don't let it steal your freedom! Call 1-800-4-BIKERS to learn how an experienced motorcycle accident lawyer can get your bike fixed, money for your medical bills, and compensation for your pain and suffering."