Olivia Goheen is Russ Brown's newest author. She's a solo world traveler with a background in motocross. Olivia's love of motorcycles and the riding community runs deep. I sat down with Olivia to learn more about her worldly adventures, steal some of her veteran rider wisdom, and soak in her contagious enthusiasm for the riding community.
Brittany: Olivia! You're quite the solo world traveler, and you have so much to share with us. Can you introduce yourself and let us know what it is that makes you who you are?
Olivia: I currently live in Huntington Beach, California. I love motorcycles. I've been riding for 20 years. I'm also an avid traveler, a self-proclaimed free-spirited person. I like to be on the move. I like to explore things and see things. I love it.
I moved to California from Canada in January of 2022.My brother had been living out here for two years. He's a pro motocross racer, and it just felt like a fitting place for me to also move to and join him in all the fun. So, I moved out here. It was kind of on a whim actually, and it was definitely one of the best decisions I've ever made. I really love it here. The culture is great. The weather's great, and I get to ride my motorcycle all year round because I can't do that in Canada because it's so cold up there in the wintertime, and I don't miss the snow whatsoever.
I love being here and I love that I'm in a new country and I can explore new places because the States is very new to me, especially the western part of the States are new to me. So I've been enjoying my new home, so to say, and it's been a great fit.
Brittany: What motorcycle are you currently riding?
Olivia: So right now I'm riding a 2018 Triumph Bonneville. It's a T100, the Black edition. It's beautiful. It's classic. I mean, I think the whole bike speaks for itself. I'm a huge Triumph fan. I just have this affinity for British culture, so I think the Triumph was just a natural fit for me. But I've had the bike since it was brand new in 2018 and I wouldn't trade it in for anything.
Brittany: How did you get started riding?
Olivia: So, my story I think is very typical to a lot of people. It was my dad who was really into motorcycles, specifically motocross. And he rode, he raced and he did get into riding street bikes, but motocross was his first love for motorcycles. So he got my brother and I into it when we were really young. I was about nine or 10. So that puts me at 20 years of riding. We would race around Ontario, and we would come down to the States and go train a couple times a year. So my family was heavily involved with motocross, so I did that for a long, long time. So I'm just a dirt bike girl at heart.
Recently, in the last five years, I got into street bikes. In 2018, when I got my triumph, I was kind of a late bloomer getting my license. But it was a very easy and natural process getting into street riding because of my background in motocross. And now it's a family affair with my brother, my dad, and myself all riding our own (plus my mom, who rides on the back of my dad's bike).
Brittany: How has growing up as a rider shaped your view of yourself?
Olivia: That's a great question! If you look at most female riders, they always have this air of self-assurance to them and it makes sense because you can't be doubting yourself when you're behind a motorcycle. With that, I suppose riding has shaped me to view myself as assertive and self-reliant. I also think one of my strongest traits is that I am very adaptable. This trait has likely stemmed from traveling and from racing and riding motorcycles my whole life. Being versatile and ready for anything can certainly make life easier when need be.
Brittany: What type of riding do you do on the street? You mentioned how you love to travel. So, how does that work into your life as a motorcyclist?
Olivia: So, of course, I love motocross. I don't race competitively like I used to anymore, but I do ride from time to time. My brother and I will go up to the track. That's the dirt riding I'm doing out here.
As of late, I've just been a bit of a commuter with my Triumph. Just bopping around, picking up groceries, all that sort of stuff. I do want to take advantage of this beautiful state and being in this part of the world. Exploring more on my Triumph and doing more long distance, that's the trajectory of where I want that to go. I want to also try out supermoto or learn another discipline like flat track. Like I always say, variety is the spice of life. As much riding and variety I can get, I am down for!
Brittany: How many countries have you visited and which one is your favorite to ride in?
Olivia: So, because I'm such a travel junkie, I have traveled to about 34 countries thus far. A lot, pretty much all of them I've done by myself solo traveling, and I haven't done any solo traveling on my motorcycle. But usually when I have done some riding in the countries, it's usually with people, like friends that I've met or whatever, but I'm always on the lookout if I can find a dirt bike or a road bike.
Some places that I've ridden are Australia, the states, Canada, Colombia, and Argentina.
The most memorable of them all was definitely Colombia. I had rented this enduro bike, and had so much fun just riding through the mountains in Colombia.
Brittany: So what is your perfect day on a motorcycle like then?
Olivia: My perfect day. So if I'm just giving all the details… It's just waking up organically when I want to wake up. And being somewhere new, a country I've never been to. Riding to a breakfast spot on the water, in the mountains, and just taking that whole day to explore a new place. Hopefully with someone that I enjoy spending time with!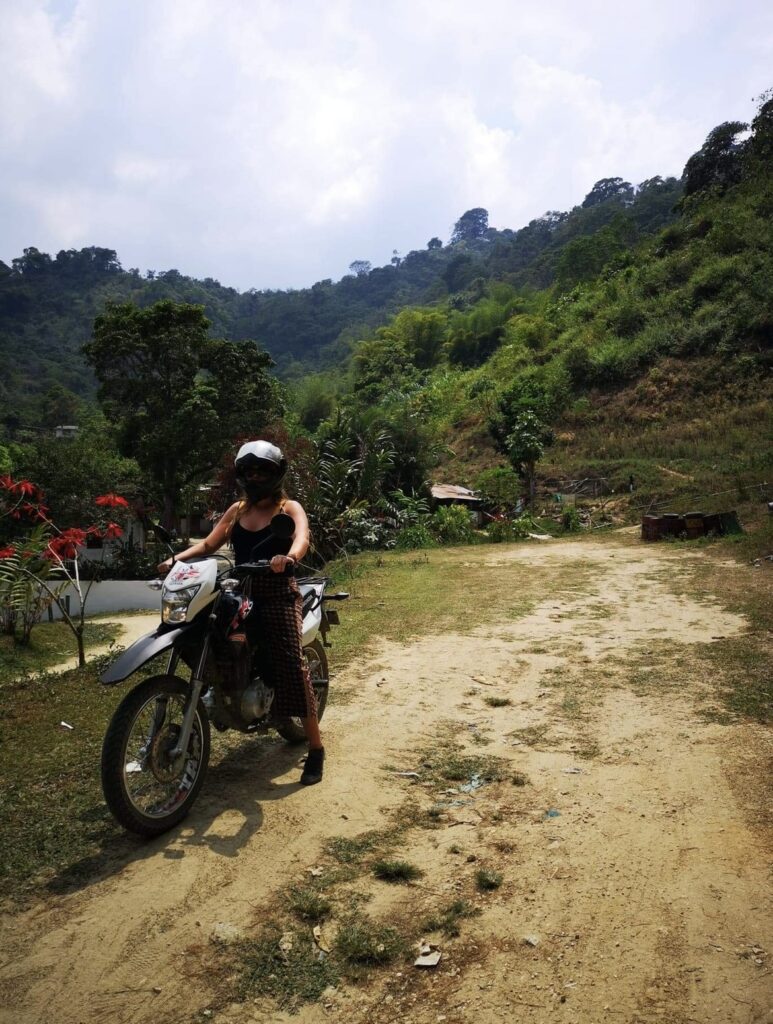 Brittany: What advice would you give to somebody who's interested in getting into riding?
Olivia: So my advice would be just embrace every moment that you are on the bike. You know, put yourself in different situations. And I think because I've done a lot of solo traveling, it can kind of translate to getting into motorcycles and riding because they are very similar. They're in similar realms because you have this independence, this freedom, this passion to do something fun. I suppose just having faith in yourself that you can do it because it is an intimidating thing. So just, just do it. Put yourself out there and talk to people about it, because it's a lot of fun and you can meet a lot of great people.
One thing I've really noticed getting more into street bikes is that the community is very similar to the motocross community. It's the same type of people. Motorcycle people are just cool people because we're all doing something we love. Meeting like-minded people that are into the same things as you is the best thing ever. So, to tag onto what you had originally asked, my advice is absolutely find a hobby and a passion. And if that's motorcycles, stick to it because you will have so much contentment in your life.
Brittany: Do you have a #1 bucket list travel destination where you'd like to visit on a motorcycle?
Olivia: Admittedly, I keep a list of destinations I'd like to visit on my computer desktop and eleven countries come to mind right now. If I had to choose one, it would be to scope out the entirety of India on a motorcycle. I'm so intrigued by their culture, and the stunning beauty of the land. It would certainly be a unique experience on two-wheels, especially because the traffic is absolutely mental and there would be a serious culture shock to endure! That sounds like so much fun to me!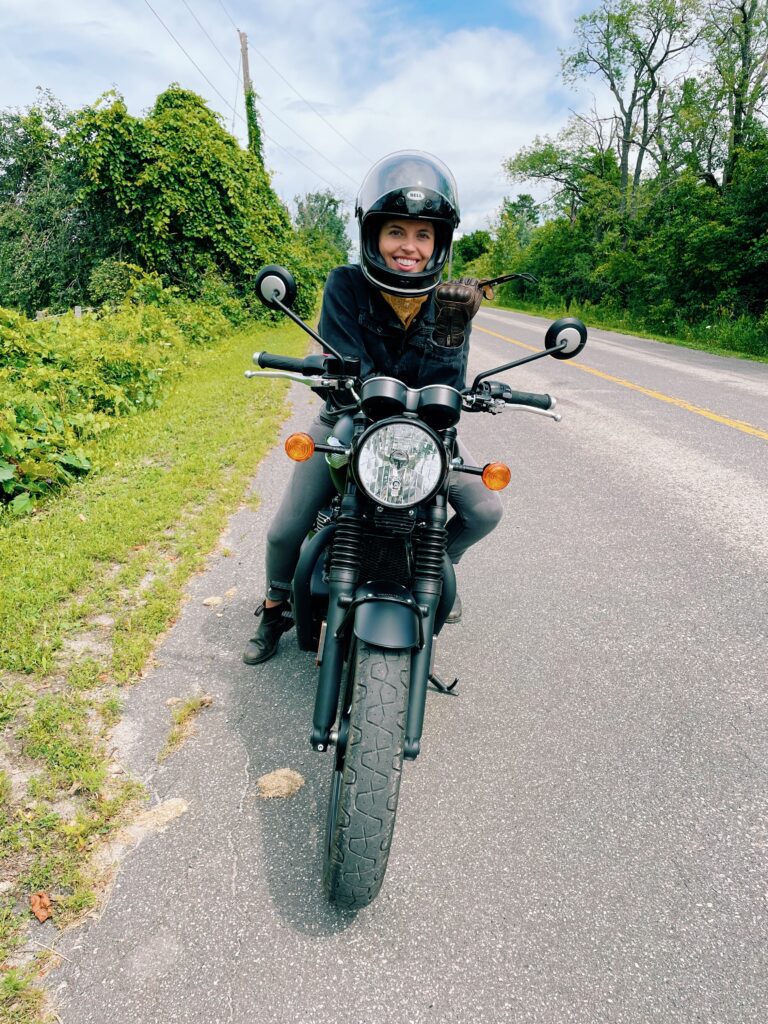 Brittany: How would you describe your current role in the motorcycle community, and what are your dreams and goals for the future?
Olivia: I would hope that I am inspiring people to go out and live the life they want to. I would stress to do it on two-wheels! Put yourself out there as much as possible and take life by the reins because you never know what will come from it.
Since my professional background is in communications and I'm a recent transplant in California, my desire is to continue networking with brands and people to hopefully get work I am passionate about. I would love to get invited to renowned events and rides to write and vlog about them. Starting a motorsports podcast has always been on my radar too. It goes without saying, I want to make it a really, really interesting podcast because everyone is doing them these days and you really have to stand out!
Brittany: How do you want to be remembered?
Olivia: To put it simply, I hope I am remembered as someone who enjoyed life as much as they could and gave it all I got. I have many goals and ambitions, and I hope to continue catching them while maintaining happiness in life.
Follow Olivia on Instagram at @Olivias.Odyssey
Visit Olivia's Blog at OliviasOdyssey.ca
"If you have been involved in a motorcycle accident, don't let it steal your freedom! Call 1-800-4-BIKERS to learn how an experienced motorcycle accident lawyer can get your bike fixed, money for your medical bills, and compensation for your pain and suffering."