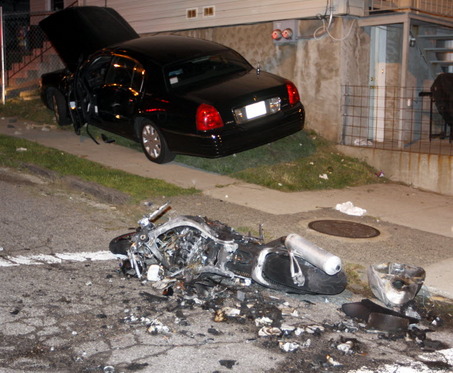 Looking for the right personal injury attorney in San Francisco after you have been involved in a motorcycle accident is not as difficult as it may sound. Seeking legal assistance from an experienced motorcycle accident lawyer is the smartest move a motorcycle accident victim can make, because without experienced legal representation your chances of getting the maximum settlement in your case will be next to impossible.
There are a few methods you can use to find a qualified and experienced San Francisco motorcycle accident lawyer, such as asking friends, family or co-workers for recommendations, or you could call your local BAR association for a free referral, or you can even use Google to search for motorcycle accident attorneys in your area.
San Francisco motorcycle accidents are far more serious than many automobile accidents, and many times they result in serious injury or death. The primary reason you need an experienced San Francisco motorcycle accident lawyer is to protect your rights during the claims process with insurance adjusters, and should your case go to court.
Even if you were found partially at fault in your accident, you are still legally entitled to compensation to cover lost wages, pain and suffering, medical bills, and getting your motorcycle repaired, and that is another important reason you need an experienced San Francisco motorcycle accident lawyer.
As soon as your motorcycle accident lawyer has filed your injury claim, you may be contacted by the police, an accident investigator, insurance claims adjuster, and in some cases even the attorney representing the at fault party; never speak with these people, and always refer them to your lawyer!
It is highly recommended that you do not sign any papers or forms, even any paperwork or forms directly from your insurance company. Once you have retained a motorcycle accident attorney he will become your first line of protection, and will review any documents you are required to sign. Always refer anyone who wishes to speak with you regarding your accident to your lawyer, and this includes the police, or any accident investigator.
Keep in mind when considering your choices in hiring the right San Francisco motorcycle accident attorney that it makes no sense to hire an attorney who does not know one motorcycle from another, or is still influenced by the general cultural bias against motorcyclists.
The right motorcycle accident lawyer will not only know the laws and statutes pertaining to his State or region, but he or she will also have in-depth understanding of the mechanics of riding a motorcycle, the dynamics of motorcycle accidents and also understands the people who ride motorcycles, including sport bikes and super bikes.
When you have been involved in a motorcycle accident, hiring the right personal injury attorney may be the smartest thing you can possibly do to make sure you get the money you need and deserve to get your motorcycle repaired, money to pay your medical bills, and compensation for your pain and suffering. Call 1-800-4-BIKERS to speak with a motorcycle accident lawyer who knows the law and the dynamics of motorcycle accidents and injuries.
"If you have been involved in a motorcycle accident, don't let it steal your freedom! Call 1-800-4-BIKERS to learn how an experienced motorcycle accident lawyer can get your bike fixed, money for your medical bills, and compensation for your pain and suffering."