Johnny "Steaks" Rizzo's path to running an online radio show with thousands of listeners is a bit of an unconventional one, but then that makes sense for a show that's about misfits, oddballs, partygoers, biker rallies, and motorcyclists in general.
Johnny's path started with concert tickets. A truck driver by trade, he won some tickets to a Twisted Sister concert on the radio and the guys running the show he won the tickets through liked him so much they invited him back on the show regularly. Before long, he was helping secure sponsorships and learning how the show runs in general.
He started wondering, why not do it for himself instead of doing it for someone else's show. With that rolling around his head and encouragement from some other folks in the radio business, he decided to give it a shot. And so, Motorcycle Mayhem Radio was born.
A Learning Curve and Good Friends
Motorcycle Mayhem Radio couldn't get off the ground without Johnny bringing together some friends and learning how to make the show work from a technical standpoint. "I didn't know nothing," Johnny said. "Now I do ….
The team originally consisted of Johnny, his friends Adam and Margaret. They worked well for a while and were able to get the show off the ground and gain a minor following. After about a year, Johnny met Mike who started Road Captain a GPS app for bikers. When Margaret and Adam couldn't continue being on the show for personal reasons, Mike became the co-host.
When Mike was brought on, the show also shifted its focus. They didn't really want it to be about the bikes themselves. "I can't build a bike," Johnny said. "I decided I wanted the show to be different. I wanted to talk about the biker lifestyle." Mike and Johnny wanted to focus on what they love most about being a part of the community and going to the events and riding in groups—the people, the events, and the rides.
Motorcycle Shows and Motorcycle Mayhem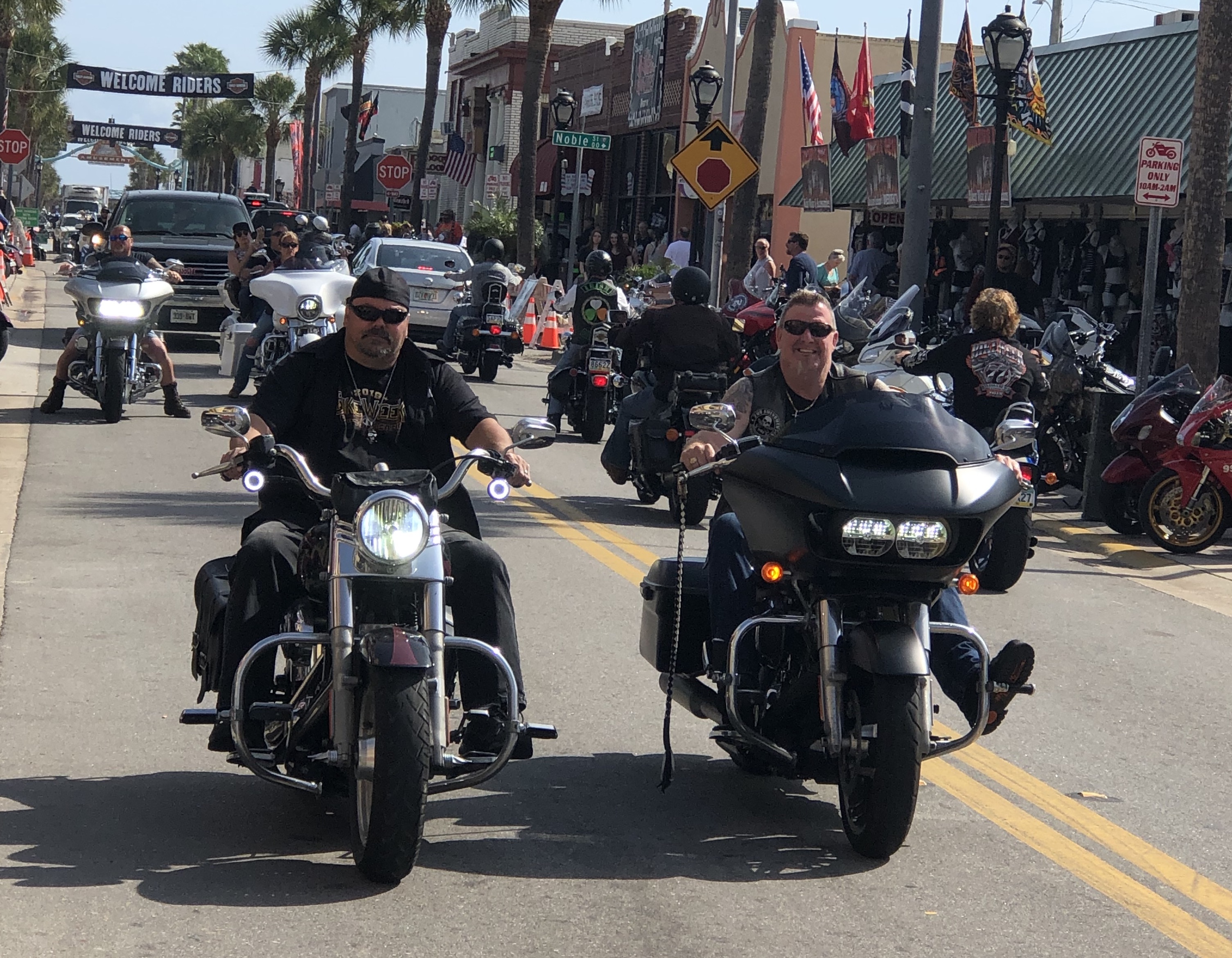 Motorcycling is as much about the people as it is the bikes. This is something Johnny knows well. He lives the lifestyle that he talks about it every Monday on his show. In an effort to connect even more with his audience and just because he and Mike like to, they go to all sorts of motorcycle shows around the country.
Mike and Johnny hit the big shows like Daytona and Stugis, but they go to the little shows that nobody hears about, too. "You want to really experience the biker lifestyle, you should go to a small biker show," Johnny said. "That's where the fun happens."
Johnny made it clear that he still loves the big shows, but there's something special about the small shows. "There's a level of intimacy that you don't find at the bigger shows," he said. "That's what I like best."
Mike and Johnny are based in New York, but they hit shows all across the country from Florida to the Midwest to Texas. "We'd really like to get out West," Johnny said.
A Passion Project Building Steam
Johnny and Mike have become a really good team, and their chemistry is working to attract more and more listeners every week. The guys go live at 8 pm every Monday night and they're expanding into the video to document their travels and the events.
This isn't all that Johnny does. By day, he works as a truck driver in a business that he and his brother run that was started by his father. Johnny said his brother knows the show is important and works with him around the schedule of the show and the events that Johnny and Mike attend.
This paired with hard work and a genuine love of what he's doing allows Johnny to expand Motorcycle Mayhem Radio's reach every week. He said that most of their fanbase comes from word of mouth. They meet plenty of people at these events, and the more they go to, the more people follow the show.
The show itself has its own vibe, its own lifestyle. It's a show about being a motorcyclist and all that comes with that, but in the end, it's about building a community. One inside the motorcycle industry that not only supports the others out there but is an active participant.
Johnny and Mike want to see not only their show succeed, but all of the ventures from people they come into contact with. It's this inclusive nature mixed with the bad-ass bikes and hard-working people that makes the show work.
So, the next time you hear about a local biker show, consider going, and while you're there, keep your eyes peeled for Motorcycle Mayhem Radio's booth.
Check them out at: Facebook, Instagram, Twitter, YouTube, or MMRSHOW.COM
"If you have been involved in a motorcycle accident, don't let it steal your freedom! Call 1-800-4-BIKERS to learn how an experienced motorcycle accident lawyer can get your bike fixed, money for your medical bills, and compensation for your pain and suffering."