Although the meaning of Rolling Thunder is rooted in the military campaign dubbed Operation Rolling Thunder, its double meaning is obvious to anyone lucky enough to witness the roar of hundreds of thousands of motorcycles revved for a singular cause. The camaraderie of the society of two wheels is magnified by the larger fellowship of those who have served, and can be witnessed in full color, at full volume, in D.C. on the last weekend of May.


One Sunday a year, before the crack of dawn, a band of brothers, of mothers, fathers, sisters – a community on wheels – filter their way into the two massive Pentagon parking lots. We first met Don, a vet and member of the American Legion, who has been coming to this demonstration for over a decade. When we asked if Don had served, he replied "Once.. for 28 years". Don, the son of a Navyman, signed up voluntarily at the age of 17. The roots of service run deep throughout his family, and we would find this among a majority of the vets we spoke to; a theme of military service being passed down from generation to generation.


We met Americans, we met Canadians, we met Germans and Israelis. Larry Love, a Québécois, has also been coming to Rolling Thunder for years. In fact Don and Larry are friends, the kind this event fosters; brothers with a deep connection, despite meeting and seeing each other only once a year for a few hours in an Arlington parking lot. Again, the familial commitment to serve is found in Larry's family; his grandfather served in the first World War and volunteered for World War II twice, as there was no draft in Canada, and his father served in the Air Force, while his wife's father in the Navy. Larry enlisted as the war in Vietnam was coming to an end, and referenced, most notably, his time overseas during the Bosnian-Serbia conflict. He had a role – a responsibility – in protecting the war-torn citizens of Cyprus, who were exposed to harrowing and horrific acts of war cruelly played out over the backdrop of the island's picturesque Mediterranean coastline. We grew somber for a moment before Larry broke the silence, "It's tough to understand what a war zone means, and it's tough to understand what the brotherhood means," he paused and looked to Don, "Some didn't leave the border, but that doesn't matter, the brotherhood is still there." The group nodded, unified.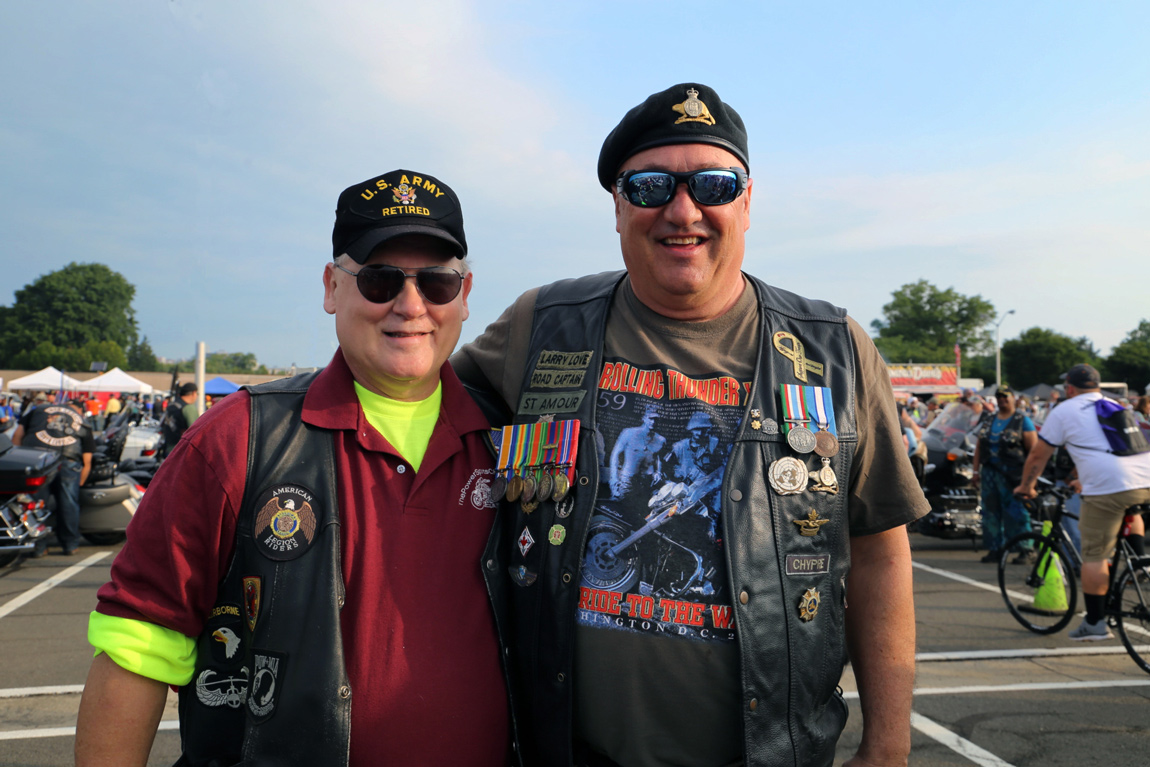 This was another oft-repeated attitude: The common ground  between those who were sent overseas during their service and those who remained on home soil. As Pat, a Combat Vet said, "there are other gates to guard," as in, to a veteran, the commitment between a soldier guarding the Golden Gate bridge and the soldier protecting the the citizens of an island under siege is equal. There is a powerful bond in the fact that, at one point or another, every single individual who has enlisted endured the same grueling predawn marches, the same basic training, and the same offer to their government; a carte blanche use of their own life, to protect and serve in whatever capacity their country saw fit, whatever the personal sacrifice. This is what Larry was getting at, this is what every veteran we spoke to tried to convey: While blood runs thick, the solidarity of the military runs thicker.


In an era where public schools are secured with metal detectors, spectators at sporting events are subject to bag searches, and security wanding is practiced evermore at points of public transit, it is a testament to the event, to the individuals, and to the community that no one was asked to be patted down, no saddle bags were searched, and the only notion of safety was that everyone stave off dehydration with free water and complimentary coffee. After all, who would dare mar the joy of the near million comrades who didn't hesitate to sign their life away to protect, serve and honor their fellow countrymen?
Among the wealth of sayings our first friend Don had to offer, seemingly queued up in his back pocket, sprinkled throughout our conversation, was this, "I like humanity, just not people." This was tongue in cheek, as it was evident in Don's enthusiasm for spotting comrades out of the crowd that he had great love for people. That sentiment of humanity hit home as we stood at the peak of an overpass, taking in the view of the massive bustle of the united community that comprises Rolling Thunder, the tune "Take Me Home, Country Road", fading in and out of earshot from a nearby Can Am Spyder.


War is dehumanizing in every way, but what Rolling Thunder demonstrates is there is humanity to be found in the fight, and that the bleakest of circumstances forge the strongest bonds between humans. Encapsulated in the half mile stretch of the Pentagon parking lot annually on the Sunday before Memorial Day, is the purest meaning of camaraderie, of patriotism, and of fellowship. This is what Rolling Thunder offers – to anyone, indiscriminately – and we are honored and humbled to take part and bear witness year after year.
"If you have been involved in a motorcycle accident, don't let it steal your freedom! Call 1-800-4-BIKERS to learn how an experienced motorcycle accident lawyer can get your bike fixed, money for your medical bills, and compensation for your pain and suffering."