As a tribute to both our nation's military and the rising female force in the motorcycle industry, Russ Brown Motorcycle Attorneys® is proudly teaming up with the Republic of Texas Rally to showcase the first ever Daughters of Custom Build-off. The competition features three father/daughter teams, three custom motorcycle builds, and three motivational stories…
BUILDING FOR LIFE – GEORGE & SOFI TSINGOS
After years of donating custom built motorcycles to charitable causes, it's a no-brainer that Sofi and George accepted the invitation to compete in the Daughters of Custom Build-Off. Though Sofi basically grew up learning craftsmanship in her father's aircraft maintenance shop, the inspiration to work together on custom bike builds came in 2012, when her father, George was diagnosed with cancer. The doctor gave George an ultimatum- remove the tumor and live, or do nothing and die within 4 months. George chose life, and faced many weeks of painful radiation after the tumor was removed.
At home with her father, Sofi noticed that one of the few things that distracted her father from the pain and depression was tinkering with his motorcycle in the garage.  That's when they came up with the idea to build a custom bike together. They documented the building journey, and raffled off the finished bike to raise money for children with cancer. Sofi and George turned the custom bike build into an annual tradition, and have built and raffled a bike every year since 2013. Working on these motorcycles with his daughter helped George rebuild his life after his bout with cancer, as well as benefiting those children living with cancer.



The bike they are using for the 2018 Daughters of Custom Build-off was a gift from Royal Enfield. If the finished custom motorcycle wins at the event, it will be given away in the ROT Rally Military Bike Give-away to an active or retired military person. Otherwise, it will be auctioned, with proceeds going to a charity to benefit our military.
Sofi tells us "We will be doing all of the fabrication, body work, paint, electrical and installation at home. The only thing that will be out sourced will be the seat which will be done by the very talented Matt Hurtado. As for the details of design, well I'll just say that it will go from a Continental GT Enfield Cafe to a custom Bobber. We are honored to keep building each year for a different cause and excited to see what the other groups build!"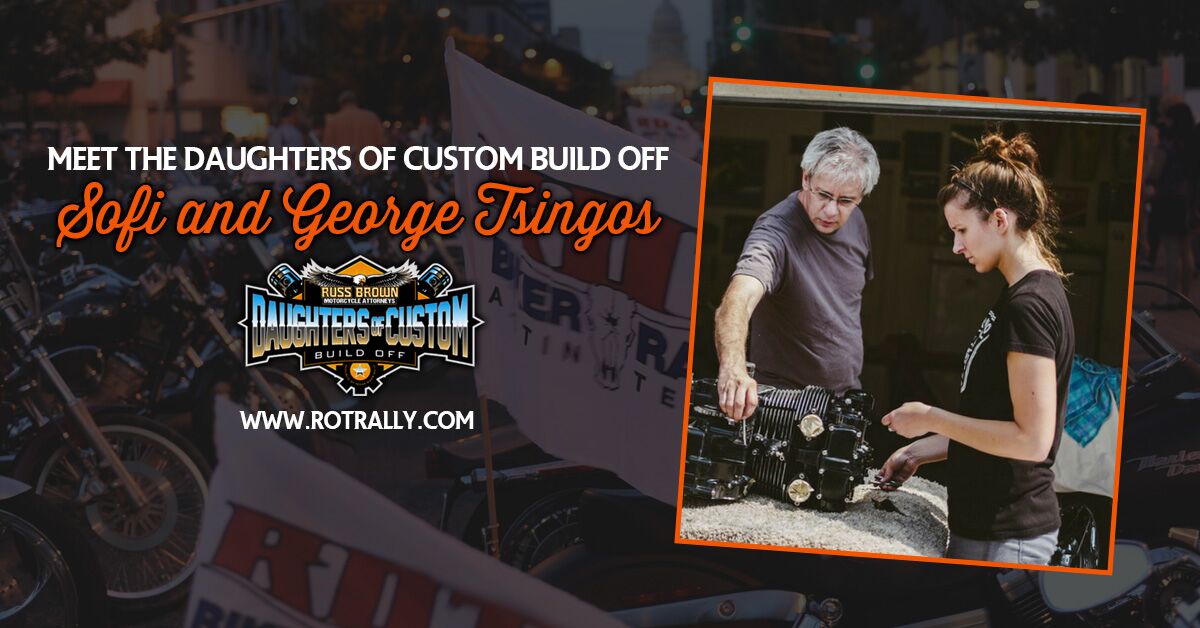 SCHOOL OF SHOP – AUSTIN & ADY ANDRELLA
Austin And rella and his 9 year old daughter, Ady have the youngest combined ag e of all the father/daughter teams in the Build-off. When he was 23 years old, Austin began teaching himself how to build bikes from scratch. It took him 5 years to finish constructing his own bike, which he named "Patience" as a badge of honor for his continued dedication and passion for the building process.
Now Austin will have an apprentice at his side in the form of his daughter, Ady. Already a creative talent in the motorcycle shop, young Ady is following in her father's footsteps as they work together on their custom bike build for the ROT Rally.  From whiteboards and textbooks at school during the day, to wheels and sprockets at her father's "shop class" in the evening, Ady is a positive indicator of an industrious new generation.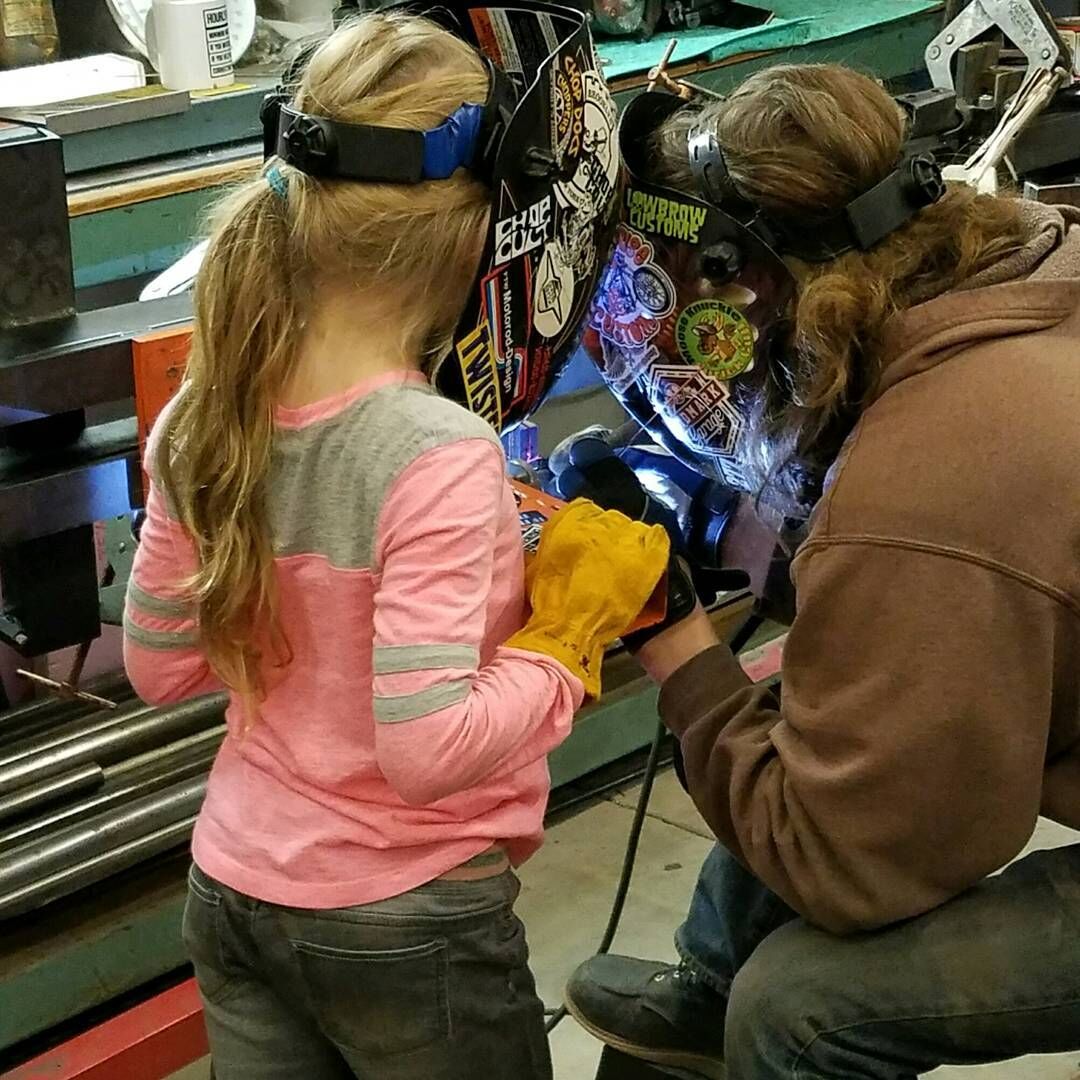 Austin and Ady are already well on their way to rebuilding and customizing their bike, which started as a 1981 Yamaha XS650. The original bike is now unrecognizable, as Austin and Ady made quick work of cutting it in half and tearing it apart. "In one night we threw it on the frame jig and made a custom hardtail from scratch," says Austin. "It is all TIG welded now and it is back off the jig with a mock-up motor in it and the rear tire back on."
Their build continues with picking up and piecing together several parts that a number of sponsors have donated to make their bike a true one-of-a kind: a Springer front end from 138 Cycle Fabrication, gas tank and other pieces from Lowbrow Customs, mid controls from Iron Heart Cycles, set of acrylic grips from Paper Street Customs, as well as a seat pan created by Paper Street Customs and donated by Barebones Leather. Austin and Ady are really excited to watch the ongoing transformation of their custom bike, and looking forward to seeing the finished product of this special father/daughter build.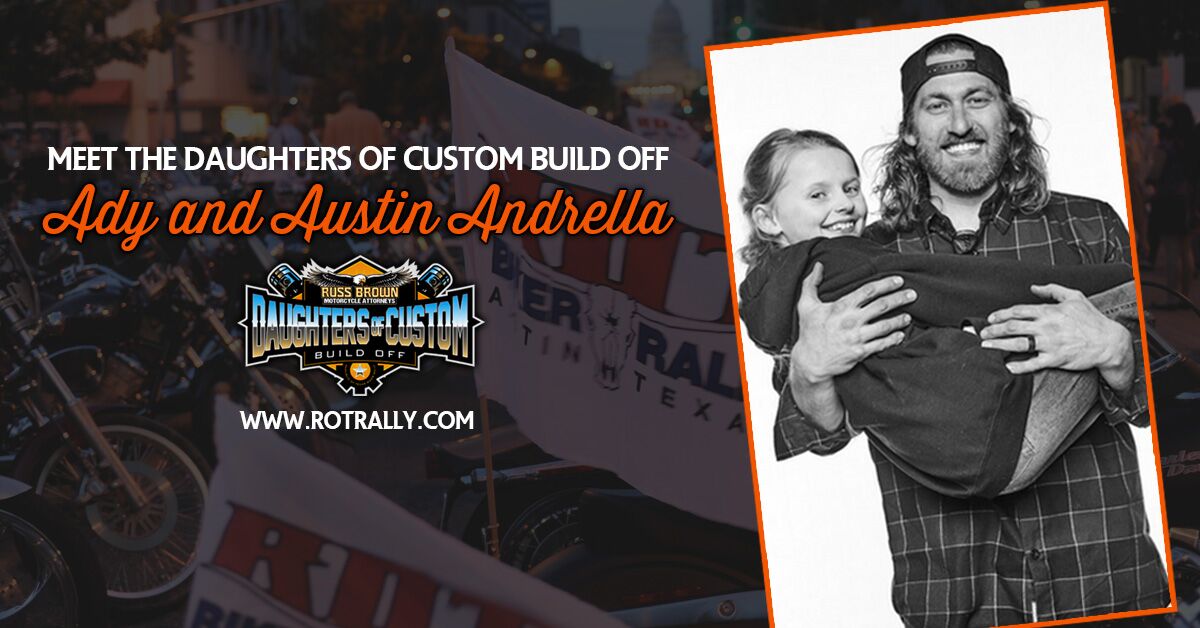 BUSINESS BUDDIES – ROY & NIKKI MARTIN
For the Martins, business and family go hand-in-hand. Nikki is the Chief Operating Officer at Roy's Toys Customs, which her father, Roy opened in 1994 along with his wife, Christy. Though he now has over 20 years of custom bike building experience under his belt, Roy's very first custom build began with the teardown of his 1994 Harley-Davidson Heritage Softail Special.
As a father, he could not be prouder of his daughter's bike building abilities: "I have always wanted Nikki to follow in my footsteps, but she has gone farther than I have ever dreamed…"


Now Roy and Nikki are excited to work together on a motorcycle with a very special meaning. For the Daughters of Custom Build-off, they purchased a 'retired' bike from their family friend and co-worker, John Quinn. "It is a 1999 Kraft Tech Rigid frame, 80 cu in Evo motor, 21 in front with a 16in rear," Nikki describes. "We changed the front end to a 39 mm, it'll have custom sheet metal by us, custom seat by Matt Hurtado of Working Mans Customs and a killer paint job by Taylor Schultz of Schultz Designz."
What makes this motorcycle so special is that it's previous owner, John is a Marine Corps veteran. "We love the fact it came from a veteran with hopes of it going to another veteran," said Nikki. Her and Roy are excited to see this custom bike come to life in just a few short months.

A multi-generational celebration: a rising new biker era pays tribute to U.S. Military vets.
The emerging young generation is breathing new life into the two-wheeled industry, and the rising force of female riders brings exciting innovations with it. If ever there was an ideal time to promote the rise of female talent in the male-dominated motorcycle industry, the time is now. That's why Russ Brown Motorcycle Attorneys® is joining forces with the ROT Rally to showcase the inventive new talent in the first ever Daughters of Custom Build-off in Austin, Texas. After spending several months working on their own custom bike build, each of the father/daughter teams will unveil their finished bike at the Rally in June. The fate of each motorcycle lies in the hands of the rally-goers, who are encouraged to meet the father/daughter duos and vote on their favorite custom build.
As a grand finale to the Build-Off, the custom bike with the most votes will be given away in a drawing to one lucky veteran as a token of appreciation for their service to the country. The giveaway is part of a special military tribute, and will be followed by a headlining performance from ZZ Top on June 9th. The other two bikes will be auctioned, with proceeds going to a charity to benefit our military.
For event sponsors Russ Brown Motorcycle Attorneys®, "This is our way of giving back. We appreciate each and every service member willing to make the ultimate sacrifice so that we may ride free."

https://www.rotrally.com/blog/rot-announces-daughters-of-custom-build-off-for-military-bike-give-aways/
"If you have been involved in a motorcycle accident, don't let it steal your freedom! Call 1-800-4-BIKERS to learn how an experienced motorcycle accident lawyer can get your bike fixed, money for your medical bills, and compensation for your pain and suffering."