Russ Brown Motorcycle Attorneys® is very proud to announce its sponsorship of Jacques Cochran of JAW Motorcycle Racing.  Jacques Cochran, #757 is a lifelong motorcycle rider, racer, and an active U.S. Military Soldier who teaches motorcycle safety on bases throughout southern California.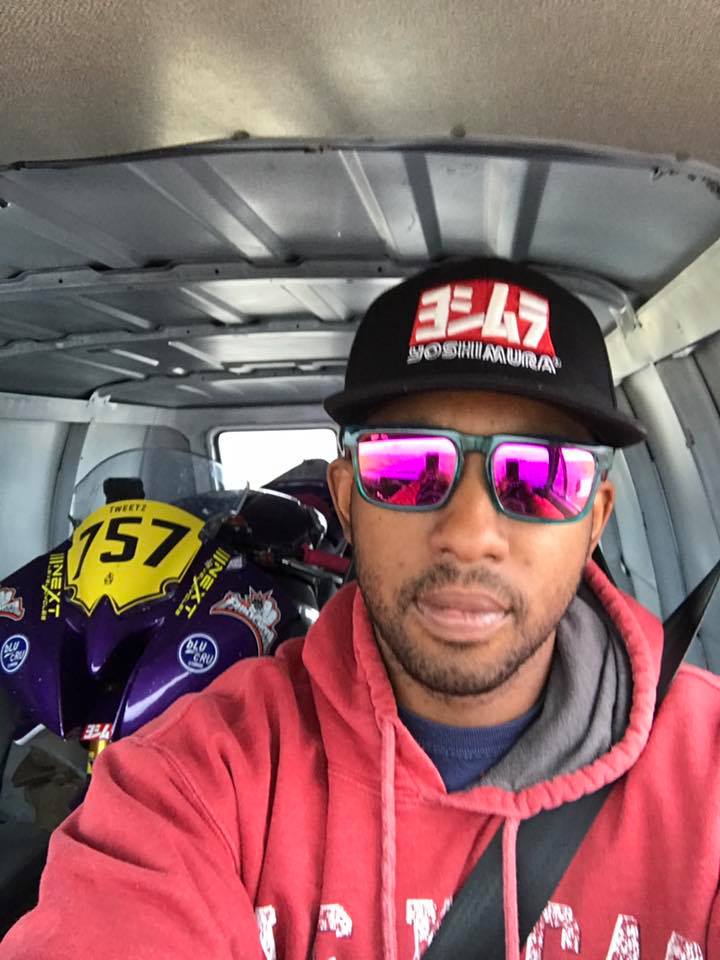 Most five-year-olds are busy playing on playgrounds but not Jacques Cochran at that age, "JC" as  his friends call him was already busy riding trails thanks to his uncle's 50cc dirt bike. Once he started he never stopped. He stayed on motorcycles, switching to street bikes as soon as he could for 20 more years before eventually racing on the track.
Not even joining the US Navy and becoming an aviation mechanic on F18 fighter Jets in Japan could keep him from riding. While in Japan, Jacques got to ride on two MotoGP tracks, Fuji International Speedway and Twin Ring Motegi. An experience that helped shape him into the racer he is today.
Jacques was infected with the urge to get on the track and "lay it all on the line" as he says. He took his Ducati 1198, got his novice race license and started training with Ken Hill (Yamaha Champions Riding School & RICKdiculous Racing). In 2016 he started with Wera Roadracing, where you move in ranks from amateur, to novice, to — after 7 rounds finishing within the top five– an expert.
While most racers start on the track and stay on the track, JC went at it backwards, first riding cruisers before trying his hand at racing. He says that this helped him become a better racer because it kept him responsible. "Once you take out all the variables on the highways then the track just seems more rewarding", Jacques says.
During the day he works as a correction officer at a Naval Prison but as soon as he clocks out he's on the track or getting ready for it. Fully committed, everything Jacques does is to better his performance on the track. From choosing what to eat, exercises, sleeping patterns, nothing is left out of daily decisions as to how each choice will make him faster. While most of us don't think twice about why we do, a simple, mundane task, Jacques treats every choice as a poetic win-or-lose moment. Even the music he listens to will bring him back to certain turns on a track or put him in the mindset to push harder while out there racing.
 Like any great person, there are great people standing behind him and JC has an impressive crew. Jacques' Wife, Whitney, is his Crew Chief and his 6-year-old son, Amare does everything he can to help dad — from putting sponsor swag bags together to washing his race bike. "They are my best support system!" he says proudly.
Currently, he's number  757 and riding a 600cc Yamaha R6 but his practice bike is a Kayo 125 mini GP bike. He acts as his own mechanic at the track with major suspension/engine overhaul help from Next Level Cycles in SD. After all, this is over he wants to become a professional riding coach. Having done Safety briefings with the military on everything from choosing the correct helmets to how to ride safely, he loves teaching others with the hope of also passing along his passion for riding.
Jacques has spent half of his life protecting others, with only one more year before he's retired from Active Duty. All of this while raising a family and racing year-round–and he's only 36 years old. He's not only been an inspiration to the country he serves but to the individuals he serves it with. Though it's easy to determine our lives by the lines we choose, it's what's between them that make the difference.
Race Organization:   WERA West, San Diego, CA
Sponsors
Russ Brown Motorcycle Attorneys®
Pulse Endurance Sports
Ken Hill Coaching / YCRS
Vortex Racing
Yoshimura R&D
Serious RnD
Next Level Cycles
Motul
SIDI
The Fab School
Spy Optics
Optimal Racing
"If you have been involved in a motorcycle accident, don't let it steal your freedom! Call 1-800-4-BIKERS to learn how an experienced motorcycle accident lawyer can get your bike fixed, money for your medical bills, and compensation for your pain and suffering."