This year was the second time I have attended the Sierra Stakeout, but it will definitely be remembered as the most memorable. I consider the area where it is held as my own backyard, having grown up not too far from there. I had a bunch of friends in town from all over California and Nevada that rode up to attend, and I wanted to show them the awesome riding and swimming holes we have in the area. After ripping down the scenic Highway 20 to Nevada City for breakfast, we decided to check out the little town of Washington for some swimming on our way back to camp. The town of Washington is about 6 miles down a twisty road off of Highway 20, it doesn't even have a gas station. It does, however, have a great little bar and grill, a liquor store, and a pretty epic spot on the Yuba River to cool off in the summer.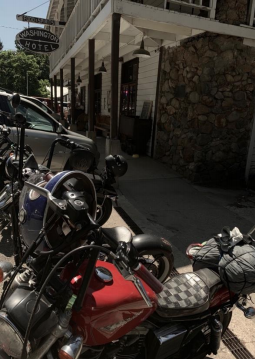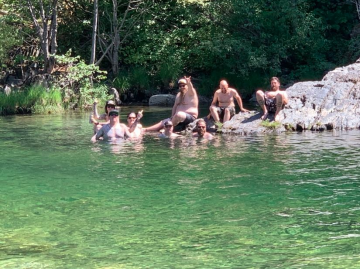 I parked my bike on the road with everyone else, and we walked down a trail to float and swim in the river. After spending a couple of hours in the river, we decided to head up to the bar and get some food before we headed back.


As we left the bar, the sun was starting to go down and it was starting to cool off. As our pack started up the winding road, I was bringing up the rear riding next to my friend Buddy. Out of the corner of my eye, I thought I saw something looking at me from the left side of my tank. I did a double-take and sure enough, something was staring at me… I could now see it was a snake! My first reaction was to get it off my bike, so I sped up to try to throw it off. I quickly realized it wasn't going anywhere and I got a better view of its size. It occurred to me it could be a poisonous snake and could strike me and cause me to crash, so I knew I had to stop and get it off. I sped past Buddy and signaled him to pull over. I pointed at the top of my motor and screamed: "It's a fucking snake!" Buddy immediately picked up a stick and started trying to get it off, but the snake was in no hurry to leave the warm motor. I managed to get some good pictures, and Buddy eventually got it off with the stick and looked poised to kill it.


I begged him to not to, so he reluctantly let it slither into the foliage. We took a few minutes to process what had just happened and realized everyone else had kept riding. After catching up with our crew at the top of the road, we headed back to camp, where Buddy and I told our incredible story. They thought we were pulling their legs until they saw the pictures.


When I posted the pictures on social media, people were blown away; some shared personal stories about snake encounters, some sent me information about the symbolism of snakes in different cultures. The biggest theme was the shedding of the skin, symbolizing transformation or rebirth. I felt that this experience was definitely unique and life-changing for me and I should memorialize it with a tattoo. My girlfriend Nikki Costalupes (nikki_sin_tattoo) was riding with me that day so I knew she would be the perfect one to do it. A few weeks later I went to Aces Tattoo shop in Reno, NV to have her tattoo me, and she captured the essence of my new spirit animal perfectly.


This experience was pretty surreal, and I can't believe it happened to me. I'm glad I was able to keep my cool and that Buddy stopped with me and helped me out. From now on the Sierra Stakeout will forever be called the Sierra Snakeout by my friends.
"If you have been involved in a motorcycle accident, don't let it steal your freedom! Call 1-800-4-BIKERS to learn how an experienced motorcycle accident lawyer can get your bike fixed, money for your medical bills, and compensation for your pain and suffering."