By: Randie Raige of Russ Brown Motorcycle Attorneys
Hello Rider Readers!
Randie Raige with Russ Brown Motorcycle Attorneys here. I was able to catch up and interview one of my all time favorite, female moto inspirations and fellow Russ Brown brand ambassador Ashley "Smash Stunts" Lammela.
Although Ashley and I have ridden alongside each other during several events over the years, our connection has been mainly within our helmets. 
I am excited to bring to you guys, her inside scoop of who she is and what she does. Enjoy!

Name: Ashley aka
'
Smash Stunts
'
Age: 29
Location: Las Vegas, NV
Q. When did you start riding & why?
A. I got my first bike in 2012. I always thought motorcycles were so bad-ass and thought it would be cool to learn how to ride one. After I bought my first bike I fell in love and it's all I wanted to do. I rode over 15,000 miles the first year I learned how to ride. I was addicted!
Mission Statement:

Q. What are your ultimate goals in the motorcycle industry as a stunt woman?
A. My ultimate goal in the motorcycle industry is to make an impact that encourages more women to push out of their comfort zone on a motorcycle. Riding can be very intimidating and as women we can be reserved and cautious. But beyond our comfort zone we learn a lot about ourselves that we can apply to every day life.

Q. Any special victories or achievements?
A. I have many personal achievements in riding but I think the one that tops it all is having traveled to nearly every corner of the United States through riding. Stunt riding has blessed me with the opportunity to see so many different cities over the last 8 years and meet so many amazing people. These experiences really top it all!

Q. How often to you practice?
A. Currently, I practice once or twice a week if I'm lucky.
Q. How many bikes do you own? Which kind?
A. I own two motorcycles. A 2004 Kawasaki 636 and a 2006 Harley Davidson Sportster 1200. They are so different from each other and each come with their own challenges and benefits which keeps things interesting!

Q. What is the stunt scene like living in Las Vegas?
A. The stunt scene in Vegas is pretty awesome! We are lucky to be able to ride year-round so you can generally catch someone at a local lot to ride with.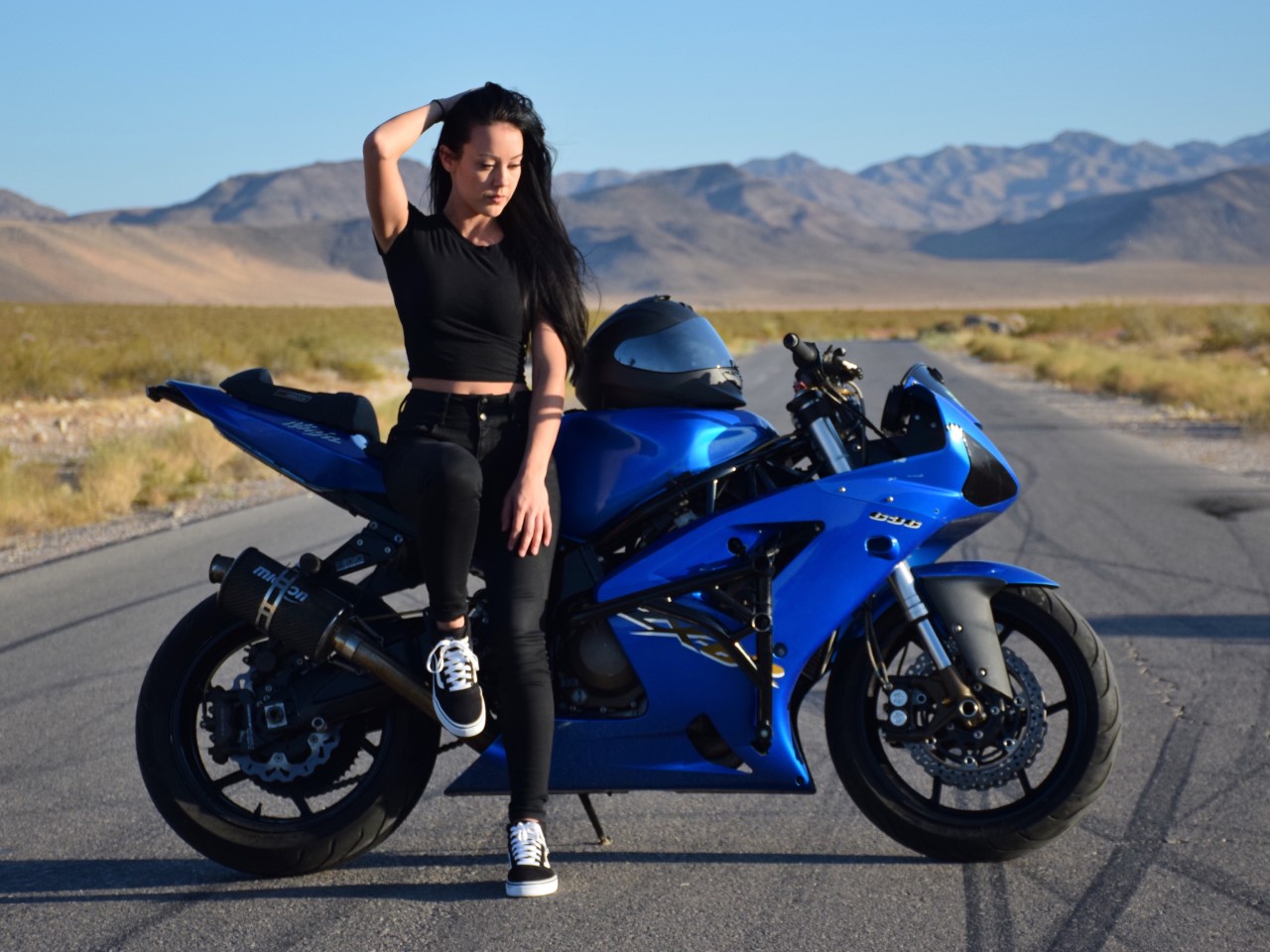 Sponsor shout-outs:
I am so thankful for the companies who support me and allow me to keep doing what I love!
Russ Brown Motorcycle Attorneys
Bassani Xhaust
Legend Suspensions
Lucky Daves
Scorpion Helmets
Where can we find you to stay up to date with your moto adventures?
You can check out all my latest content on Instagram @smashstunts.
Article photography by: Jeff Flaherty
Wendy of Russ Brown Motorcycle Attorneys alongside Ashley "Smash Stunts" at Born Free 11 2019
"If you have been involved in a motorcycle accident, don't let it steal your freedom! Call 1-800-4-BIKERS to learn how an experienced motorcycle accident lawyer can get your bike fixed, money for your medical bills, and compensation for your pain and suffering."