Written By: Johnny Killmore  Photos: @rambleonjesse
Motorcycling is unique because it is at the same time an individual and shared activity. Even when we ride alone we tend to congregate at the same watering holes or rallies. We can ride alone but still have shared experiences of that perfect road, or that bitterly cold rainstorm we rode through once, or that time we broke down in the middle of nowhere.
Yet it can still be difficult to find like-minded riders. And while the internet has changed that quite a bit, we still need to find online places to congregate. Podcasts are one great way to do that, and the Girl on a Moto Podcast is one of those virtual places where you can share in the moto-banter. What sets this podcast apart from others seems to be that it is people-centric: it talks to the people who love motorcycles and digs into the how and why of their life and love of the two-wheeled world.
Connie and Beulah make a good pairing for the show, their dynamic being largely responsible for the show's success. As women in the world of motorcycling they noticed it was hard to find people to connect with, and the idea of having a podcast where people could come together and learn more about what's happening in the moto world made sense.
Connie [center] and Beulah [left] interviewing Jenna Stellar [right] of Stellar Moto Brand.
By pure luck, I was able to corner these two busy gals on International Women's Day for a quick chat. We got to talk about motorcycles of course, but I wanted to really know why it was so much of a passion that Connie and Beulah would put in the effort to do a podcast.
When asked about how they first got introduced to motorcycling, Beulah remembers old photos of her parents:
"Back in the '70s [my parents] were bikers. My dad was sitting on his Indian when he kissed my mother at their wedding. I didn't grow up in motorcycle culture, but I do remember those moments, and living in Southern California and seeing events like Born Free… seeing all these chopper dudes and it brought back memories."
Connie also credits her parents for the first spark that made her think about motorcycles:
"I have this early memory of my dad getting pissed off and starting up his bike—he had this old Sportster that was a kick start—and taking off out of our driveway like a bat outta hell and me thinking, 'man he looks cool.' [laughs]. And really that's probably the worst thing you can do at that moment, but yeah, I thought my dad was really rad. And it never was a thing, to be on the back. That was never an idea. It was more like, 'okay, I'm gonna get mine, one day.'"
We can enjoy motorcycles by simply thumbing the starter button and pointing the front wheel to the end of the driveway, so where are these women finding the passion to create an online destination for thousands of other riders to listen to and talk about the motorcycling scene? Beulah had a good point about creating a place for riders to meet, which helped her find a scene that she clicked with:
"I had friends that rode, but when I first started off I didn't ride with anyone. At first, it was just me teaching myself how to ride and taking little trips on my own. It wasn't until five or six months before I really rode with anyone else. At that time I was married, and I couldn't just go off with a bunch of dudes so it was really important for me to meet women who rode motorcycles, so I was very lucky that the first year I got a motorcycle was the first year of Babes Ride Out […] It was only about 50 women and I didn't really know what I was showing up to, but it was a small enough group of people, and we were all kinda there for the same reason, and my network grew from there, and the feeling I got from there—just how welcoming everyone was—is what I try to extend now to new people that I meet."
Beulah Mae.
And so out of this shared idea of helping riders get together came the Girl On A Moto podcast. Although Girl On A Moto is by women and for women, Connie and Beulah are crafty enough to make sure their podcast is aimed at a more general audience. After all, the bulk of what attracts people to motorcycles, regardless of gender, is the places they take us and the feeling they give us. That means the podcast is focused on telling the story of people who ride: why they ride, where they ride, and what they think of motorcycling culture as a whole.
I wondered why Connie and Beulah chose a podcast over a blog or Youtube channel (either a vlog style or an actual show). While it's true podcasts take less editing than video, it's still a ton of work if you want to have regular episodes, especially considering both Connie and Beulah hold down day jobs and have kids to raise. Connie reflected for a moment and said the podcast format seemed like a natural fit. In her own words:
"When I first started riding I found a podcast called 'Riders on the Norm' and I enjoyed the content, definitely, but they didn't really touch on (obviously) women's issues, since they weren't women. But I liked how… I drive a lot for work, and I don't have a lot of patience. […] So it was easier [with podcasts] to just hit play and hear a cool story. It's also less intimidating because you don't have to worry about things like what you look like. That made [a podcast] an easy outlet that wasn't going to censor what I had to say."
Connie DiBartola
Episodes of Girl On A Moto avoid super-techy conversations that can make a lot of people's eyes glaze over, instead of focusing on the people themselves and what they're up to in the world of motorcycles. Episodes talk to people like Jenna Stellar of Stellar Moto Brand and James Baker of Bikers for Autism. They even interview other people doing their own podcasts like Phil Waters and Johnny Mac from the Cleveland Motorcycle Podcast.
One thing that has really helped create that "hanging out with your friends" vibe is investing in portable audio equipment. This way you can go right to someone's shop and interview them at a place they're familiar with, or if you meet someone at a rally you can find a quiet corner and do a quick interview on the spot. The difference in how their episodes feel to the listener is greatly improved. Beulah explains:
"When we first started this podcast, we were recording in a studio so you had to make sure the studio time was free, that our guests had time to come to the studio, that Connie and I were both free to come into the
studio. It was a lot of work putting that together. Then we ended up investing in our own gear.
"I listen to podcasts too and one of my favorites is Ari Shaffir, the comedian. And I remember him doing a podcast live, just walking through Central Park, and he would totally tell you what his gear was, so I use the same Zoom H6 recorder that he has and it's just a perfect fit, because we can record wherever we are. The equipment is so small I can fit it in a backpack […] so it opens up a lot of opportunities."
Being able to record on the fly adds a casual feel to Girl On A Moto.
But despite appealing to a wide audience the overarching goal is still to give women riders a place to connect and ask questions. Starting an event or a riding club means you can only reach people in your area and moving a lot of pieces to keep things in motion.
A podcast can be listened to by anyone that streams or downloads it, making it available at home, at work, in the car, or even on the bike. This means women riders might catch any one of the thirty-six-and-counting episodes and can listen at their own pace. When asked about starting the Girl On A Moto Podcast, Connie had this to say:
"I wanted to give other female riders something that I wanted and didn't have when I got into riding: a support group, a network, someone they could ask questions, and to inspire. One hundred percent I wanted to inspire other women to ride."
There is a space between needing something and wanting something, called contentment. It seems to be in short supply and we are constantly chasing it: whether we notice or not. Sometimes, by sharing our story or listening to someone share their story, the gap between us and contentment narrows, and we can touch it without effort.
For many, listening to Connie and Beulah spend time shooting the breeze with their guests is a way to narrow that gap. Give them a listen and see if you are one of those people. The Girl On A Moto Podcast is available on Spotify, Lisbyn, SoundCloud, iTunes, or right on their website, www.girlonamoto.com… Follow them on Instagram!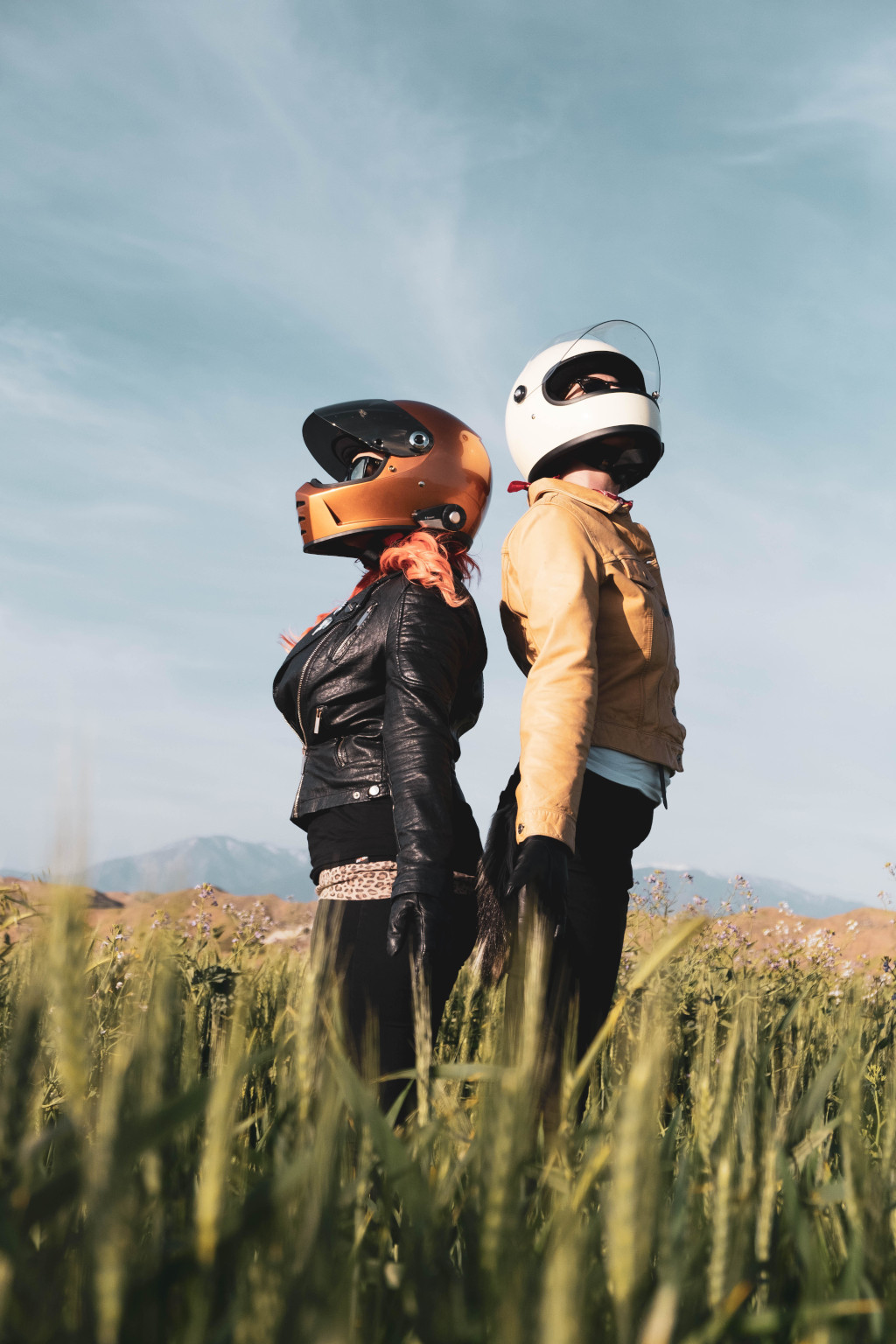 "If you have been involved in a motorcycle accident, don't let it steal your freedom! Call 1-800-4-BIKERS to learn how an experienced motorcycle accident lawyer can get your bike fixed, money for your medical bills, and compensation for your pain and suffering."