Do you want to gear up in protective clothing and still look good doing it? Then Stellar Moto Brand, @stellarmotobrand on Instagram, is the motorcycle apparel for you. I was introduced to the brand a few years ago at the California Moto Market and was excited to see someone making fashionable riding gear for women. I, like so many others, struggled to find gear that protected me without making me look like a frumpy 5-year-old. Many times, in my younger days, I would choose clothing that fit and looked good at the expense of my safety. Motorcycle apparel companies often make men's lines of higher quality leather while women's gear is often made of cheap pleather and no pockets. What the hell… why no pockets!!! Not to mention the fit of the clothing is terrible to most women's shapes. So, there I was stuck buying clothing I enjoyed wearing while knowing if I went down I might as well say goodbye to my skin. 
(Although I am writing this article from the Woman's perspective, Stellar has men's options, which she has future plans of growing!)
Jenna, the founder of Stellar located in North Hollywood, can be found meandering through the Big Tujunga Canyon, one of her favorite and highly recommended rides on her Ducati Scrambler. Her love of motorcycles stems from the sheer joy and freedom that comes by launching herself into the great unknown. She often finds herself relating that freedom she feels with motorcycles to the next frontier of interstellar exploration. Her obsession with looking up at the stars and dreaming of far-off adventures inspired the theme of her company. If rocket ships ever start selling tickets to take the next adventure she would be the first with a ticket in her hand! 

Photo Credit: Elizabeth R Weinberg (@elizabethrweinberg)
Back down here on earth, Jenna found herself in the same predicament, like many other women, riding in fashion clothing that provided little in the way of protection. Her background is in costume and wardrobe design for film, commercials, and the music industry. Being a woman in the fashion industry maintaining a sense of style was important to her, but hated what she was sacrificing. She had a dream ruminating in her head and a few prototypes drew up for over a decade but were happy with her current full-time gig that started as an internship during college. She was hired onto her first film while still in college, working late nights, studying, going to class, and sleeping in her van in her downtime. One can easily see why she really didn't have the time to pursue this passion of making motorcycle gear. Then a moto accident happened, some may call it fate based on what came from it, but it ended up leaving her laid up for months. With all that time on her hands, she decided enough is enough and made it her mission to do something about the lack of safety features in riding apparel, especially in the women's market. With a degree and years of experience in fashion, a dream, and nothing but time on her hands she decided to make some moves, and Stellar was born.
With a "Prototype and a Dream", this one-woman operation started scouring the internet doing intensive research on fibers. Fabric, leather, and protective component samples were piled and she started mocking up her designs. Every waking hour and every dime to her name was poured into her business. Not wanting to take on investors she took a huge risk and tapped into her savings, 401k, her house, basically going all-in financially! Work hours don't exist for her. She is always on, working 24/7 to realize her dream. I literally mean 24/7 as she even sleeps with a notepad by her bed in case an idea comes to her in the wee hours of the night. Occasionally, she will even take on work doing fashion for brand shoots to give her business the cash injections needed to take things to another level. You will not hear her complain though, as this endeavor of finding solutions is a true labor of love. With hard work and determination, Jenna moves ahead with baby steps and faith that everything will work out.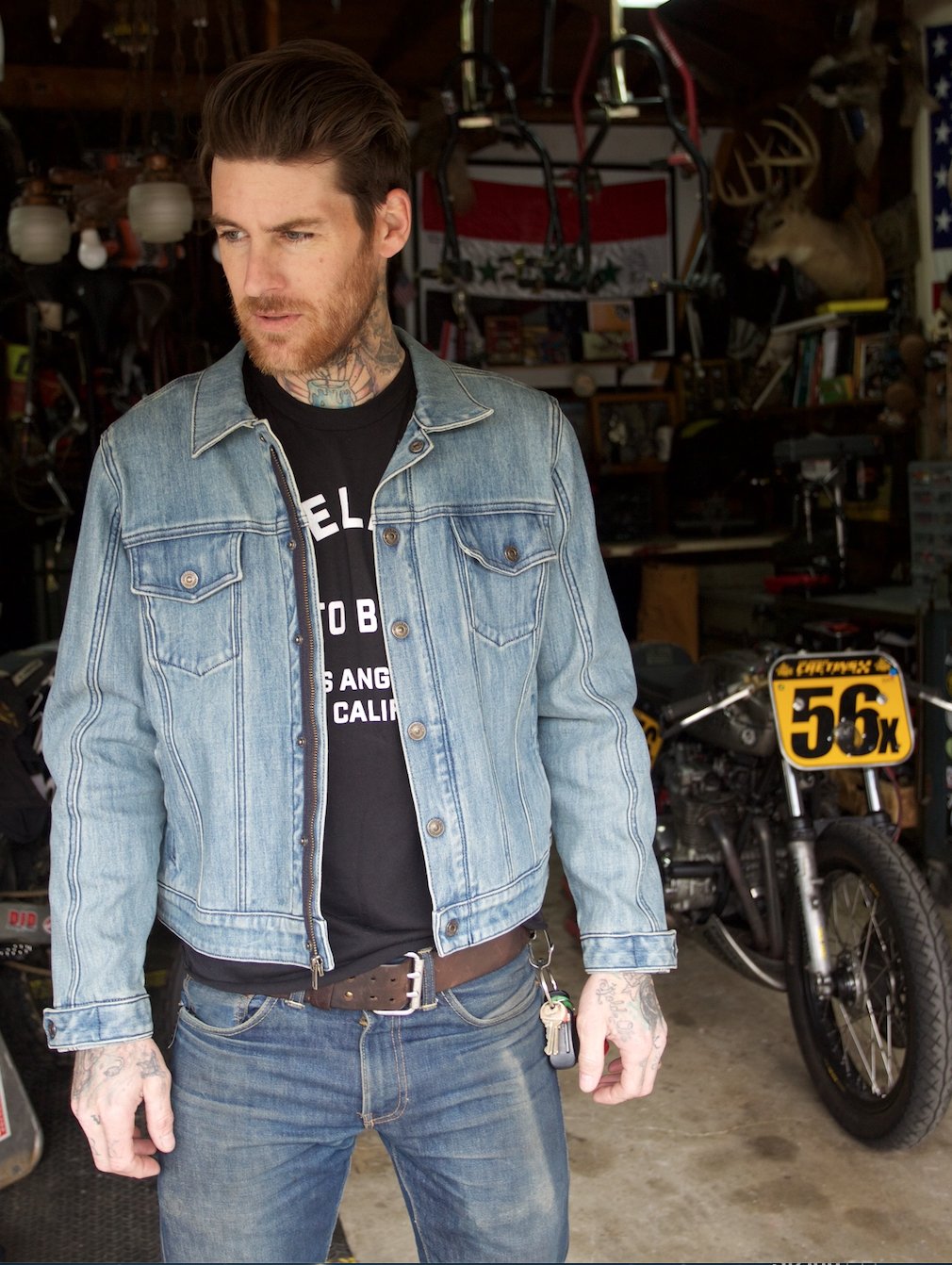 Let's talk about the apparel itself! The high-quality leathers Stellar uses was an easy choice, after all leather is still the best when it comes to abrasion. They use full grain and top leather that has not been corrected to ensure it is breathable, soft, and strong. The jackets are made with at least 3.2oz/1.3 mm cowhide which is considered motorcycle weight. Next, she wanted to find a strong denim. Although her journey started with Kevlar she found it was just too bulky and lacked comfort and flexibility. Further research would lead her to Dyneema, which is made of Ultra High Molecular Weight Polyethylene, the strongest fiber in the world. This fiber is 15x stronger than steel and gives you a 4 second slide time vs .4 seconds that traditional jeans give you. This is also the cruelty free vegan option for those animal lovers out there. The fabric would be nothing without the stitching, and there was no lack of research here either. Stellar uses triple stitching (2 inside and 1 outside), this is so if you lose your outside stitch due to abrasion you still have 2 more stitches to break through. To lessen the garment's weak points, they use as few seams as possible to maximize protection.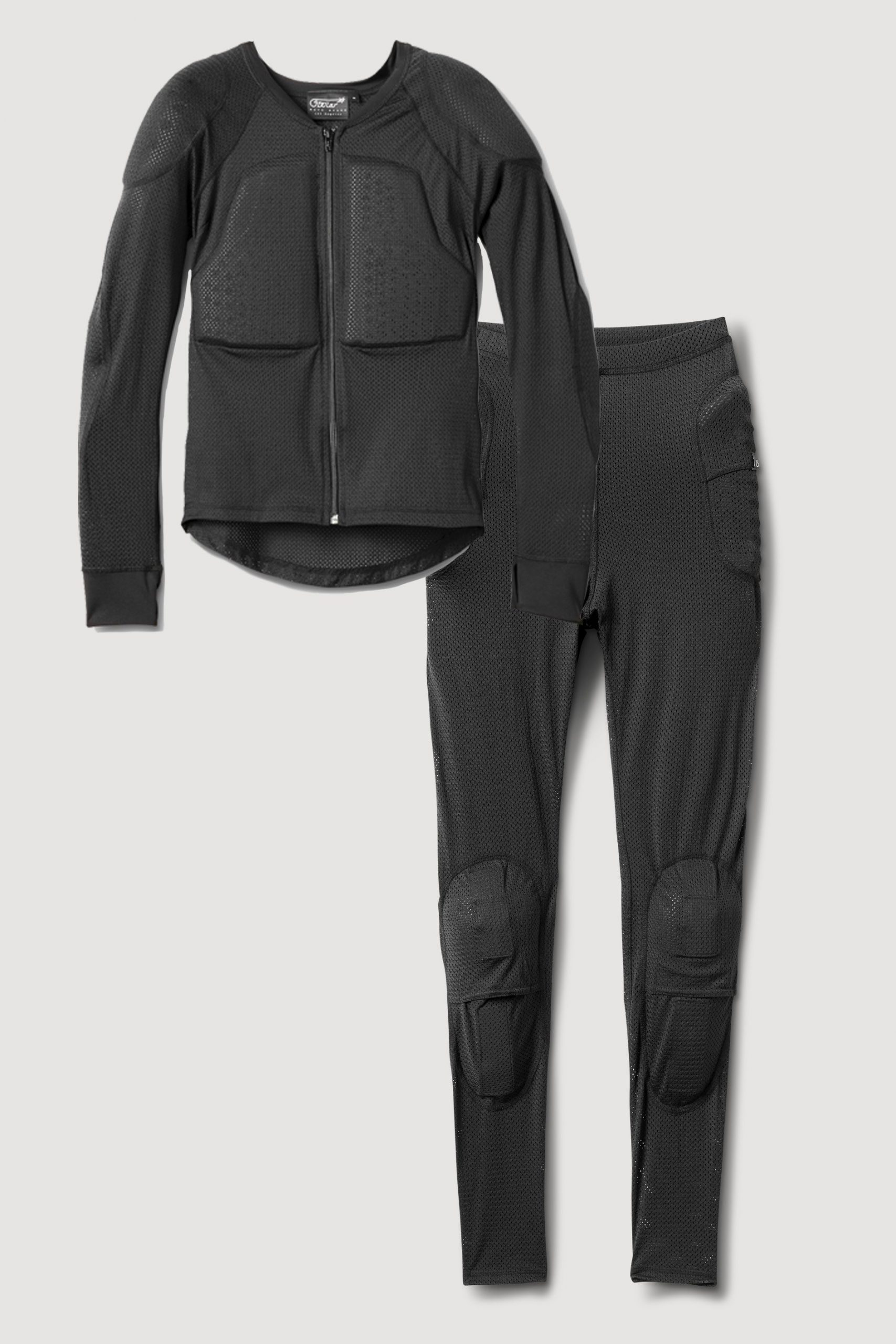 Protection doesn't stop with the fabrics themselves as all their riding gear includes armor. All of Stellar's products are equipped with level 2 armor and can be removed from their mesh pockets. If you want a trimmer look they also offer a flexible level 1 armor upon request. The armor pockets are placed in high-impact areas where you need it most so you can feel safer wherever you are heading.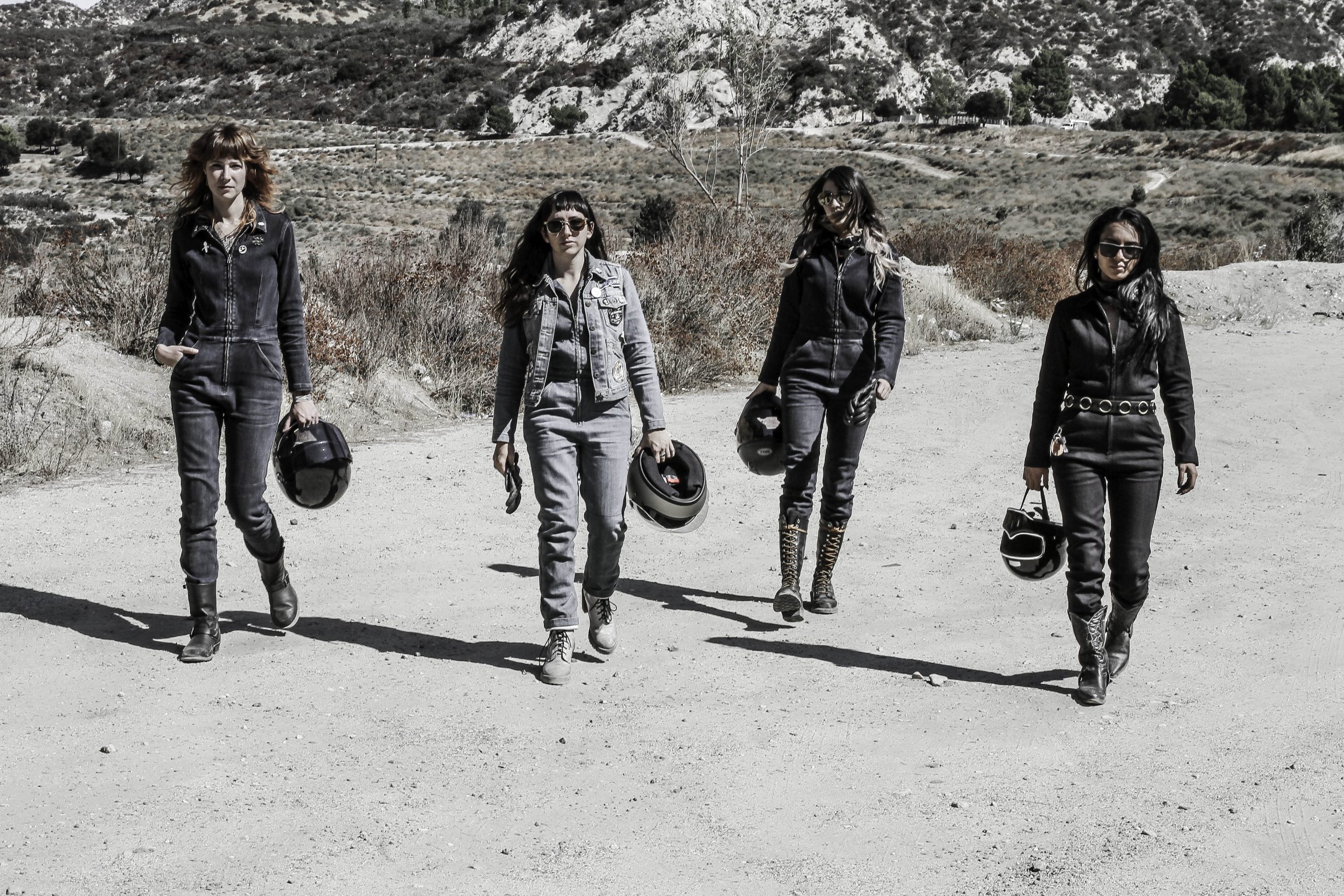 I've talked a lot about the garments themselves, but Stellar Moto Brand prides itself on providing protective motorcycle apparel with loads of style. I have personally watched women of all shapes and sizes try on the Stratosphere Dyneema One Piece suit and I was shocked that it was downright flattering on all of them. It has some stretch to the fabric so it hugs in all the right places while allowing you to bend and flex freely. Her jackets fit a busty woman while still trimming the waist and flattering the female form. I think they are flattering because the women look comfortable and there isn't this overemphasizing of the hourglass form. Successfully pulling this off I feel is important and many company's overlook this detail making a woman look frumpy or overemphasizing curves vs natural and lovely.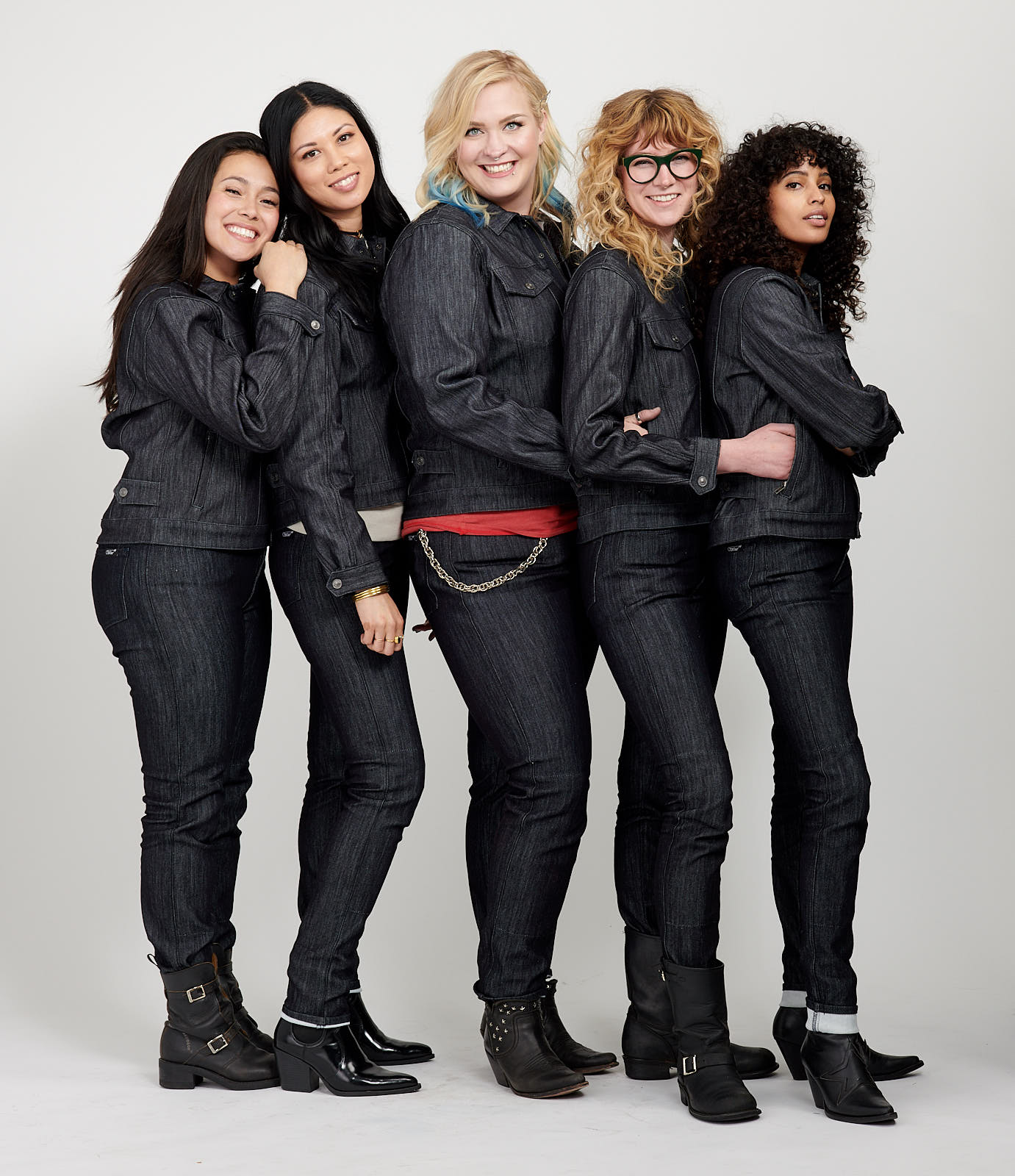 I, on the other hand, am a woman with a body type that is thin, lanky, and devoid of hips. This means many pants look like high waters or the opposite I get the length but then it's too big in the waist. I have the Maven mechanic suit, and man, I am in love with how I feel in that suit and the drawstring inside allows for a cinched waist to give a gal like me some curve. I am also on the precipice of purchasing the Orion Dyneema unisex riding suit for all its fantastic protective features paired with a long inseam that I have been dreaming of. Not sure of your size… No problem! Just shoot stellar an email with your measurements and she will get in the right size. She will even adjust a few hems if you need it!!! I could give testimonials all day, but you should know I am not easily swayed.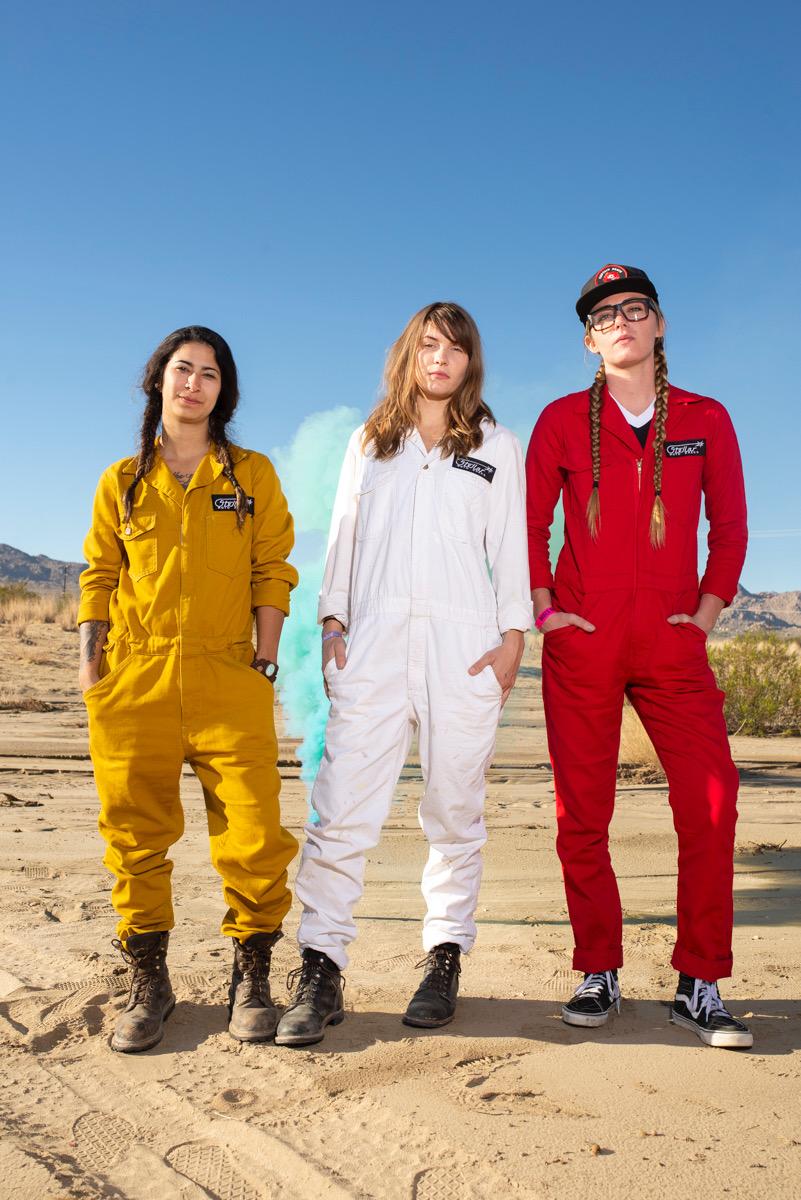 Jenna has some big and realistic goals for the future of the Stellar Moto Brand. Currently, she subcontracts workers on a need basis to develop her apparel, so the future of the company is to build an in-house team of like-minded motorcycle riders. A team will help her other goals come to fruition and let's face it, a team will help her to bounce and refine ideas for new lines. She is also developing a plan to get her brand into more retail stores so people can try on her gear, which includes the goal to bring her brand to the global market. Lastly, because of demand, she aims to expand her line of Males riding gear.
I have fallen in love with Stellar. I am a nerd for protective gear and Jenna sold me!
Shop Stellar at -> www.stellarmotobrand.com
Photos by: Jessie Gentry @jessiegentry and Josie Perez @j_perez70
Take Action -> https://action.aclu.org/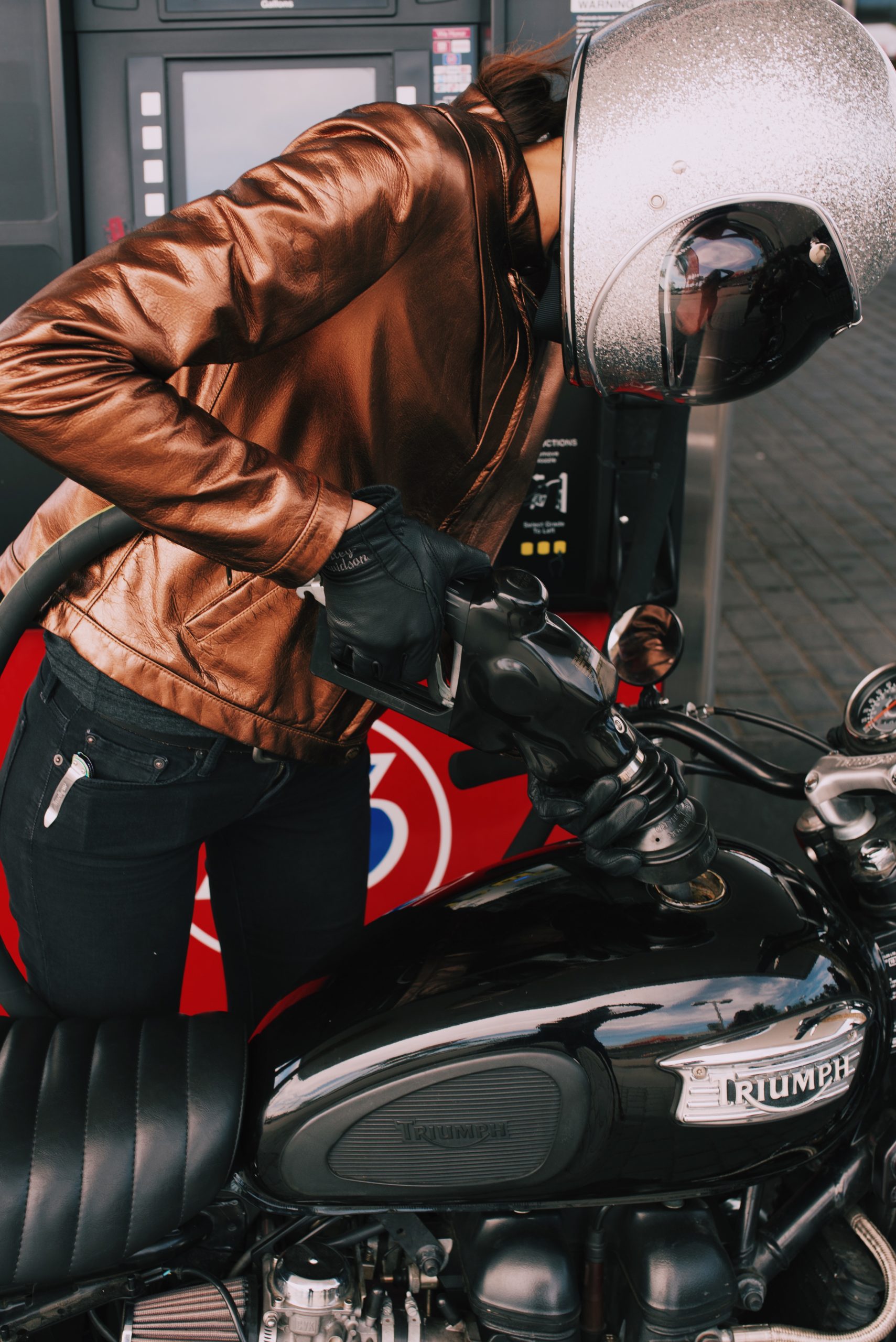 Written By: Kayla Koeune
"If you have been involved in a motorcycle accident, don't let it steal your freedom! Call 1-800-4-BIKERS to learn how an experienced motorcycle accident lawyer can get your bike fixed, money for your medical bills, and compensation for your pain and suffering."