Nowadays it seems like money is harder to earn, harder to hold onto, and doesn't get you much when you finally let go of it. A recent exception I ran into was the Kernville Kampout. Now in its fourth year, the event shows that a bunch of people looking to have a good time are the event, and not much else is needed besides a place, a time, and a loose itinerary.
Put on by Biltwell, the event takes advantage of the natural beauty in and around the town of Kernville, taking over the entire Frandy Park Campground, which sits right on the Kern River and adjacent to town. That means for a measly $50, you get two nights of camping, a swag bag, and free booze provided by 805 Brewery and Sailor Jerry. In addition there was a food truck, coffee by Black Cat, and the Kernville Saloon was just on the other side of the river. For reference, a single night of camping any other day will set you back about $40.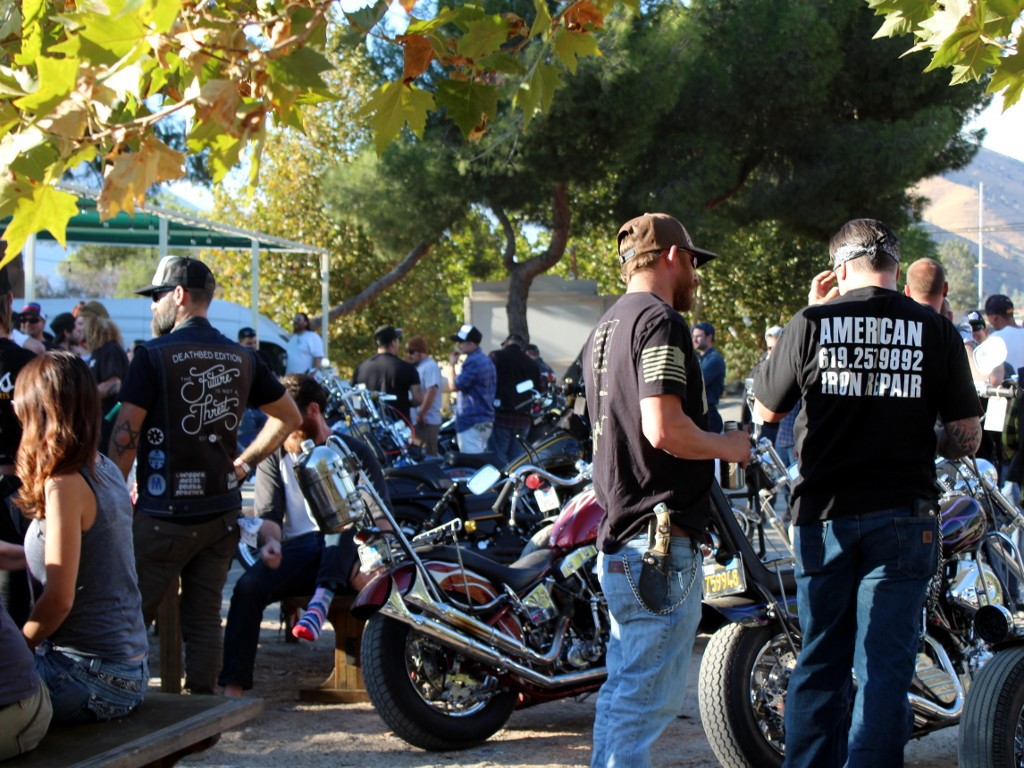 With the town so close to camp, people without a tent or sleeping bag had several choices of hotel as well. I arrived Friday night after 10pm but check in was a 24-hour deal. I got my wristband and swag bag in short order and found a patch of sand to set up my tent near the far corner of camp. Knowing the event had sold out I was expecting it to be a bit smaller, but hundreds of bikes were crammed between tents, the lights of dozens of campfires flickering off their chrome.
It was a very different crowd than I'm used to seeing at your traditional biker rally, but the Kernville Kampout isn't a traditional rally. For one, the crowd was noticeably younger than usual. Still primarily in their 30s and 40's, that's still a lot younger than I'm used to seeing. You didn't need to see any faces to notice the differences though, as the assortment of bikes was also different. Still primarily made up of Harleys, I saw more Dynas and Sportsters than Road Glides or trikes. The bikes tended to be older as well, which brings up an important point.
While manufacturers and magazines would have us believe that motorcycling is waning to the point of an impending crisis, there are still a lot of people riding: they just aren't buying new bikes. Motorcycle registrations have been steadily climbing for years according to the Insurance Institute for Highway Safety. Seeing an AMF-era Harley or early 90's Sportster was commonplace around the campground. Buying an Ironhead won't make you show up in new unit sales reports, but it will let you show up to the Kernville Kampout, which is way more gratifying.


I was riding one of only two Japanese sport-standards that I saw the entire weekend, but it actually worked to my favor. Instead of being looked at with a side-eye by "real" bikers, I had several people go out of their way to welcome me, invite me over for a beer, or just talk bikes in general. This crowd is alright.
Saturday I awoke to engines firing up just before 8am. I slept well thanks to Frandy Park's soft sand (I didn't bring a sleeping pad) and went straight for a strong cup of coffee, then looked through my swag bag. There were some strip maps suggesting routes, and I decided the Trail of 100 Giants was a worthy destination. I found out rather quickly that my rear shock had committed suicide overnight. After more than 70,000 miles it was only fair, but the pogo-stick action I was dealing with took some of the fun out of my ride.


To make up for it I latched onto a guy with a back patch of the Slayer logo. He rode like he was possessed, and I had a blast watching his saddlebags glide inches above the asphalt as he banked into turns and powered out with a huge handful of throttle. There were a lot of bikes on the road of course, but despite some patches of sand at higher altitudes I didn't have to deal with any oncoming traffic hugging the double-yellow.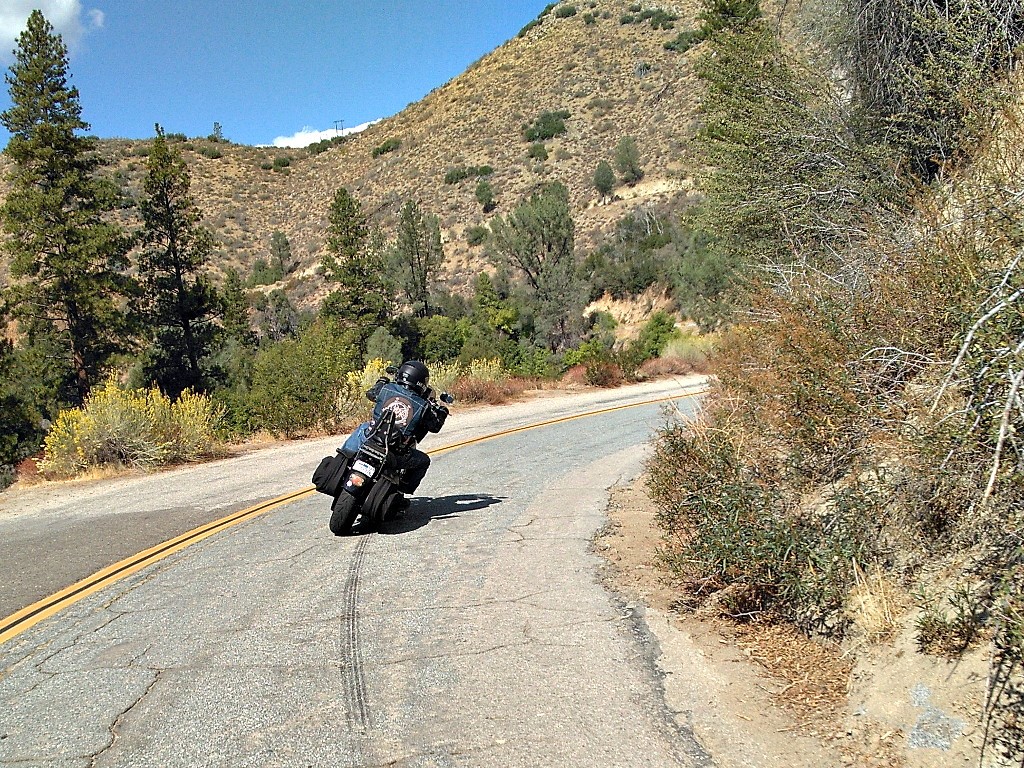 It was a bit chilly at the trailhead so I rolled back into Kernville and got breakfast at the Cracked Egg, then decided to mosey through the Kern Valley Museum. It's free and packed with artifacts both of historical and geological interest. As a person who is fascinated by design as well as by history, I was sucked into a vortex for over an hour. Being able to thumb through an actual 1909 Sears catalog may not seem that interesting at first, but when you start seeing what you used to be able to buy through the mail… well, it gets addictive. Selvedge denim jeans for $2.50, mailed to your door? Not bad (it's about $65 in today's dollars if you're wondering).
With photos and artifacts ranging mainly from the 1850's to 1950's, I could still go back again and spend another hour looking at displays. After making a mental note to return, I dropped a couple bucks in the donation bin and went back to camp.
I timed it pretty well because things were starting to gear up. The bike show was underway and so was the tug-of-war competition. The mood was light and there were smiles everywhere I looked. I liked the vibe. The smell of barbeque smoke danced with the smell of pine trees, the sounds of motorcycles coming and going played a song in the background, and I noticed the bartenders ramping up to start passing out free booze (the Kernville Kampout is a 21+ event).


It was about this time that I ran into Spider. He was up from LA with his riding buddies, all of them being Harley riders in their mid-to-late forties. It was great to shoot the breeze with people who have the same passion for bikes as me, but who express it in a different way. We talked about everything from first bikes to LA traffic to how wider society still scoffs at Latino bikers. It seems you can be one or the other, but being both ruffles a lot of feathers.


Before I knew it ten o'clock was approaching and the bar was closing. At this point things got a bit hazy as I double-fisted a few cans of 805 and we moved the party to the bar in town. Looking back through my notes there are some undecipherable scribbles, and the memory card on my camera tells a similar story. I remember a band playing, and it rained lightly for a while. I made the unfortunate decision to buy gas station food: a mix of cinnamon rolls and beef jerky. That was something I easily remembered in the morning.


I woke up Sunday morning dazed and confused, but I had at least managed to fall asleep in my own tent, in my own sleeping bag. Hell, I'd even managed to get my shoes off. I'll call that a success. A final cup of coffee was procured from Black Cat and I started packing up the bike. It was great seeing so many other bikes loaded up with gear instead of being loaded onto a trailer. All around me people were saying their goodbyes, folding up tarps, or grabbing a final group photo before they went their separate ways.


I took a long loop home to San Francisco, bombing up Mountain Highway 99 and turning onto Sherman Pass Rd. A sign warned that the road was closed 36 miles ahead but I decided to chance it in the hopes there was a bypass. The road climbed to nearly 9,000 feet, revealing panoramic views but also fresh snow from the previous night.
I reached the "Road Closed Ahead" sign and well, there's no sense in turning back without seeing what the fuss is all about. A few miles later I was face-to-face with a washed-out road, blocked by several construction vehicles. Down a slope to the right was a dirt track. The water level was super low, affording an easy crossing to the other side and back up the bank. Ka-pow! Back in business.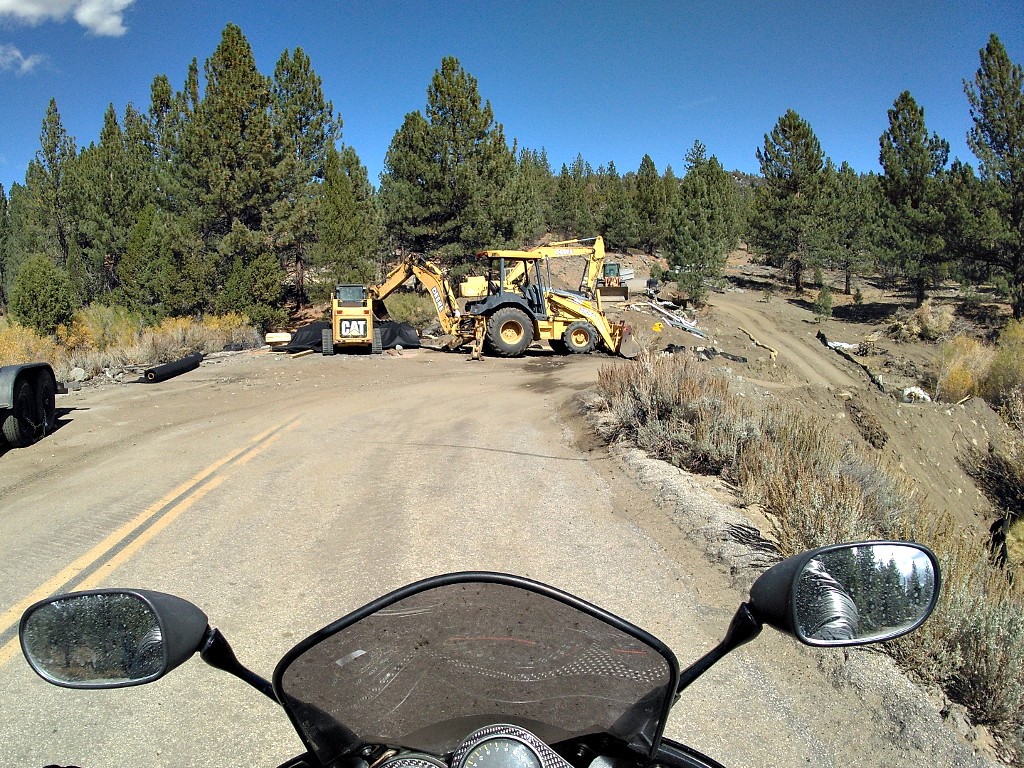 Down the backside of Sherman Pass things slowly switched to a desert landscape. The roads opened up and, despite my rear shock pogo-ing away beneath me, I way able to enjoy the switchbacks without any real drama. A quick run down Highway 395 let me connect with the 178, taking me along the south side of Lake Isabella and into Bakersfield. A slog across the central valley got me to Highway 101 and the long haul back into the Bay.
The Kernville Kampout surprised me for sure. Growing up in the sportbike world I am used to rides being about hitting some twisty stuff, or maybe a road trip to Laguna Seca to watch Superbike racing. When it comes to rallies, I expect dozens of vendor booths selling a thousand different doo rags and other useless trinkets, plus rows of pristine-looking Harley baggers fresh off the trailer.


Biltwell solves the problem by not having a vendor row. They don't even have a set up where sponsors have a display. Sure, sponsors that are providing something like food and drink obviously have a space set up, but others like Russ Brown Motorcycle Attorneys®, Speed Kings, Chop Cult, and Hogue Knives are content to add their stuff to the swag bag, throw up a banner or two, and just join the party like everyone else. Hallelujah.
Because it's a place to hang out and meet people, and not a scene to be seen, the vibe is similar to what you and a few buddies would do if you had a weekend free to ride out to the mountains. It's just that at the Kernville Kampout, you get to do it with a few hundred friends you haven't met yet. And to those hundreds of friends I didn't meet, I'll see you next year.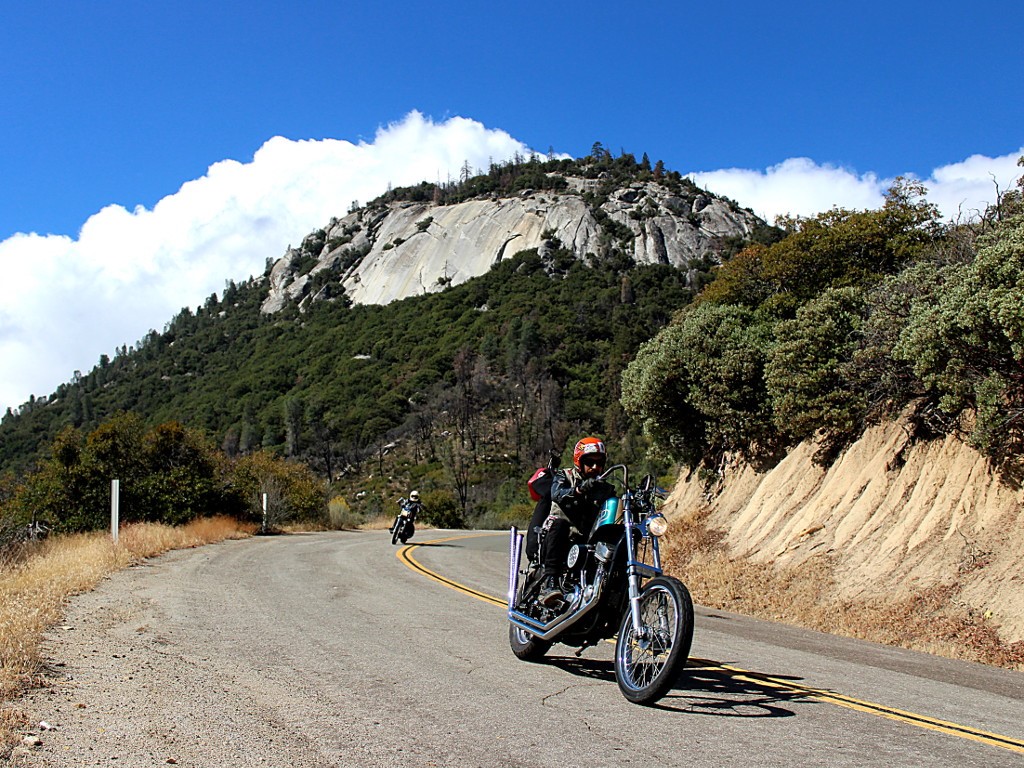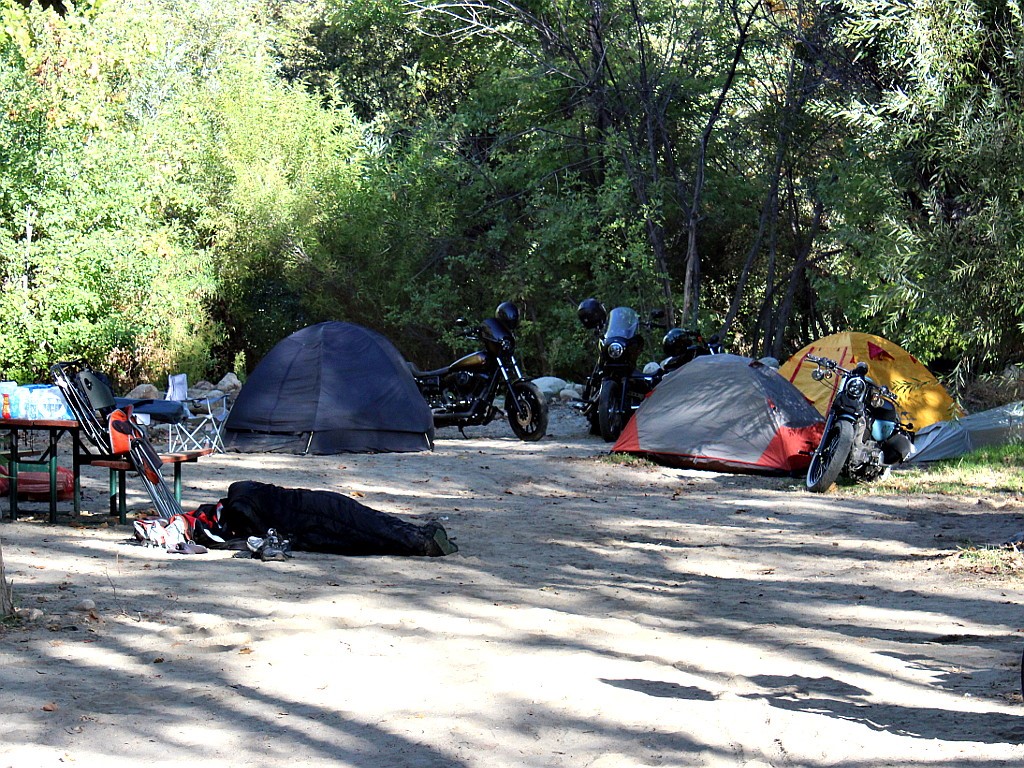 "If you have been involved in a motorcycle accident, don't let it steal your freedom! Call 1-800-4-BIKERS to learn how an experienced motorcycle accident lawyer can get your bike fixed, money for your medical bills, and compensation for your pain and suffering."