With the world of motorcycles at a crossroads, everyone is looking both back and forward to try and figure out what will drive the next big wave of bike sales. The Progressive International Motorcycle Show is the place for seeing the industry's efforts in person. Manufacturers big and small, along with many aftermarket companies, are there to show you what they're up to.
It's a place for new riders to get a better idea of the world they are getting into and is also a great place for crusty veteran riders to see what new trends are coming our way. You have something to look at whether you are interested in custom bikes, sportbikes, electric bikes, or heavyweight cruisers. And if you're new to the sport, you can get a better idea of what steps are needed to get into motorcycling.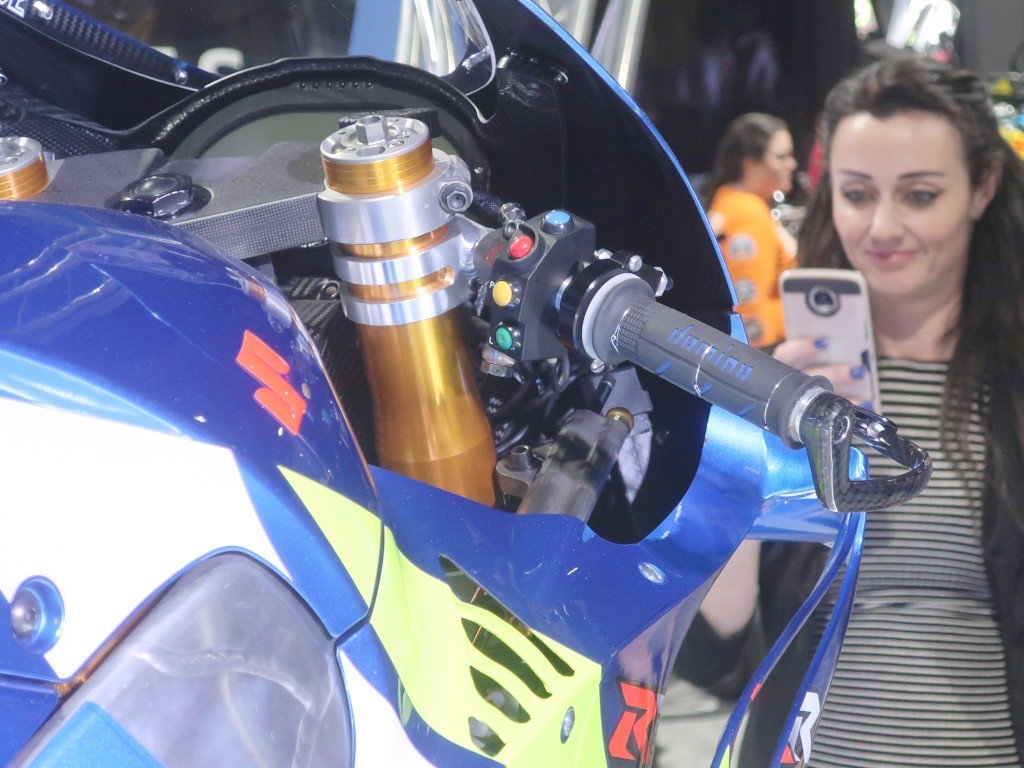 Photo: Richard Nowels.
I hadn't been in several years, mainly because the entire market was focused on their high-priced, flagship bikes: bikes I could never afford and had little interest in. But with everyone turning their focus toward new riders, there has been a shift for several years now at the "bottom" end of the market. Instead of viewing entry-level bikes as a way to sell a machine that lacks features (requiring an upgrade in a year or two), a whole new segment of mid-sized "do-all" bikes are creeping in. I'll go into detail in a minute, but first, let's talk about the show itself.
Inside and Outside the Long Beach Show
The first thing you need to know is the show is actually a tour, hitting eight cities this year from California to D.C. Their website has a full schedule. As I said earlier, the show is geared toward motorcyclists and non-riders as well. There is an indoor course using Zero electric bikes to let new riders get a feel for the controls. The Kids Zone has electric Strider-style bikes to try out as well, letting people of any age throw a leg over for the first time.
The presentations are mostly from industry veterans who have traveled the world or won a few world championships on the racetrack, but there are specific "New to 2" presentations geared toward the uninitiated. In short: this is the year you should bring your non-riding friend or neighbor to anyone who has expressed an interest in bikes will walk away from this show more inspired to take the plunge.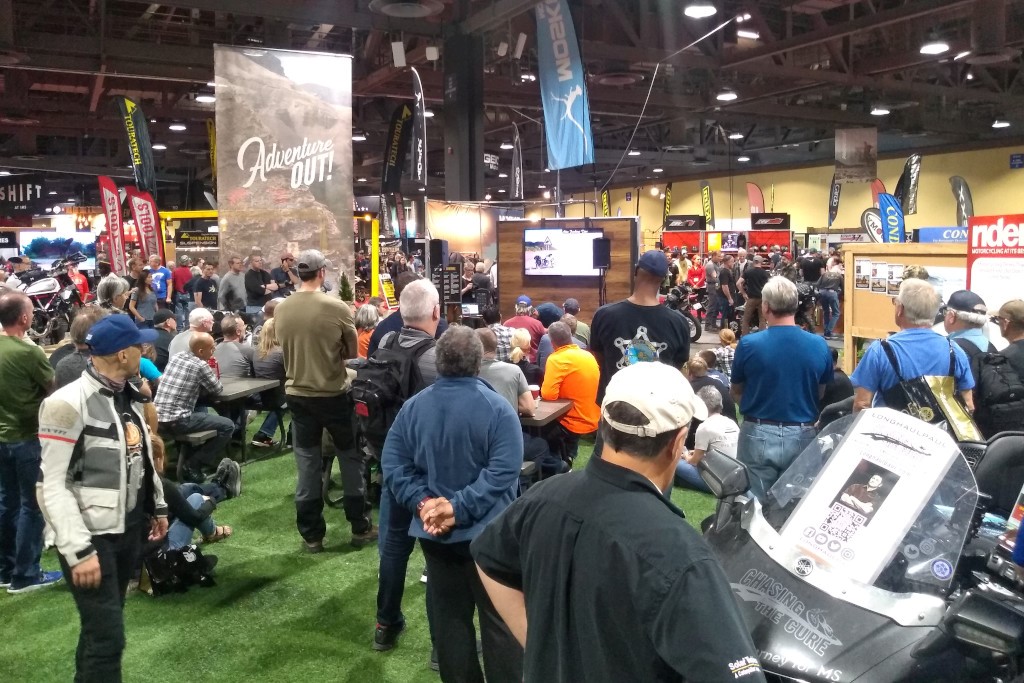 The center of the show was the Adventure Out! area, set up like a campground and surprisingly chill considering the number of people listening in to the guest speakers.
For those of us with a few decades on the odometer, there is still plenty to see. Aside from the presentations from world travelers like Bret Tcaks and LongHaul Paul, you can ogle the ultra-trick MotoGP bikes (from 1990's era 2-strokes to the 2018 Suzuki), admire the varied styles of custom bikes entered in the J&P Cycles Ultimate Builder Custom Bike Show, or get your hands on the latest aftermarket accessories.
Outside the convention center is also a hotbed of activity. The lines for demo rides from the major OEM's was longer than I can remember in years past, but the parking lot is also home to my favorite activity: the "unofficial" bike show.
True, there are no trophies or categories, but I find that the parking lot is the best place to really see what the world of motorcycling is like. These machines rode in after all: they weren't trailered in and won't spend any time spinning around on a raised platform… they're too busy spinning their wheels down the road.
Outside is my favorite place to witness trends in the world of motorcycling. A strong mix of bikes shows that many segments are still very popular.
The parking lot showed a strong mix of bikes, dominated as usual by cruisers and Gold Wings.  There was also a strong representation of ADV-style bikes, and a profusion of sportbikes to round things out. Most of the machines seemed to be only a few years old, but plenty of people were sporting 10+-year-old bikes, and you could find the occasional BSA or vintage Honda in the mix as well.
Indoor Attractions
The parking lot and the line to get in were strong indicators that people are still showing an interest in motorcycles, and inside it was about the same. It wasn't a crush of people, but you had to thread your way through the crowd all day on Saturday. Things were especially crowded around the Adventure Out! display area whenever a talk was happening and a few manufacturers seemed to have a constant crowd.
One of them was Harley Davidson, but not for the reasons you might expect. While their usual machines were there to throw a leg over, they had a half-dozen or so LiveWire electric bikes there, sitting on rear wheel rollers. If you signed up and waited a few minutes for one to open up, you could climb aboard and get a feel for how an electric bike delivers power. The whirring of rear tires mixed with the low hum of electric engines, and there seemed to be smiling on everyone's face as they played with the throttle.
The show was well attended but it was still possible to walk around and get access to manufacturer reps and other industry-related companies.
I spent an extra amount of time looking at the Panamericana, Harley's new Adventure bike. As ugly as I think it is, every time I see it I get more used to its snub-nosed styling, and notice a few more details I like. It's anyone's guess how well it will sell, but they deserve credit for trying something new, both for them and the ADV market segment.
Royal Enfield was also pretty well packed the entire day. The bulk of people seemed interested in their new 650cc twin, but they had a new flat track bike on display based on their Himalayan 400cc bike that was getting a lot of pictures taken of it as well.
As far as OEM's go though, I probably spent the most time looking at Yamaha's display. Their XSR700 and 900 are a bit closer to the "do-everything" style I appreciate in a road bike. They are a bit small for long-distance riding, but that makes them small enough to split lanes (legal here in California). They are comfortable in town or on the open road because the design brief didn't demand a highly specialized bike that could dominate a sub-subcategory.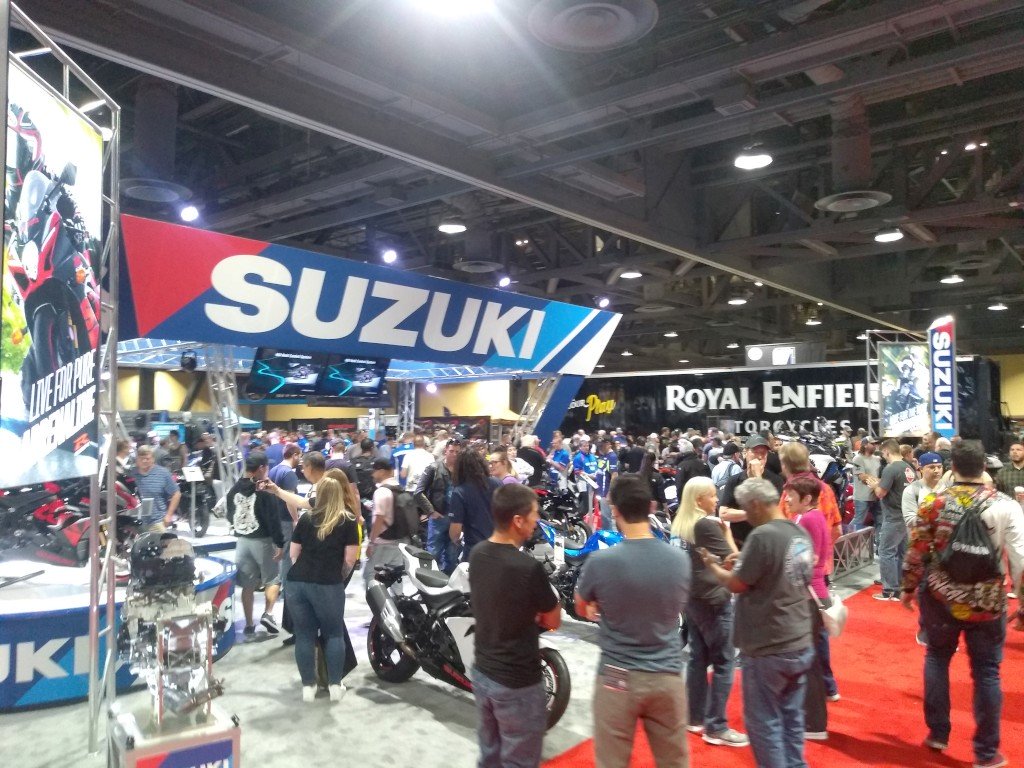 The show was crowded but still had enough elbow room to move around.
Kawasaki is doing the same with their retro-styled Z900, and Ducati continues to make different variations of their Scrambler model; a surprise hit even for people who knew it would be successful. The new offerings will be in the dealerships soon enough though, so I like to look more at the aftermarket booths since so much of their wares are offered by online retailers.
The small-displacement starter bikes are coming with less maintenance and features like ABS and a catalog of accessories that let you upgrade as needed. But there is also a strong argument to start on something in the 500cc-to-800cc range, and hanging onto the thing for years to come. They can carry luggage and a passenger easily, they can take you to work or on a weekend getaway, and they still have a fairly accessible price tag and better insurance rates than a $20,000 flagship bike.
Some people still prefer to keep the used bike market alive with classics like this early Tenere.
Good Crowds Are A Good Sign
The IMS gave me a chance to get my hands on luggage systems I was interested in, try an Atlas Throttle Lock in person, and to run into old friends. It also gave me some insight, witnessing a lot of 30-somethings– some with their kids– which bodes well considering how everyone is so concerned with the general aging of the average motorcyclists.
And that makes sense. When Baby Boomers were in their early 20's they could get a Yamaha RD400 for about $1,650. Correcting for inflation puts that price up to about $7,850, which is quite close to the $8,495 Yamaha is asking for their XSR700. The problem isn't that simple though since inflation also means a bigger chunk of the paycheck is going to housing, groceries, and insurance. The squeeze has been on for a while now.
The need for a "do everything" motorcycle is usually handled by aftermarket builders, but OEM's are catching up to the trend.
Basically, young riders in the 1970s had a very different set of considerations compared to a young rider now. Even with people putting off kids until later in life and many avoiding home loans, a dollar doesn't stretch as far and we generally expect more from our devices: be it a cell phone, a home appliance, or a vehicle.
If you missed the Long Beach IMS don't fret: it's the first of many running between now and February. Click here for the full list of cities. You can also get information on the specific vendors and activities at each show. It's a guilt-free excuse to take a day off from the winter build you have going in the garage, and one great way to see what's happening at the forefront of the motorcycle industry. Take a non-riding friend and see if you don't end up with a new riding buddy by springtime.
New, old, stock, custom. A little bit of everything shows up to the IMS, and a little bit of everything is on display inside, too.

The line for demo rides never seemed to let up, with half a dozen manufacturers giving seat time to eager show-goers.
Adventure Out! was a good place to catch a guest speaker or to take a load off.
"If you have been involved in a motorcycle accident, don't let it steal your freedom! Call 1-800-4-BIKERS to learn how an experienced motorcycle accident lawyer can get your bike fixed, money for your medical bills, and compensation for your pain and suffering."