Growing up in the concrete jungle of Houston, I never truly realized how much scenery the entire state of Texas has to offer—especially to those who prefer to adventure on two wheels. When I bought my first motorcycle back in 2011, I was living in the Austin area and was spoiled with the roads surrounding me in the Texas Hill Country, but it wasn't enough. I began taking weekend-turned-weeklong adventures, and quickly caught the road trip bug. I've ridden through almost every landscape the Lone Star State has to offer, but the roads below hold a special place in my heart and are always at the top of my recommendations list when people ask me for a route.

WEST TEXAS
FM-118
When riding these roads, be aware of wildlife! You might just catch a rattlesnake under your front tire (speaking from experience).
On my way to Babes Ride Out in 2015 I decided to get off the mundane interstate and enjoy the scenic route for a little bit. I headed south from Balmorhea where I camped for the night and took a biker bath. The chilly, spring fed pool (the town is known for) is complete with tiny fish that will follow you around as you swim. The next morning I headed south and took a right on 118 in Fort Davis. The road curved around the green hills of West Texas and eventually climbed up into the Davis Mountains with constant switchbacks—I even dodged a deer in broad daylight coming up on a curve, so stay alert if you choose to adventure in this region. Before even reaching the observatory, I had already decided this was my all -time favorite road to ride in Texas. Stop at the viewing areas along the way and take in the sights, as the scenery constantly changes throughout the region.
https://goo.gl/maps/jLtq9eYYMeP2
Heading south from Alpine, you'll find the ghost town of Terlingua and Big Bend National Park. The park is home to the Santa Elena Canyon and the Chisos Basin, both of which should be at the top of any motorcycle enthusiast's priority list when visiting the area. I was fortunate enough to experience these views first hand while working on a production shoot for a major motorcycle manufacturer's new Model Year lineup. If that doesn't convince you the views are amazing, I'm not sure what will. The National Park is a whopping 8 hours from Austin and most major cities–views from the roads are not easily describable, but they are worth the trek to experience first-hand. (Do it. Just. Do. It.)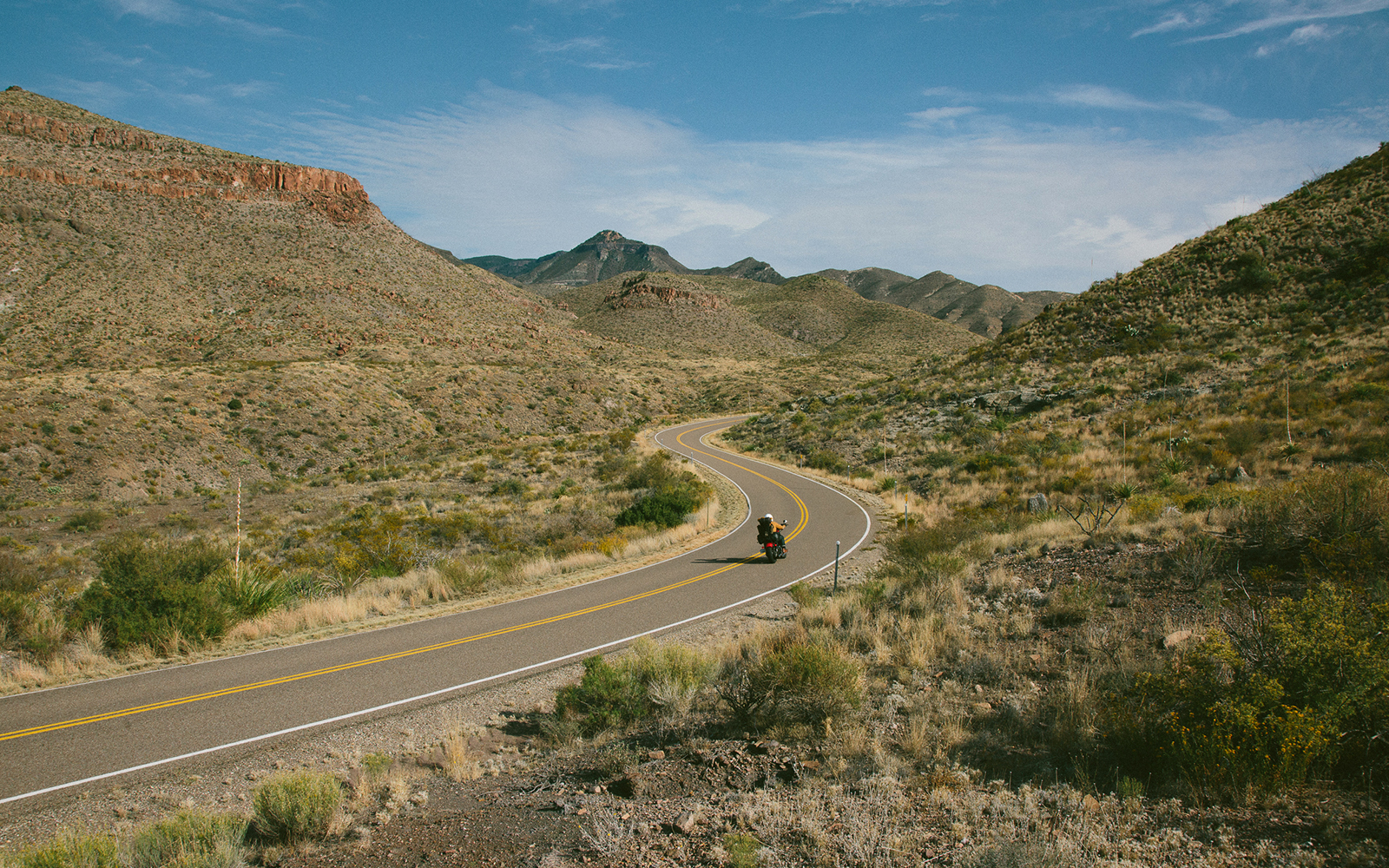 NORTH TEXAS
FM-51 to FM – 4
A friend of mine showed me this route a few years back when I was visiting the area. FM-51 is windy and rural, with a great little rider-friendly bar & grill called the Loco Coyote at the beginning. The 'Coyote has a ton of outdoor seating and is perfect for mid-day hangouts in the spring and fall. Nearby you'll also find Dinosaur Valley State Park, where you can take a quick dip in the summer and find dinosaur footprints fossilized in the limestone. From FM-51 you'll want to make your way towards Granbury, where you can enjoy a couple of cold ones and watch the boats pass by on the Brazos. It's not the longest ride, but it's a great start to a Sunday Funday with a group of friends.
https://goo.gl/maps/EmDsNCBo2ws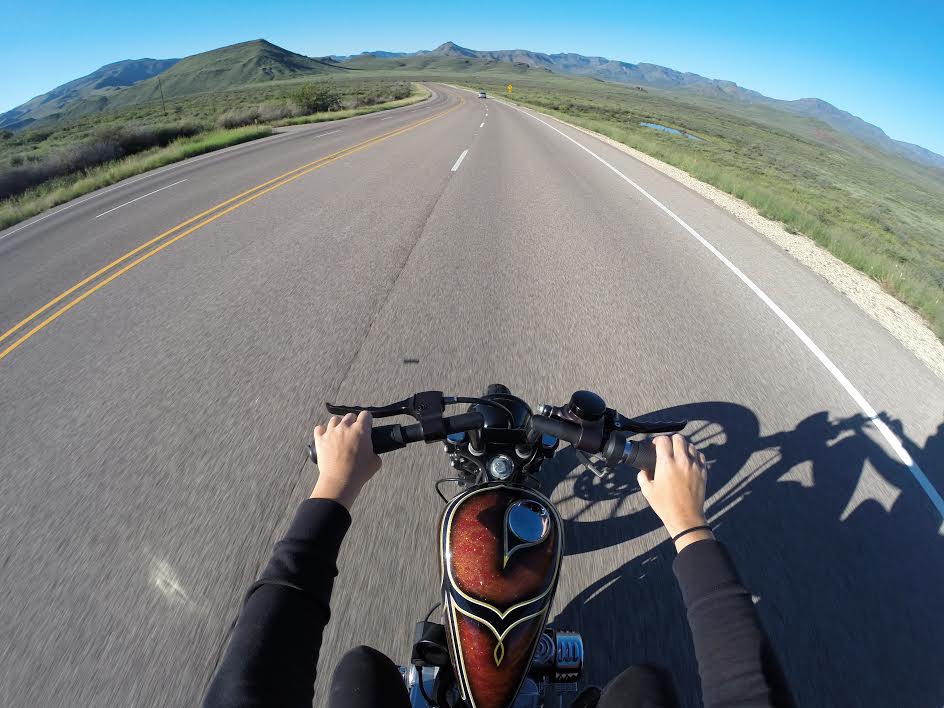 HILL COUNTRY/CENTRAL TEXAS
FM-335, 336, and 337
Better known as the Three Twisted Sisters, this is Texas's very own "Tail of the Dragon." Located deep in the Hill Country, these roads carve and twist through dense green hills, cypress trees, and clear, crisp blue rivers and streams that are great swimming holes in the summer months. Be advised, this ride is not for the novice rider. There's a giant sign you'll pass towards the beginning of the ride that states how many motorcyclists have died on the road in recent years. The first time I attempted this ride it unfortunately started raining halfway through, and I'm pretty positive there was a pucker mark left on my seat by the time we were able to stop in Leakey to wait for the rain to pass.
Depending on which route you take to get to there, you might not get through your whole ride if you stop at the local watering holes along the way. Bandera is the Hill Country's Bermuda triangle for motorcyclists. I've personally planned to ride the three sisters on two separate occasions and ended up losing track of time at the wild bars in town. Your best bet is to camp out at Garner State Park, or at one of the local mom & pop lodges to get the most of out the area, especially if you enjoy swimmin' holes in the summer time.
With constant switchbacks for miles on end, it is imperative to keep your eyes on the road. Don't get caught at night in the hill country. Deer are everywhere!
https://goo.gl/maps/8dAhtRasjR92
FM-580
Every now and then I plan big camping trips with friends and I don't actually check the route prior to leading everyone in a pack. Luckily, this road left nobody disappointed, and in my opinion is quite the hidden gem. From Lampasas we headed out on 580 towards Colorado Bend State Park. The roads are very rural and quiet, with little to no traffic as you leave Lampasas in the distance. Inside the park, the roads peak over rolling hills will typical and amazing hill country views, and they get even more scenic as you head west towards Cherokee.
https://goo.gl/maps/HtcymXF4Lo72
FM-1431:
Live to Ride, Ride to Pie.
It only took one weekend trip with a few friends for this to become a personal favorite in the summertime! A quick getaway from the hustle and bustle that is the traffic-jammed city of Austin, FM-1431 between Jonestown and Marble Falls will carve through the Balcones Canyonlands north of Lake Travis. Cow Creek Road will veer off of 1431 to a secluded road much like the Willow City Loop, but the view of the canyon lands from 1174 as you loop back to 1431 is worth the extra couple of miles. The wait for a table at the Bluebonnet Cafe is worth it, plus it's a known rider hot spot so they're motorcycle friendly. The second you walk into the place you'll notice the pies. If you can find a way to strap one to your motorcycle and take it home, you absolutely should.
https://goo.gl/maps/JAqDqkPYiP82
The Long way to Luckenbach
Oh yes, Luckenbach is a real place, not just a fairytale in a song! When I was working at a local Harley Dealership, a group of my coworkers would meet up every Sunday and plan out a ride (and they were definitely rides, we never did under 200 miles a day). Out of all the rides we went on, this one stuck with me over time.
Some of these roads are busy Farm-to-Market roads with insane views of the hill country while others are quiet little country roads. Parts of Old San Antonio Road remind me of The Shawshank Redemption where Morgan Freeman walks along the stone wall searching for the rock with the tin box buried underneath it. These houses and roads have definitely been around for quite some time. By the time you get to Luckenbach you'll probably be ready for a beer, as the beginning of the route will take quite some time. Luckily for you, if you brought cash, Luckenbach has ice cold beer and usually some live acoustic country music playing on the back porch. I prefer to leave the details of Luckenbach a secret. It's definitely a different setting than I was anticipating. Nevertheless, I've been back countless times since, and try to show everyone this little "town" when they are passing through.
Since you're already in the area, the biker friendly Albert Ice House is another great little spot to visit. Ol' president Lyndon B. Johnson went to school in the tiny building across from the bar that essentially makes up the "town." Crack open a beer, and enjoy the shade and the views. It doesn't get much more country than this.
The first time I took this ride, it was my first trip to Luckenbach, and I discovered plenty of roads I probably would have never found if it hadn't been for my friends who knew the backroads of Texas like the tiny lines of their hands. Two people who were on this ride have since passed away from cancer, and I only wish I could thank them again for the great memories and places they showed me on two wheels that day.
https://goo.gl/maps/dK1ieL1REx62
EAST TEXAS
"Avenue of Giants"
Although this route isn't in deep east Texas, it's easily accessible for those who live in the Houston area. When my parents moved out to the boonies, I was pretty stoked to get to ride through all the towering pine trees in the Sam Houston National Forest instead of hitting stop light after stop light in the city. Drifters Ice house will keep you hydrated and you might just catch a crawfish boil on the weekend if you stop by in the spring time. Lake Conroe, Lake Livingston and the rest of the National Forest are all easily accessible via the connecting FM roads in the area. I personally think this area is Texas's very own "Avenue of Giants," just formed from giant pine trees instead of redwoods. Some roads on this route aren't fast paced or twisty, but they're a great getaway to some country views if you're looking to reset your brain from city life.
https://goo.gl/maps/QBWjNngtgvE2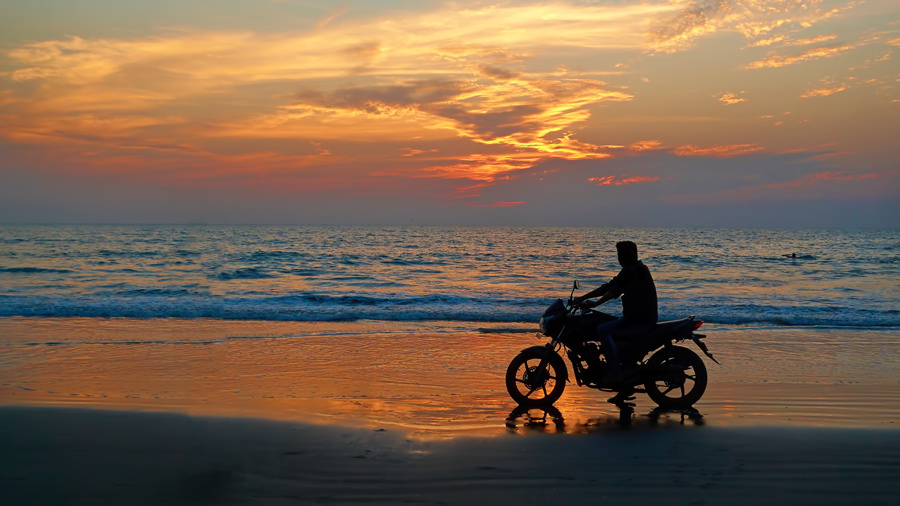 THE GULF COAST
FM-3005
Growing up in the burbs of Houston, day trips to Galveston Island were common when I was a kid. Not only does the Isle have a rich history for Texas, The Seawall holds plenty of its own stories over the last century (listen to ZZTOP's hit "Balinese" for a short history lesson). From FM-87 in Port Bolivar, you can take the ferry onto Galveston Island and enjoy the ocean breeze along the historic Seawall Boulevard, which continues down the coast as FM-3005. It's not the Pacific Coast Highway, but it's a great view of the Gulf and the culture and lifestyle surrounding it. At the far-east end, you can still drive (and ride!!!!) down on the packed sand beach of the port. Definitely some of the best ocean sunrises I've ever witnessed have been on Galveston Island after sitting out and partying on the jetties all night. Pro tip: if you're passing through town, be sure to grab some fresh gulf shrimp at any of the local restaurants along the way. They're amazing.
https://goo.gl/maps/7zYrkAinevo
THE PANHANDLE
TX-207
This one is on my to-do list, however I've had many seasoned riders tell me it's worth the side step off of the highway to check out. Although the Panhandle is known for its high winds and monotonous landscapes as far as the eye can see, this little highway will take you through the "Grand Canyon of Texas," the second largest canyon in our country. The views surrounding you in the canyon are truly unbelievable, with vibrant red rock formations abundant and green shrubbery far from scarce. Nearby Palo Duro Canyon State Park is a great pitstop for a night of camping and sight-seeing.
I you haven't figured it out yet. Texas is HUGE. These are only the highlights of each region, there are plenty of other roads to explore around the Lone Star State. Gather a group, or head out solo, and enjoy the ride!
"If you have been involved in a motorcycle accident, don't let it steal your freedom! Call 1-800-4-BIKERS to learn how an experienced motorcycle accident lawyer can get your bike fixed, money for your medical bills, and compensation for your pain and suffering."