A couple friends and I decided we'd do a local road trip being as we were all short on time and cash. Southern California still is one of the best spots to ride and camp on the cheap so deciding where to go took a minute but ultimately we chose Joshua Tree. There are a few fun ways to get there, lots of camping but still enough civilization we'd be able to get beer and jerky easily.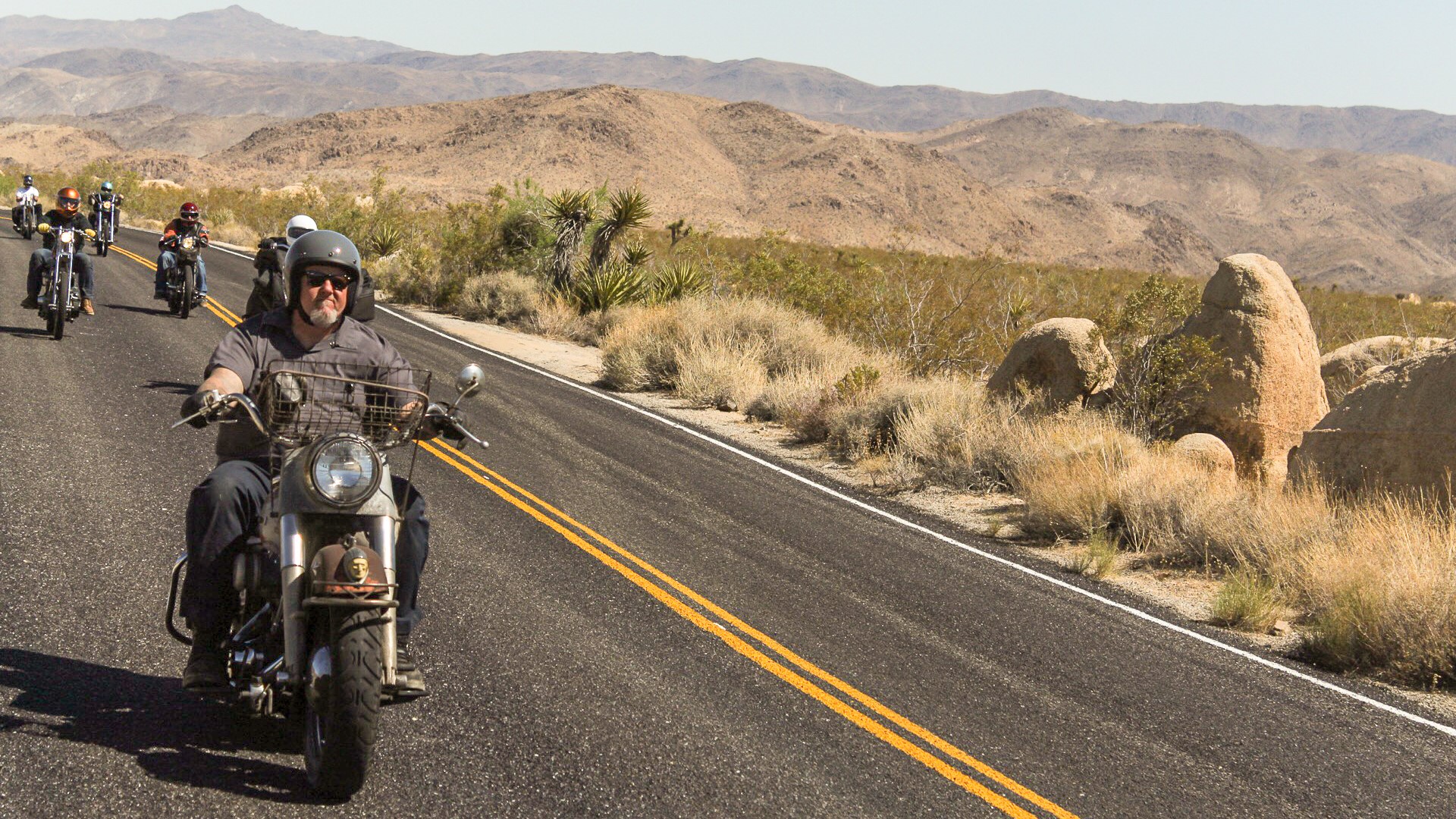 We pulled out of Temecula on a Friday morning and pointed our steel steeds towards towards highway 79 and the hills of Anza. If you've ever been out this way, you know the area surrounding Idyllwild is epic for motorcycling. Never a ton of traffic, plenty of places to grab gas and fun, twisty tarmac in all directions. Highway 79 connects to the 371 and from there, you head into Anza proper. We always stop at the Dairy Queen in town for either a Blizzard or a coffee, depending on the weather. This time, it was a Blizzard as the temps started to inch up.
At the end of the 371, you connect to the 74 or the 'Pines to Palms' highway as its known. Man, what an epic descent into the Palm Springs desert! Stop at one of the many overlooks and enjoy views for miles and miles. As we dipped deeper into the desert, the weather really started to cook but as long as you were moving (and we were MOVING) it was totally bearable. Palm Springs is an interesting place…still some signs of the Brat Pack and their parties from the 60's, tons of golfing going down and also a bunch of newer restaurants and hotels geared towards a younger clientele. Lots to look at, lots to eat too but all we did was gas up and go!


We hopped on the 10 east for a hot minute (literally) and exited Cottonwood Springs. Technically, this is the back entrance to Joshua Tree National Park so it's a bit less traveled but being as it was a Friday, there still were a few other's making their way into the park with us. No problem there, even though most of us were on older choppers, passing the tourists (I guess we were tourist's too?!) was part of the fun. The Joshua Tree's and small mountains, coupled with smooth, freshly paved roads, made for some good riding but we were starting to get hungry at this point, so we pulled over and made ourselves some sandwiches. There wasn't much shade to be had so as we huddled in the little bit of shadows a bike might make, we ate and told each exaggerated tales of other trips we'd been on…you know, biker shit!
Feeling refreshed and itching to get to our campsites, we pushed through the park at a quick pace. The curves were fun on an old bike, even at slower speeds and the lack of stop signs meant we actually made good time, Before ya know it, we were grabbing gas and some last minute supplies in 29 Palms, an area known mostly for the large military base that calls this flat section of desert home.


Heading into the town of J Tree, you can't help but notice the place is popping! Tons of new stores, greasy spoons and the occasional watering hole coupled with the attraction of the wild west feel of the desert have made this spot a popular place. We made out way to the outskirts of town and grabbed a campsite (first come, first served) at the Indian Cove Campground. Really a spectacular place…huge outcroppings of rocks and boulders jut out of the sandy landscape to create epic campsites that are both private and breathtaking at the same time. This was a killer place to lay our heads and one which I'll definitely visit again.
After the tents were pitched and the oil was topped off on the bikes, it was time for a simple meal cooked over the campfire. Hot dogs and beans, chased with some 805 beer did the job just right and a couple guys had snagged S'More stuff from the store so we had dessert in the desert as well. It'd been a full day of riding (ok, only about 175 miles but they were HOT miles) so calling it a night around 10pm wasn't too difficult a task. However, around midnight I woke up to an almost full moon illuminating the gorgeous spot we were holed up at and some coyote's out looking for a snack.


We awoke early (the sun woke most of us up at 5:30am) and broke camp. Rumor had it the Joshua Tree Saloon was the spot to catch some decent breakfast and more than one of us consumed a bloody mary or two there as well. Food in our belly and gas in our tanks, we decided to check out some of the local attractions.
The first spot we hit was Pioneertown. Lots of rolling hills to ride through  and some real cool watering holes, too. Pappy and Harriets is famous spot that more than one big name band has played at and they've got great grub, too. A not so famous spot is the Lucern Brew Company or the LBC as the locals call it. A couple miles down a sandy road, you'll find a doublewide trailer that's been repurposed into a dive of a bar. If this spot was in Seal Beach, you'd be bummed but somehow in the middle of the desert, it made perfect sense. We relaxed here a bit and told some lies…again, biker shit.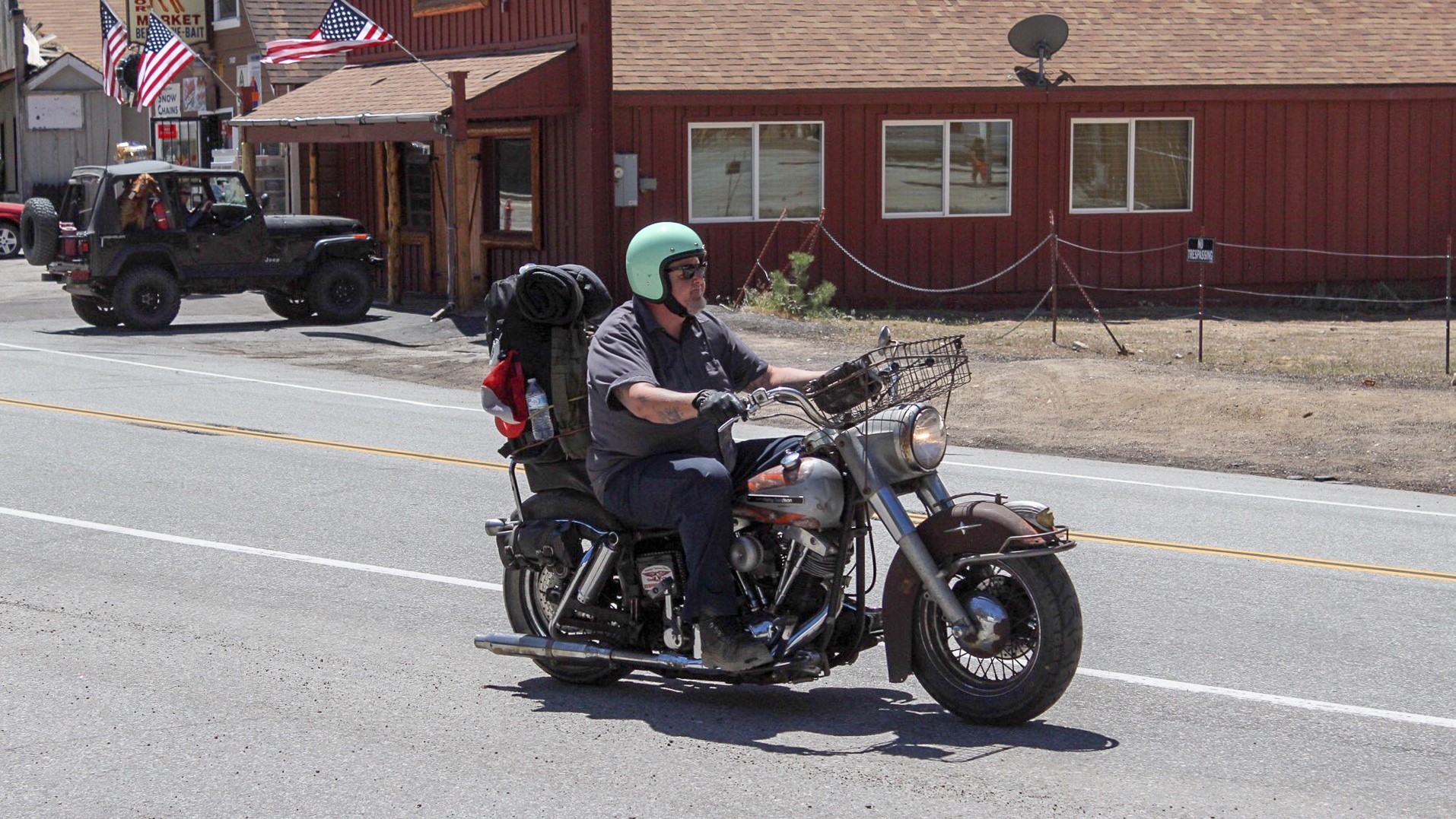 After that, we joined some friends on their yucca tree filled property for burgers and brews. They'd driven out so had ample supplies and didn't mind sharing. After the somewhat skimpy meal the previous night, grilled meat with all the fixings was deluxe! And again, the beer flowed like wine and with 'em, talk of rides both past and present ensued. Soon that same moon was back but this time is was even brighter than the previous evening and made for a great night light.
I awoke to a friends boxer pup licking my face and the sun in full effect. Campfire coffee is one of my favorites and after a cup of Joe and an Clif bar, we saddled up again, pushing North (I think) on the 247 through the desert and into the mighty Lucerne Valley, an area famous for racing and not much else. Cool spot but not a place you'd wanna stay too long in.


Fortunately, the local greasy spoon was open so we were able to fill our guts with ham and eggs and more coffee (can you ever drink enough coffee on a motorcycle trip)? From here, we headed what felt like straight up on the 18 into the backside of Big Bear. We went from below sea level to over 6k feet in just a few miles on some of the funnest roads SoCal has to offer. Man, I'll definitely be back to this tasty stretch of tarmac!


Big Bear Lake is pretty low these days so our plans of dunking our junk changed rather quickly once we scoped the levels of water (or lack thereof) available for said activities. No problem there, a quick rip through Fawnskin (the quieter side of the lake) proved to be a very fun runner up option. We stopped for more gas (choppers, man…choppers) and some jerky and decided to call the trip. We'd had some fun, mowed down a ton of miles, met up with friends we hadn't seen in forever and didn't run out of gas so we thought it best to end on a high note.


Jamming down the 18 to the 330, passing slow moving caravans of cars and ultimately, hopping on the 215 south to make my way home, I was reminded that as much fun as motorcycles are, the friends I've met on them are even better. No plans this weekend? I just laid out a fun run for you and your gal/guy. Enjoy!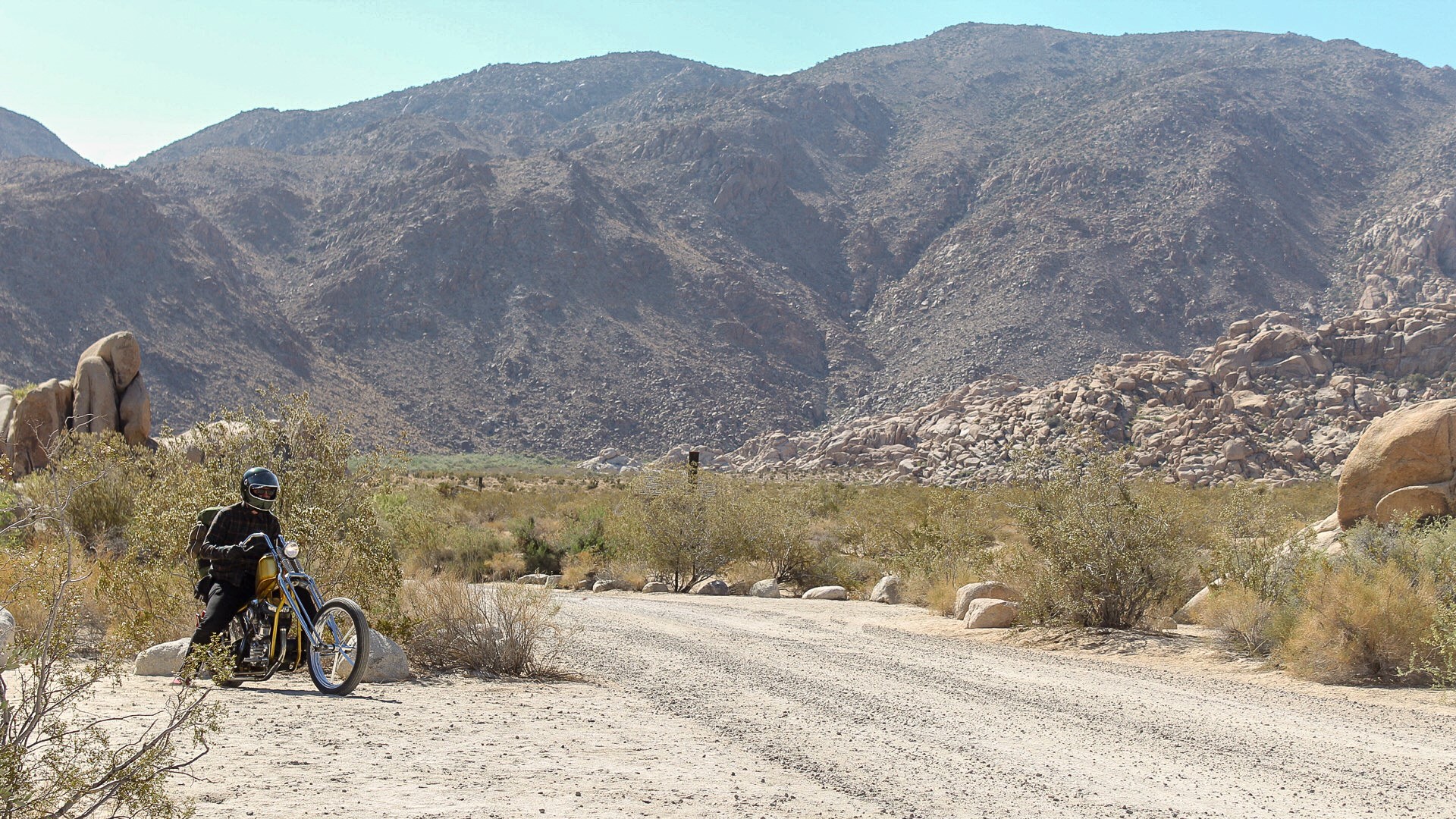 "If you have been involved in a motorcycle accident, don't let it steal your freedom! Call 1-800-4-BIKERS to learn how an experienced motorcycle accident lawyer can get your bike fixed, money for your medical bills, and compensation for your pain and suffering."