Russ Brown Motorcycle Attorney: When I ask Lady Jaymez how is riding therapy for her she mentioned something cool that I think a lot of us can relate to. She said "Riding has helped me to become friends with the woman inside." What a cool MOTO woman to express that, let's learn more about her.
Name:  Lady Jaymez
Where you live:  Six months in Las Vegas, NV and Six months in Thunder Bay, Ont.
Occupation: Retired
What bike you currently ride: 2004 Yamaha 1100 Vstar Classic "The RoadWitch"
When did you start riding and what got you involved in motorcycles?
I think I was born with the desire to ride and in my heart I wanted to ride "my own". In my "era" women riders were few and far apart. We settled for the back postage pad. I packed since I was about 15 years old. There were many years that I didn't even have that pleasure ie: marriage, children, life. I was in my fifties when I found myself alone. I had lost my youngest son while he was serving in the Marines, my husband died and everyone else living their own lives. I said to myself, time for you now. I set about doing what I wanted to do my whole life. Bought me a little 250 Suzuki, enrolled in the motorcycle safety course and started down the road to cross off the number one spot on my bucket list. Never looked back.
How has riding motorcycles impacted your life?

I believe it has helped me to know who I am. Given me the opportunity to know total freedom and the sense of independence.
What has been your biggest challenge with riding?
Since my re-marriage I have come to realize that I have become dependent upon riding with someone. I very seldom ride alone. I think I have become too comfortable with the security of riding with my husband or another rider. Still, push come to shove, I know I can go anywhere anytime by myself and I do when need arises.
What do you like most about your model motorcycle?
I just love her. Other than the little Suzuki I have only rode the Yamaha so I cannot compare her to any other brands. I thought two years ago I would go out and buy the Harley everyone seems to want and need. I shopped around but every time I went into the garage and looked at the RoadWitch my pupils went heart-shaped. She's taken me across country eight times, runs like a charm. I'll keep her til she can't run no more.
What modifications have you made?
Since I am not "mechanically inclined" the Yamaha is basically stock. Everything I have done to her is strictly esthetics. I changed out the pipes to HardChrome DD, mustang seat and braided lines.  Added lots of chrome and leather here and there. I have to confess since I've been doing so much long distance on her I stopped with the bling. Too hard to keep up and shining in the middle of cow country, raging winds and rain.
When you're not riding motorcycles what are you other interest?
Apart from family, I love to sew and do basic crafts. The kitchen and I aren't good friends but I like to get in there and mix it up every once in a while. I also belong to the Fraternal Order of Eagles and American Legion.
What advice do you have for other women riders?
I feel it is very important for you to ride your own ride. If you are a new rider, don't be pressured into riding a certain brand or type or a bike that might be too big for you to start out on. Make an informative decision. Shop around. Find something that fits you and you riding style and the experience will be wonderful. Whether you choose to be a solitary rider or a club rider, be true to yourself. Don't be impatient, take your time. Trust me, it only gets better.
How tall are you?
I am a towering 5′ 1″.
What is your weather like year round?
Since I live in two countries I experience a little of everything.  Desert heat in Vegas and chilling winds off Lake Superior.
How is riding therapy for you?
I only ride with my mind. No radio no music. Just me. We've really gotten to know each other!  Riding has helped me to become friends with the woman inside.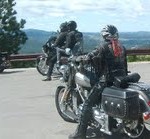 I believe we are the luckiest people on the planet to be able to ride motorcycles. As Lady Jaymez mentioned and it something I hear from many other women often is, riding has given them the opportunity to know total freedom and a sense of independence.
To that I say Ride ON!
Brenda Fox
Russ Brown Motorcycle Attorneys® – We Ride We Win We Care – fighting for injured bikers for over thirty years. From Las Vegas, Nevada to New York, New York. From Los Angeles, California to Daytona, Florida, Cleveland, Ohio to Harrisburg, Pennsylvania – regardless of where you ride we have got you covered.
"If you have been involved in a motorcycle accident, don't let it steal your freedom! Call 1-800-4-BIKERS to learn how an experienced motorcycle accident lawyer can get your bike fixed, money for your medical bills, and compensation for your pain and suffering."