RoxAnne is an amazing lady who shines with strength and courage even when she may not realize how bright she Really IS shining. I can't imagine the pain of losing a child – I admire her for pulling through something so tragic. I completely understand the sense of peace she mentions when she gets on her motorcycle and I bet most of you reading this will "get it" too.
I'm honored to put a spotlight on Women Rider – Ms. RoxAnne Simon
Location: Lakebay, WA
Occupation: Sales Associate
Current ride: 1999 Honda Shadow A.C.E. Tourer VT1100
When did you start riding and what got you involved in motorcycles? In 2001, I rode behind my then boyfriend (now husband), a few times, and liked being on the bike. He suggested that I take the class so that I could ride by myself if I wanted to, and so that I would know how to operate the bike if something happened, and I had to ride it. I took the MSF class in 2002. I rode his bike (a 1998 Honda Shadow A.C.E. Tourer) a few times, but wasn't yet comfortable with it. He traded it in for his current bike in 2006. In 2007, my son was diagnosed with Brain Cancer. We had talked about riding together once he got better. He passed away in 2007. I decided that I was ready for my own, and searched for the same color as the one my husband owned, with no luck. Once I found it, I still didn't ride a whole lot, but part of buying it was that I would know when I was ready, and he couldn't sell it. (Smile)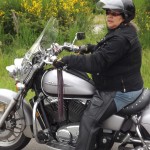 How has riding motorcycles impacted your life? In 2009, we had the opportunity to ride with a friend to Sturgis, South Dakota. I was unemployed, so thought: 'Sure and I can ride my own.' I rode through everything I had said I would never ride in: Construction, at night. Rain, snow, WIND, gravel roads (construction on major highways, not yet paved). We ended up traveling 3200 miles round trip. I realized that I DID IT! I felt very proud of myself. I think I have gained a lot more freedom, at least in my mind. When I am on that bike, I can leave all the problems to the side.
What has been your biggest challenge with riding? The first time I dropped the bike. After the bike blessing, I was at the light, waiting to make a left turn, and in a split second thought: I can't make that turn! I didn't. Went through the intersection, up onto the sidewalk, past a tree and power pole, and dropped it in beauty bark. Then cried. Was so embarrassed. Learned a valuable lesson that day. 'What you think is what will happen.'
What do you like most about your model motorcycle? I have hard bags.
What modifications have you made? The only modifications were the change to floorboards, had my seat redone, added lights to the front, had 'crash' bars made for the saddlebags. I am in the process of adding lights to the rear of the bike. In memory of my son, I had a license plate frame made with the old school Batman logo and a Batman personalized license plate.
When you're not riding motorcycles what are you other interest? Woodcarving, crocheting, waiting for my new chickens to start laying eggs. LOL
What advice do you have for other women riders? If you haven't taken a motorcycle safety class, do it. Have confidence in yourself, and your ability to operate whatever size bike you feel comfortable with. Think positive. Enjoy yourself. Try to find other women riders in your area.
How tall are you? 5'6″
What is your weather like year round? Wet winters, wet springs, decent summers.
How is riding therapy for you? I feel a sense of peace on my bike. Each time I ride, I gain more confidence; I push myself a little further in what I can do with my bike. I enjoy riding twisties more.
Thank you for such honestly in sharing your story.
Ride ON!
Brenda Fox
Russ Brown Motorcycle Attorneys®, fighting for injured bikers for over thirty years. Regardless of where you ride in the US and regardless of what you ride – we've got you covered. From Los Angeles, California to Rochester, New York, from Philadelphia, Pennsylvania, to San Francisco, California. If you need us call 1-800-4BIKERS.
"If you have been involved in a motorcycle accident, don't let it steal your freedom! Call 1-800-4-BIKERS to learn how an experienced motorcycle accident lawyer can get your bike fixed, money for your medical bills, and compensation for your pain and suffering."