The crack of motorcycle engines coming to life breaks the silence and puts every veteran present on notice: it's time to roll out. Helmets and gloves go on as everyone lines up in position. While it may be turning into a hot day in Moab, Utah, it's nothing like the heat these men and women remember from their times in Iraq and Afghanistan.
This is the Veterans Charity Ride to Sturgis (VCR) though, and it isn't supposed to be a miserable slog down the MSR (military-speak for Main Supply Route) in an up-armored truck. The wounded and amputee veterans who've mounted up for this trip are on a different kind of mission, one that's familiar to all motorcyclists: wind therapy.
Now in its seventh year, VCR started as a simple idea when Army veteran Dave Frey was heading to Sturgis himself. Meeting up with other veterans along the way, they hit upon the idea of how the current veterans of today's wars could benefit from time spent "in the wind" and with other like-minded people on the road.
After securing help from Indian Motorcycle and Champion Sidecars, the first VCR to Sturgis happened in 2015. While it has evolved over time, the program relies on basic concepts that any motorcyclist can understand, combat veteran or not: getting out on the open road aboard a motorcycle melts away stress. If you combine that with putting veterans together, a tight-but-quick forming bond creates a flowing dialogue at the many stops along the way.
Many VCR participants volunteer to help in the following years. Shown here are volunteers and mentors Marylyn, Darius, and Katie.
Veterans may talk about their service, their home life, conflicts with their family or with the Veterans Administration (VA) bureaucracy, or their love of the open road. You see, not everyone needs their group therapy to be done in a circle of chairs with a licensed therapist; plenty of people are actually more open about their lives when sharing miles and smiles out on the highway with their brothers and sisters.
For the first several days, that bond forms at and around the Red Cliffs Lodge in Moab, Utah. Owner Colin Fryer takes tremendous pride in being able to provide a space and meals for America's veterans, and he can regularly be seen chatting with the vets or cooking up steaks with his trademark smile and a wide-brimmed hat.
This gorgeous space along the Colorado River gives the vets time for rafting, horseback riding, off-roading, and to familiarize themselves with the heavyweight Indian touring bikes they'll be riding to Sturgis. Some haven't ridden in years, others need to familiarize themselves with handling a sidecar, and all of them need to get used to the many features a modern bagger has, from ride modes to Bluetooth stereos to touchscreen "Ride Command" infotainment systems.
Rural roads offer a different kind of traffic to negotiate.
Eventually though it's time to make some miles. This is my fifth year piloting a sidecar for ride photographer Sara Liberte, meaning I know a little bit of what to expect. Even though, each year is a bit different. This year does manage to stick with one tradition: in the form of road construction.
Now, Colorado's favorite summertime activity is road construction, so it's by no means a shock to sit at one-lane roads waiting to get through. However, this year saw heavy rains on top of several years of devastating forest fires, and the resulting landslides were numerous because of it. The worst of them closed off Interstate 70, pushing regular traffic onto the back-roads that VCR uses to get to Sturgis.
For a group of combat veterans though, road construction is hardly a delay worth worrying about, and riders used the stops as a chance to shoot the breeze with each other, take in the surrounding views, or grab a selfie. Another threat that turned into a benefit this year was the weather. The constant threat of thunderstorms somehow chose to constantly miss our group but still provide shade and an occasional sprinkle to cool things off further.
The ride chose overnights in Steamboat Springs and Ft. Collins for the first two days of travel, with Ft. Collins pulling out the red carpet for an official arrival at the city's veterans memorial park. As the ride moved north into Wyoming though, we turned away from familiar routes and ducked over into western Nebraska.
Jeni Ardnt, mayor of Ft. Collins, declared it "Motorcycle Therapy Day" by way of an official proclamation.
While being famous for flat land full of cornfields, the western edge of Nebraska features much the same rolling hills you'd expect further north. Riders still got a fair dose of "backroads America," with small towns and big farms, but the rolling hills broke up the monotony as VCR rode into Fort Robinson, Nebraska for the night.
This State Park belonged to the US Army for decades and was a large base during the 19th and early-20th centuries, featuring many original, restored, or reconstructed buildings from the era. It was full of unique history for a group of military veterans, who could see how Buffalo Soldiers served their country more than a century ago, as well as visit the site where Crazy Horse was imprisoned and eventually killed in a tragic (some say deliberate) misunderstanding.
Not all of Nebraska is flat.
From Fort Robinson it's an easy ride into Sturgis proper, where the VCR made an official entrance down Main Street and stopped off at Indian Motorcycle of Sturgis to properly kick off the famous rally. A flag-lined entry gave the riders a place to dismount and mingle with the local crowd that came to welcome them.
The rally itself is really a backdrop to the ride though. Everyone has a particular concert they want to go to, a bar to stop by or a famous place to visit, but for the most part time is spent at VCR's home-away-from-home outside of Deadwood. The area is quiet and secluded, with the endless sound of Harley's riding, acting as background music, while a campfire crackles and veterans share stories.
Group rides happen every day of course, and since everyone is already used to early morning wake-ups the roads can be enjoyed without the midday traffic the rally brings. I've ridden to Mt. Rushmore, done Needles Highway, or ridden Spearfish Canyon every year, but every year I look forward to the views and the curves. For me personally, Sturgis is about the Black Hills and riding with good people.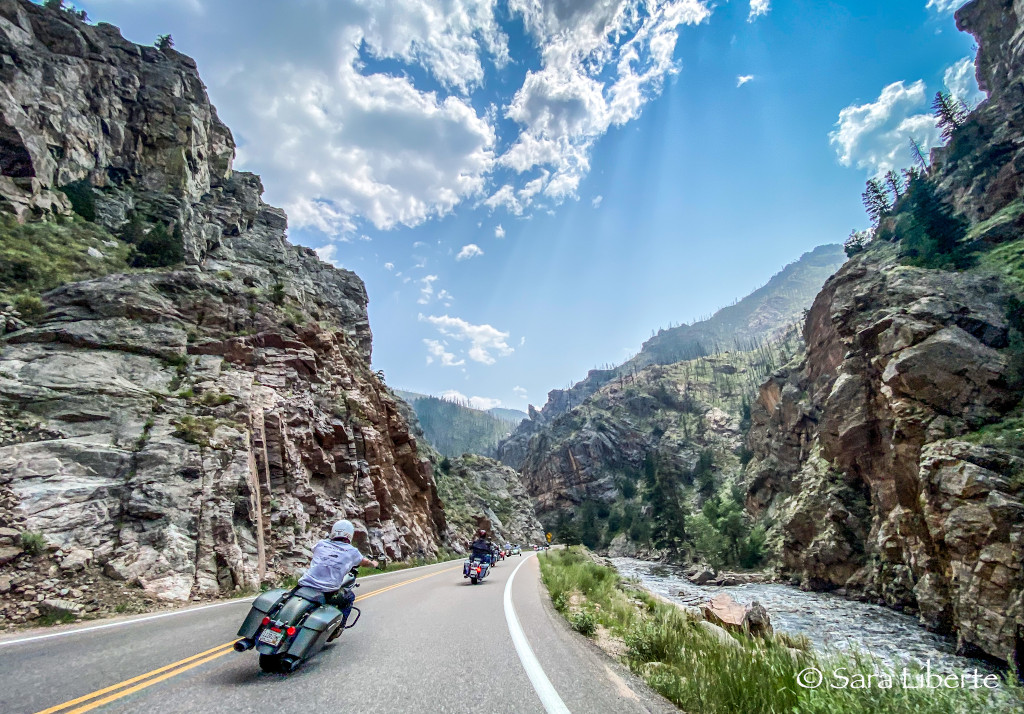 I also look forward to the IMRG ride. That's the Indian Motorcycle Riders Group, the brand's official owners club. VCR led the ride this year, which started off with less than 100 bike their first year and now involves way over 1,000 machines in an endless stream. I'd guess 2,000 bikes but this year I had to ride ahead so we could get drone footage of their arrival at the Pasta Corral; there was no other way to capture the scope of it all.
The one downside to being at Sturgis is I always know it's the beginning of the end. The saying, "it's not about the destination, it's about the ride," is very true for VCR, and once we arrive in the Black Hills it's only a matter of days before people start heading to the airport.
The goodbyes aren't forever though. One of the things that make VCR so unique is how small it's kept. The bonds are tighter. People remember each other. Some you may be on the phone with, some you may only see on social media, while some may be the veteran mentors on next year's ride. Several are my close friends…friends I'll have for life.
For me, there were still two days of riding as we ferried the bikes back to Utah. While most are returned to Indian, the bikes with sidecars stay with VCR and can't all fit in the trailer. The ride back gives me even more time to reflect.
It takes effort to find mud puddles to hit in a place like this.
I can laugh about the sour look on everyone's faces after I ran us through a huge mud puddle while off-roading, soaking everyone. I remember dodging thunderstorms all day across Wyoming. And I'll forever have etched in my memory the faces of each rider as we passed them one by one to get photos. They were in that zone, out on the road and in the wind. Some were straight-faced with the mandatory biker scowl, others were smiling from ear to ear. Some of the sidecar pairs would be singing along with some barely audible songs as we passed by.
We shared the miles, the meals, the heat, and the rain, and we'll share the memories. Each person gets out what they put in I reckon. The ride is no magic bullet, but it doesn't aim to be. This year, being my fifth time supporting it, I think my big takeaway was that "okay" is okay, but I have to give myself permission to seek out "better." It's not greedy or selfish to want that, and it's not arrogant to think you deserve it.
If you'd like to help the Veterans Charity Ride support other veterans on the path to find their own personal version of "better," head to their website and take a look at several different resources. If you know a wounded or disabled veteran who might benefit from motorcycle therapy with their fellow veterans, you can nominate them for next year's ride. You can also donate directly, as VCR is a 501(c)3 charity and your donations are tax-deductible. The MotoDono program is another great way if you have a motorcycle you'd like to donate. The bikes are modified as needed before being donated to a veteran to get them back on the road and "in the wind" to experience the benefits of motorcycle therapy again.
And if you know a veteran in immediate need of help, the VA has a 27/7-365 Crisis Hotline. It doesn't hurt to add it to your cell phone's contacts now before you run into someone in need of help. They need only call 1-800-273-8255 and press 1 to be connected to someone, whether they are enrolled in the VA system or not. Out on the road you meet great people, which means there's a good chance you're the great person someone in need will meet while you're out on the road.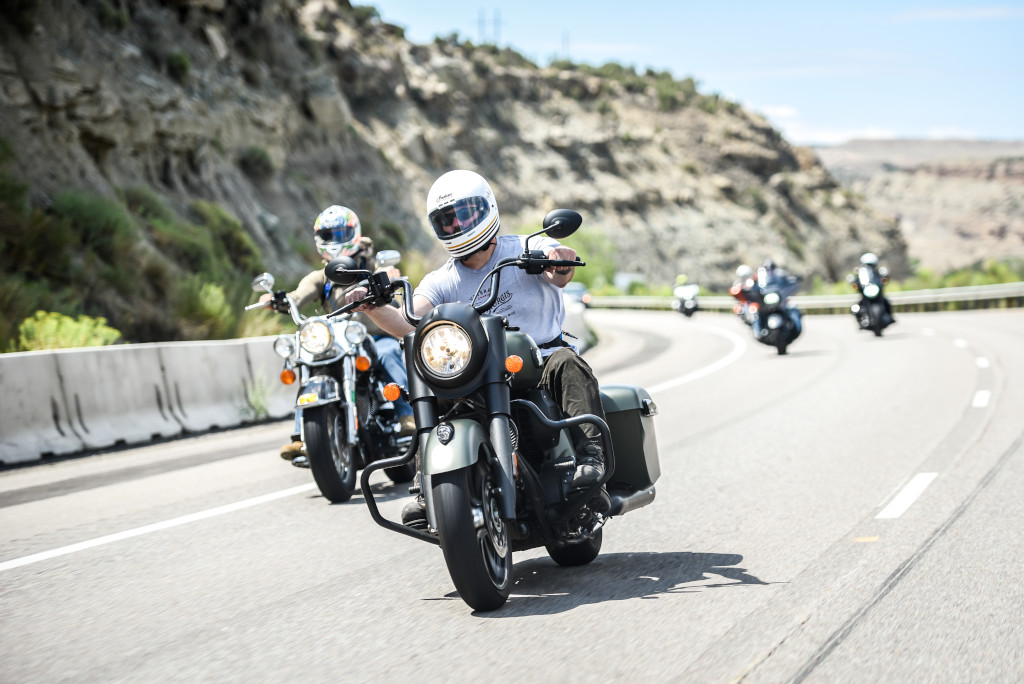 Photos courtesy of Sara Liberte @saralibertephotography
By: Johnny Killmore @johnnykillmore
"If you have been involved in a motorcycle accident, don't let it steal your freedom! Call 1-800-4-BIKERS to learn how an experienced motorcycle accident lawyer can get your bike fixed, money for your medical bills, and compensation for your pain and suffering."
"If you have been involved in a motorcycle accident, don't let it steal your freedom! Call 1-800-4-BIKERS to learn how an experienced motorcycle accident lawyer can get your bike fixed, money for your medical bills, and compensation for your pain and suffering."