My name is Randie Raige, I am a 30 year old Mommy, tandem stunt rider, model, adrenaline junkie, and adventurer. Born, raised & proud to call sunny Southern California my home, I love to travel our beautiful country (USA!!!) performing stunts for Team RB Freestyle & repping for Russ Brown Motorcycle Attorneys®.
I have been riding motorcycles for half of my life now. The beginning half of my life were the stepping stones of bicycling, skate boarding, roller blading, pretty much anything with wheels leading me up to the big boy toys. Once the helmet went on, there was no turning back. I was hooked instantly then and still am now. It didn't take long for my craving for extreme adrenaline to lead me to tandem stunt riding. Having 100% trust in my stunt partner is only fuel to this adrenaline junkie!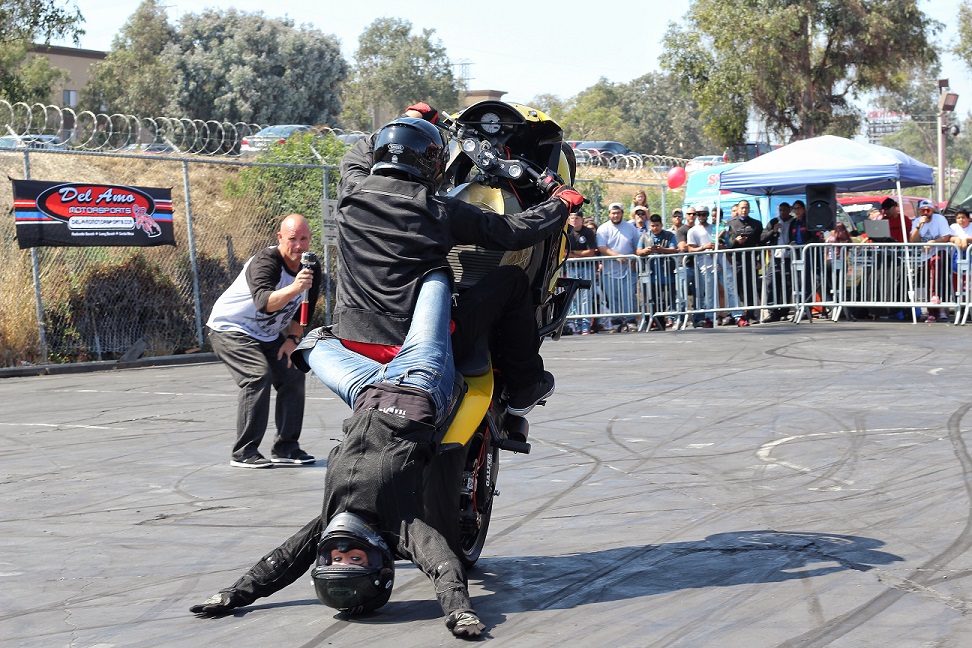 A few of the most common questions I get asked are:
"Why Tandem, don't you seek to be in control?"
The answer is NO! There is nothing in this world that I love more than being upside down with no hands, no feet up on a wheelie while looking at the upside down faces of the awed crowd I am performing for.  That is my freedom!
Not in a typical sense, my belief is the minute you let fear in to your decision-making, you have opened the door for mistakes and in-decision. So I respect very much the danger in the profession I have chosen but I am not afraid of it… I am not afraid to crash.  I realize in this lifestyle and sport it is inevitable, so I prepare myself with training and conditioning to react the right way when it does happen.
It is very challenging to be a tandem stunt rider. It takes a lot of practice and dedication just like in any other extreme sport, but most of all complete TRUST in my partner. I have to make sure I keep my balance always, and understand the timing of each and every trick.


I must understand where parts of the bike are while moving around, getting into position for a trick, during a trick or getting out of position from a trick. Failure in any of these things could result in hurting my stunt partner, myself, both of us, or most importantly our bike LOL!


As we prepare our routines for exhibitions, we take many things into consideration, such as the size of the venue, how close the crowd is to the track, weather and road conditions, etc. We want to entertain the audience with an edgy show but nothing is taken for granted.  Please understand that before we put any stunt into a show rotation, we have practiced that trick or series of tricks hundreds of times. This is what separates the top tier performers from novice acts. Dedication and focus are most important.


Building our stunt machine also takes a lot of time, skill and hands-on work. It can get quite costly if no sponsor support is offered. A lot of specialty parts and aftermarket modifications go into building a stunt bike, such as gearing, tire grip, bike armor, and a rear hand brake setup just to name a few. We have been very fortunate in this regard to have great sponsors who support us by supplying us with the top quality equipment and modifications required. The stunt bike becomes an extension of our bodies and we both need to know it like the back of our hands. The sounds it makes, the feel & pressures of our brakes & tires, the gearing, etc. Our machine is an extension of us and must be in top condition for practice and performing. Many times I have seen a crash caused by mechanical failure, not human error. I have also seen situations where a rider, knowing his bike so intimately, intuitively felt when something was wrong and avoided a problem before it happened.


Having on head-to-toe, high-end gear always is extremely important. My gear includes helmet, back protector, padded riding jacket, gloves with knuckles, knee pads, kevlar jeans and riding boots. While you're learning new tricks it is highly possible for error and crashing. Being determined and committed to this sport does mean sometimes sacrificing your own body to pain. But as I was taught young, if you don't fall once in awhile then you are not pushing yourself hard enough!
The world of stunt riding is constantly evolving. It has elements of both the underground as well as mainstream events like XDL, and others. I feel fortunate to be part of this lifestyle and hope to be part of it for the foreseeable future. Where will the sport evolve? X-Games we all hope! We are all part of this evolution. Riders are getting younger all the time. I am the old timer at 30 years old, seeing kids as young as 13 coming up, trying and inventing new things but doing so with respect and reverence to the riders who came before them.
In closing, not only does this extreme sport fulfill my desire for adrenaline, but also it teaches me a lot about the elements of life, it keeps me motivated and focused. It is who I am…


A very special thanks to all our sponsors: Russ Brown Motorcycle Attorneys®, Shoei Helmets, Galfer Braking Systems, Race Tech Suspension, Racing 905, Fly Street Gear, Spider Energy Drink, Scala Rider, Motorcycle Row, & Freestyle Life Co.
Written by: Randie Raige of Team RB Freestyle
Follow me/us on social media!
Facebook:
Modeling page: @RandieRaige
Stunt page: @teamRBfreestyle
Instagram:
Modeling page: @RandieRaige1
Stunt page: @teamRBfreestyle
"If you have been involved in a motorcycle accident, don't let it steal your freedom! Call 1-800-4-BIKERS to learn how an experienced motorcycle accident lawyer can get your bike fixed, money for your medical bills, and compensation for your pain and suffering."