A voice you'll never forget, and a man you might remember–that is, if y'all didn't party too hard at whatever motorcycling event you met each other at. This is the way most people will describe their first encounter with my very good friend, Dumptruck. …Yes. His name is Dumptruck.
The first time I met Dumptruck, I had recently been in a motorcycle accident and had plenty of road rash on my arms, and bruises on my body, from the impact. As I walked through the Harley-Davidson activation at an NHRA race event, this unique voice came on over the microphone and said, "Hey! Looks like you fell down. Maybe you should get better at walking! Actually, I think I know who you are. You're the girl in the Harley commercial!" I laughed. He Laughed. We instantly became friends. Nine years later, we've ridden countless miles together, and I've gotten to know who the man behind the microphone is.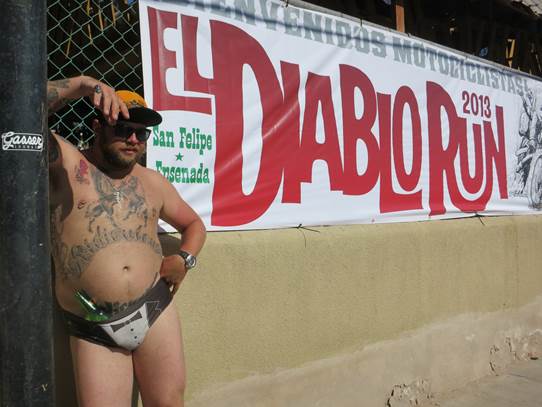 If you've been a part of the motorcycling community in any capacity, chances are you have heard him on that same microphone, his voice bellowing throughout a campsite in the late night hours, or you've seen him in his tuxspeedo, getting a tan on his upper thighs and stomach, which boasts a unicorn tattoo and "ridiculous" scripture across his torso. 
Everyone will remember their first time hearing Dumptruck. But most people probably haven't heard the story behind one of the industry's favorite characters and event hosts. Here's 10 things to know about Dumptruck!
1. Some people probably think you live in your Econoline van, but I know you've had permanent addresses all over the nation. Tell us the story!
Born in Hattiesburg, MS and raised in south Louisiana, southeast Texas, and finally Memhis, TN where I graduated high school. After returning to Memphis from the Navy in 2002, I had an urge to keep going. To move somewhere I knew nothing about. The high frequency of adventure I had become accustomed to was no longer laid out before me. I had to go get it. So, I went to Denver, CO. That was where I became a daily rider. 
Denver was a great place to start again. Roads were open and wild, beer was an important part of life (I actually drove a Budweiser truck), and the mountains had a way of drawing you in whenever time allowed. It was then that I also started to emcee events of all kinds for an array of clients. I decided that after driving a semi, bouncing, bartending, and announcing women's roller derby, it was time to keep going west for a new version of an old address. Southern California.
It was there that I really took to the road. So much, in fact, that I never really had a regular address for the 8 years I was in the southern reaches of the Golden State. I just lived on a motorcycle riding from one show to the next, trying to stretch a dollar as far as I could, only to return to a short term lease, guest room, or my van. It was the freest time of my life.
Now, I'm in NOLA (New Orleans), where I've recently started my next adventure.

Dumptruck's 2019 Harley-Davidson Road King
2. Since you've been everywhere….what's your favorite area of the country to ride?
This is pretty much the ultimate question for a rambler, or anyone who has traveled those two-laned pathways across this great country. When I ride through the west I always feel freest. Like standing in the saddle wasn't really that dangerous because you felt confident no one was watching. So many empty miles past natural monuments, streams to float in, city stops to let some steam off in the evenings with friends. It feels like everyone you know rides there. So many do. In the west, there's plenty of room for freedom, community, and solitude. 
3. How did you get your nickname?
Oh God. I got the name, "Dumptruck" went I smashed through four guys with my face. A girlfriend of ours said it looked like a truck dumped everybody in one place. BOOM. I am Dumptruck!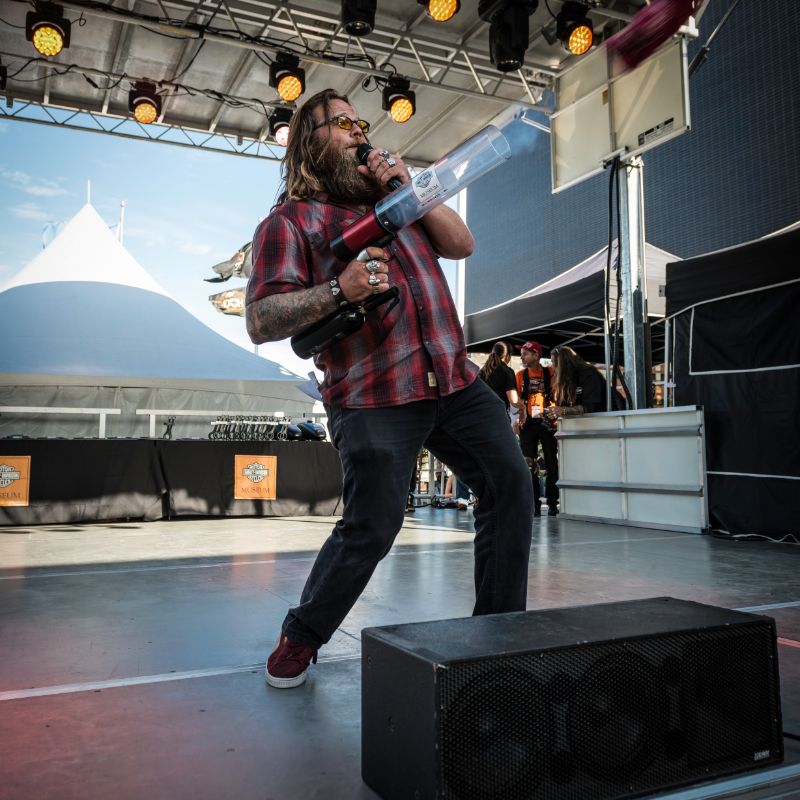 4. So…what do you do exactly?
Ha ha! Currently, I'm the sales director for Royal-T Racing along with 50 other hats I like to wear there. I'm really proud to work there. Patrick Tilbury is a quality guy that makes quality equipment. I also emcee motorcycle rallies, concert festivals, experiential marketing events, record voice over and help generate sales through brand ambassadorships. Oh yeah, I also shoot and edit photo/video. I do stuff and things. A lot of stuff and things.
5. How did you get into public speaking?
I was brought up in a very musical family. I was fortunate to come up in some pretty great school music programs. The stage was always a comfortable place for me. Then, I became a radio DJ in Memphis where I had to announce acts at concerts. I'm still on a pretty good roll.
6. When did you begin to feel more a part of the motorcycle community?
Easy. The 2013 El Diablo Run. Even after riding through all 48 lower states I still wasn't really a part of any community. I just liked to do my own thing. Most of my work was always in front of thousands of people. Most of my miles were me on recharge.
EDR changed all of that. I didn't know anything about it until three days before. It was the only break from the road I'd have all year but I couldn't help but find out what a good ol' dirtbag motorcycle run was all about. I'll tell you this: It introduced me to what would soon become by family. Many of the people in my life today are from that one party. You were there Staci, you know what I'm talking about.
I do know what he's talking about! It's where the tuxspeedo also made it's first public appearance in the motorcycle community, and it was never forgotten.
DumpTruck FXR
7. Based on your experience in the motorcycle world, where do you see it going at the manufacturer level?
With the way we've watched the OEM's evolve over recent years, I see an age of diversity on the horizon. It's like they're actually listening to us riders finally and I love it!  Motorcycles aren't meant for everyone, but I do think everyone that is into it will be seeing even more focus on the diversity in the product lines from the manufacturers and custom parts makers.
The newest generation of riders isn't built on a family motorcycle heritage as much as it has been in the past. It's built more on living life while you're still young. Exploring new places with just a duffle bag to explore a plethora of new roads that connect the world and not just the meet ups at bike nights and track days. A crop of people with minimalist and adventurous lifestyle goals are a large part of the influence.
I myself only own Harley's. But even I feel a change coming when I dream of my future fleet of fun makers based on the new scramblers, adventure models, and naked bikes that are currently available or under development. I want to check out ALL of the ways to have a good time on two wheels, and I think the future does too.
8. A guy that's ridden everywhere has to know some good food spots. Where's your favorite place to #RideToFood?!
My favorite experience of riding to food was in Portland, Maine. Under the Portland Headlight Lighthouse there is a spot with some AMAZING lobster rolls and the best strawberry-rhubarb pie I've ever consumed. Do yourself a favor and put that spot on your list. 
9. What's next on the list? Road trips, business plans?
Businesswise, my main focus is helping to grow Royal-T Racing. That doesn't mean that now that I have my first "official" job in a decade, that I'm done with the two wheeled tomfoolery. Oh no. I'll still be emceeing some gigs here and there. I'm also getting ready to start releasing some regular digital content so keep your eye on me. Fun is ahead.
Want to know more about Royal-T Racing? Follow us on Instagram, Facebook, or visit our website! 

10. Any positive words you wanna end on?
The only thing worth fighting for is love. 
"If you have been involved in a motorcycle accident, don't let it steal your freedom! Call 1-800-4-BIKERS to learn how an experienced motorcycle accident lawyer can get your bike fixed, money for your medical bills, and compensation for your pain and suffering."